In a beautiful example of purely nepotistic synergies, New York Governor Andrew Cuomo will drive the Formula E race car of Nelson Piquet Jr. up the West Side Highway in New York City in honor of the New York Auto Show this week. Guess the subway's gotten that shitty, huh, Cuomo?

UPDATE 3/28/2018: The original plan for the Governor to drive a Formula E car has been cancelled, though he is still planning for the moment to be at the New York Auto Show on Saturday morning, Formula E said in an e-mail. It is still unclear how he plans to get there, though it probably won't be on the subway. The original post follows below.
No, seriously, this hilarity is supposed to happen, according to a press release we received in our inboxes today:
To kick off the New York International Auto Show, Nelson will lend Governor Andrew Cuomo his Formula E car to drive up the West Side Highway on Saturday, March 31. One of the sport's biggest names, Piquet Jr (Nelson Piquet Sr. is a three time Formula One world champion and one of Brazil's most successful F1 drivers) won the inaugural Formula E championship during the 2014-15 season.

Cuomo is presumably doing it to take credit for bringing a Formula E race to New York City. He is probably not taking the subway to the auto show, because he refuses to take credit for that.
Also, because they don't fucking work.
G/O Media may get a commission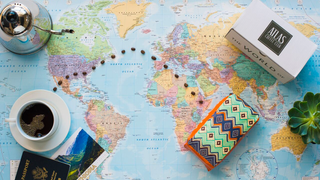 First Bag Free
Atlas Coffee Club - Free Coffee
Explore global coffee
With each bag, Atlas includes details on the coffee's tasting notes and a postcard about the region and its coffee history. And when you subscribe, you have options to tailor frequency, grind size, and roast preference of your beans, so you'll always be brewing the perfect cup.
We've reached out to the governor's office to confirm his truly historic cruise down a Manhattan street, and will update if we hear back.