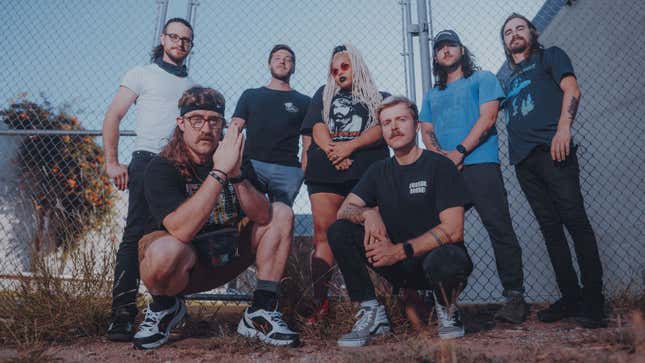 We all know by now that driving can be dangerous in a nearly limitless number of ways. You can get crashed into by another car, have a ladder fall off the back of a truck in front of you, have a tire blow out for no reason, you can be a fire truck near a Tesla, etc. Unfortunately, there's a new way for driving to wreck you, and unfortunately for the Tulsa, Oklahoma band Cliffdiver, they found out what it was on a recent drive from their hometown to Vegas.
2024 Nissan Z NISMO | Jalopnik Reviews
The band set off from Tulsa super excited about this first trip in their new, much more luxurious tour van, only to have it all go very, very wrong approximately an hour in. According to guitarist/vocalist Matt Ehler, everything was going smoothly until suddenly there was "an enormous BOOM sound that sounded like a cannon being fired as the entire front of the van filled with glass shards and dust" from the driver's side window being impacted by something.
Immediately after, he noticed that bassist Tyler Rogers was covered in blood and that blood was spraying out of his neck. As terrifying as that is, Rogers' being the driver meant that his foot matted the gas pedal when he lost consciousness, and the van began to accelerate. Ehler worked to get his foot off the pedal and take control of the steering wheel, but Rogers being belted in made this difficult.
Eventually, Ehler was able to essentially sit in Rogers' lap and bring the van to a stop so they could begin administering first aid to Rogers. Band members in the back shouted instructions on what to do for first aid and how to apply pressure to the wound while another called 911. Thankfully the band was right next to a mile marker making the van easy to find.
Emergency services arrived promptly and loaded Rogers into an ambulance, during which time he briefly regained consciousness, much to the band's relief, and was taken to a nearby hospital for lifesaving surgery. The doctors estimated that he had lost upwards of two liters of blood. For reference, the human body holds around five in total (or approximately 1.25 gallons).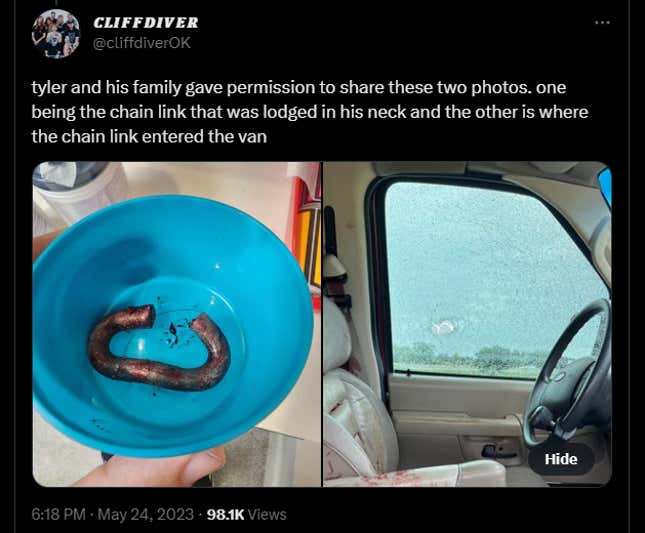 The sheriff who came to investigate said that a large broken chain link found lodged in Rogers' neck likely came from a failed load-bearing chain on a passing semi-truck. When the chain failed under tension, the link shot off at extremely high speed, and Cliffdiver's van had turned out to be in the wrong place at the wrong time.

Thankfully, luck was on Rogers' side because, thanks to his bandmates' quick thinking and first aid, he was able to make it to the hospital alive despite a puncture to his carotid artery and lacerations to his jugular vein, as well as neck fractures. The odds of his survival had been incredibly low, but he was moved out of the ICU and into recovery less than 24 hours after surgery, and it seems like he'll make a full recovery with no brain damage from the blood loss.
Naturally, with this happening, the band has had to cancel shows, and Tyler Rogers will be unable to work for some time, so the band has set up a GoFundMe page to help with his medical expenses. We're sure it'd be appreciated if you want to chip in a few bucks or buy Cliffdiver's music on Bandcamp.