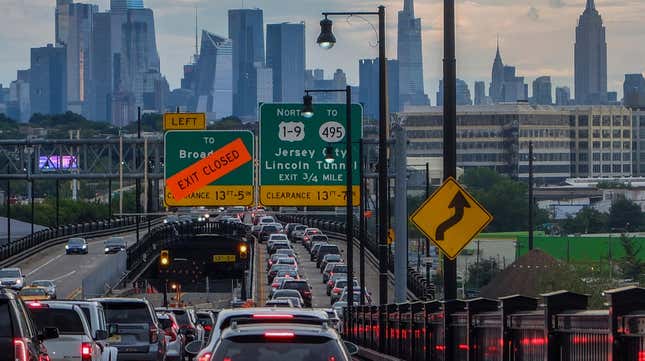 The Garden State got a little bit greener Wednesday when New Jersey Governor Phil Murphy announced plans to shift to 100 percent clean energy by 2035. The state that still won't let you pump your own gas will at least make sure you can charge your car from home using clean energy by 2035.
Gov. Murphy announce broad multiple accelerated energy initiatives during a speech at Rutgers University Wednesday afternoon. Through three executive orders, New Jersey will follow California's lead and ban sales of new internal combustion engine cars by 2035. Not only will the cars be electric, but the power charging all those EVs will be from 100 percent renewable resources as well. From the Murphy Administration's press release:
"These bold targets and carefully crafted initiatives signal our unequivocal commitment to swift and concrete climate action today," said Governor Murphy. "We've turned our vision for a greener tomorrow into a responsible and actionable roadmap to guide us, and it's through that pragmatic, evidence-based approach that we will ultimately arrive at our destination. Combined with our federal partnerships reinforced through the Inflation Reduction Act, these comprehensive initiatives will better protect and prepare every New Jersey community, including those on the front lines of climate change who have previously been left out and left behind."

It's not just cars targeted for cleaning up in the next few years. Other initiatives announced include installing "...zero-carbon-emission heating and cooling systems in 400,000 homes and and 20,000 commercial properties by 2030," as well as flood protection for folks living in coastal and riverine areas. New Jersey, as a coastal state, has experienced increasingly strong storms fueled by climate change. In September 2021, New Jersey was hit with its deadliest storm yet, Hurricane Ida, which killed 91 people over nine states, according to the Centers for Disease Control.
Over a dozen states have looked to follow California's lead when it comes to climate change initiatives, especially involving vehicle emissions standards. However most states in this cohort, such as New York, Massachusetts and Vermont, are still operating on an older version of CARB and currently have no plan to phase out gas cars by 2035.