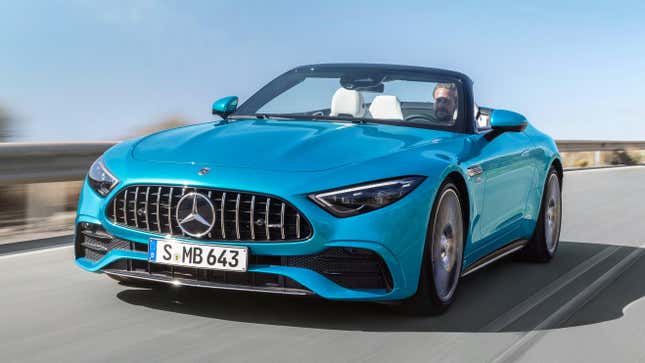 When the current-generation Mercedes-AMG SL originally went on sale, the least-expensive version that you could buy was the SL 55, which cost $137,400. That's far from being inexpensive, but it was still a lot less than the $178,100 Mercedes charged for the more powerful SL 63. But now, Mercedes has announced a new entry-level model: the 2023 Mercedes-AMG SL 43.
According to Bob: Why the AMG C63 Hybrid Is So Goddamn Cool
Unlike the other versions of the SL, the SL 43 doesn't have a V8. Instead, it makes do with a turbocharged four-cylinder. That may not sound very exciting, but it still packs some serious power for its size. According to Mercedes, the SL 43 makes 375 hp and 354 lb-ft of torque. It also costs a lot less than the SL 55 and starts at $109,900.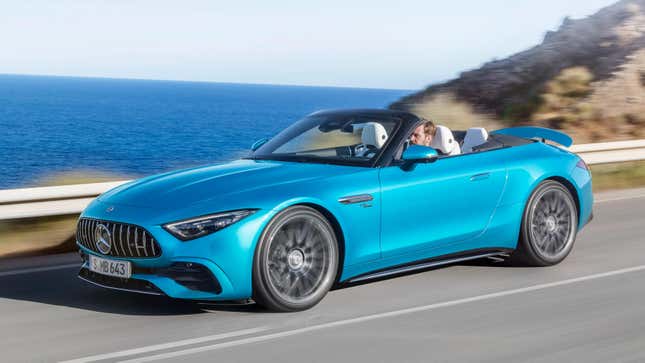 Mercedes also really wants you to know that the SL 43's engine uses an electric exhaust gas turbocharger to make its power, as well as that the technology is a direct derivative of the tech developed by its Formula 1 team. Allegedly, it gives you the benefits of both a small and a large turbocharger at the same time.
The SL 43's power is routed through a nine-speed automatic that ditches the torque converter for a multi-clutch pack that promises quicker shifts than a traditional automatic. The transmission then sends the power exclusively to the rear wheels, so if you want all-wheel drive, you're going to need to pony up another $30,000 or so to get an SL 55. Even so, Mercedes says the SL 43 will run from zero to 60 mph in 4.8 seconds and tops out at 170 mph.
To stand out from the higher-end SLs, the SL 43 gets some minor front and rear bumper changes, as well as round exhaust tips instead of the angular ones that you get on the V8-powered versions. 19-inch wheels come standard, although 20-inch and 21-inch options are also available.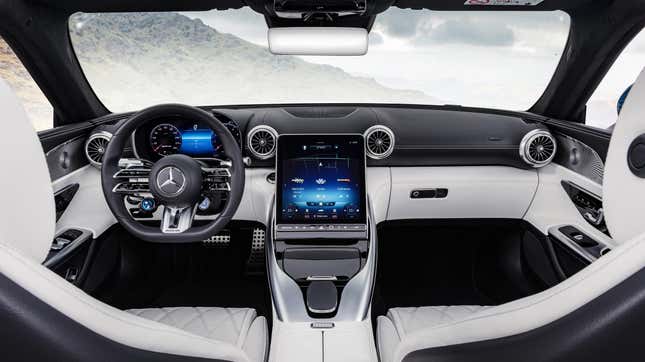 Inside, the cabin is essentially the same as the one you get on more expensive SLs. Electrically adjustable, heated-and-cooled multi-contour seats come standard in black Nappa Leather, but there are six other optional colors available. Piano black trim is also standard, but if you're willing to pay up, there are several other trim options, as well. As far as features go, you still get several different drive modes, Mercedes' latest infotainment system, and a suite of advanced driver assistance and safety tech.
If the four-cylinder SL 43 sounds like your kind of roadster, you won't have to wait long. Mercedes says it will begin arriving at dealers later this summer.