Netflix's Formula One series Drive to Survive is visually stunning, with one of the more intimate and compelling looks into the real world of modern-day Formula One that we've had in decades.  Plenty of fans loved it, myself included. But the confused nature of its plot left me with a lot more questions than it answered. Mainly, who exactly is this series supposed to be for?
The premise of Drive to Survive is, essentially, what does a Formula One season look like behind the scenes—especially for the middle and backmarker teams, since the top dogs at Ferrari and Mercedes declined to participate?
It came out earlier this month, and I'll admit that I was a little late in finishing it. Most of us at Jalopnik were, because we went in with a healthy degree of skepticism that it would feel like a glorified ad for the racing series itself. It turns out it was better than any of us expected, which was a pleasant surprise.

The first episode focuses on Australia's own Daniel Ricciardo at the 2018 Australian Grand Prix, since he is the hometown hero. It tracks his performance through the weekend while also including video of Ricciardo at home, engaging in the ritual Aussie sacraments of the "barbie," and interviews with his family.
G/O Media may get a commission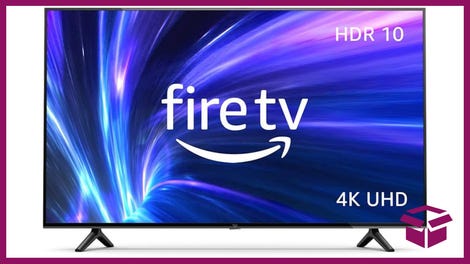 42% Off
Amazon Fire TV 50" 4K Smart TV
And while all that is nice and humanizing, the realities of the brutal and unfeeling nature of the sport are contrasted with the second-class status he was given at Red Bull, as he was pushed aside to make way for the younger, hotter driver, then 20-year-old Max Verstappen. It sets up the big question that follows Ricciardo all season: what's his next move?
There was a lot I really enjoyed about the series. F1 is often pretty closed off to anyone who's not directly involved in the goings-on of the sport—and even diehard fans generally only see the narrative that a team wants them to see, as constructed in interviews or carefully curated social media posts. Lifting that veil on the political and financial machinery of F1 was great.
I loved actually being able to hear Haas F1 team principal Guenther Steiner's uncensored reaction to Haas fucking up the wheel change of both their cars in the Australian GP, to see how quickly the team knew it would be a problem, and to understand why that problem even happened in the first place (the answer is: you get what you pay for, especially if you can't pay for much), or to have drivers question why they had to deal with cameras.
Drive to Survive would also be an incredible series for avid F1 fans who don't follow the dramas and politics of F1 off the track. Sure, there's a lot of information given to viewers at face value, but there's a ton of conflict going on under the surface that isn't explicitly addressed. Fans familiar with a bit of the history of the teams and drivers might be able to put together a few pieces of a mysterious puzzle.

Let's look at the situation at Williams, for example. For deputy team principal Claire Williams, this isn't just business, it's personal. She straight up admits that she's doing this to sustain a family legacy that was founded by her father, Frank Williams (which, as noted in the Williams documentary, is done out of a sense of indebtedness to her mother Ginny, who helped run the team and also raise a family in the wake of the accident that left Frank Williams paralyzed).
But it's also obvious that Williams' lack of success lately has resulted in billionaires like Lawrence Stroll funding the team so that his son can have a hobby. And as Lawrence looms over Claire making demands of her on behalf of his son, the series becomes a subtle indictment of the state of F1: money trumps legacy in the battle to keep your head above water.
And it becomes glaringly apparent what a budget of a mere $100 million looks like when compared to teams who can, essentially, spend infinite amounts of money to improve their cars. That deficit shows itself in the strangest and smallest of ways—for example, in Haas' inability to hire experienced tire changers, or their inability to even give them an opportunity to practice outside of a race weekend.
The fact that this series focuses on the battles of the midfield show that these teams are competitive, but they just aren't able to touch the frontrunners.
Even Red Bull is shown as having its own struggles, although theirs displays what a lot of money but questionable politics can get you. The crash between teammates at Baku is never satisfactorily explained in the documentary—both drivers blamed the other.
But, with Ricciardo's contract on the line (and that contract being a huge theme of the series), it feels like a glaring omission. How did that crash turn the tides for the self-proclaimed "old" (i.e. 29-year-old) Ricciardo's RBR future? What did the team look like after that happened? Why did it happen in the first place?
Instead of focusing on winners (which you'd assume an interesting racing doc would be about), the documentary focuses on the teams and drivers who are fighting tooth-and-nail to stay afloat in a sport that demands more than they can spend.
That necessitates a deeper dive into the politics and social state of a sport that is often called a "meritocracy" but instead runs on monetary nepotism. Sure, you might have to be a very good driver to race for Mercedes, but the rest of the field sure benefits from drivers who can bring enough money to keep their team afloat.
But more importantly, you get the sort of cheery dialogue that's typical to F1 that teams don't normally want people to see:
But the more I thought about it, the more I realized how confused I'd be if I weren't a longtime fan.

Drive to Survive seems a little confused about its actual intentions. The series is kind of a beginner's guide to the sport—a way to make sense of some of the more confusing things that go on behind the scenes (like how a team principal copes with a crash-prone driver that he can't quite fire in the middle of the season).
But if you were to stumble on this series as someone entirely unfamiliar with F1, you probably wouldn't get it. Instead of painting in broad horizontal strokes that explain everything a newbie would need to know, Drive to Survive instead paints vertically. It fills in the blanks of things that happened at races we already watched, giving viewers the context to make the on-track action so exciting.
And while I knew not to expect Mercedes or Ferrari to play a huge role in the series, there were plenty of other drivers who just didn't make an appearance. Where was Brendan Hartley, the Le Mans winner-cum-Toro Rosso driver who was unceremoniously dumped from the team for not performing after being given a shot-in-the-dark chance at competing in F1? Where was Stoffel Vandoorne and the end of his journey with McLaren? Why didn't we see what it was like for the F1 dream to die for these two drivers who were saddled with underperforming machines and team politics?

It was a frustrating balance. I loved the fact that viewers got deep-dive episodes into drivers like Esteban Ocon, but such a heavy focus tipped the scales in their favor by making certain drivers protagonists while others became antagonists. Certain drivers and team personnel had more screen time (see: Daniel Ricciardo, Christian Horner, Guenther Steiner, the Haas drivers) than others, which I knew was intended to make me feel more sympathetic to them. It seemed a bit unfair to laud Fernando Alonso while not even mentioning his teammate in passing.
Still, I enjoyed this. A lot. I still remained highly appreciative of the fact that fans of F1 actually have a great documentary series to enjoy, and I liked that it was high-quality and candid and could make me feel all kinds of emotions.
This series is aimed for brand new F1 fans who know of the sport but want to dive in deeper, and for longtime F1 fans who only watch the racing and may want to learn more about the politics of the sport.
These are both pretty niche audiences to be sure—but this was also the first big partnership between a streaming company and a race series in order to provide fans with something beyond what they'd normally expect to see on track. Netflix kinda had to convince F1 that it could do a halfway decent job at making a comprehensive, informative overview of the season without a ton of support from some of the biggest teams on the grid. That's gotta be tough.

More than anything, though, I'm pretty stoked about the fact that Drive to Survive suggests that there's not only an audience who would like to see more high-quality television about racing, but that there's a way to do it and a desire on the part of producers to create the media to feed that desire. The execution could be improved, yes, but the implication that this is going to herald a new trend in the way we create racing projects is pretty damn exciting.