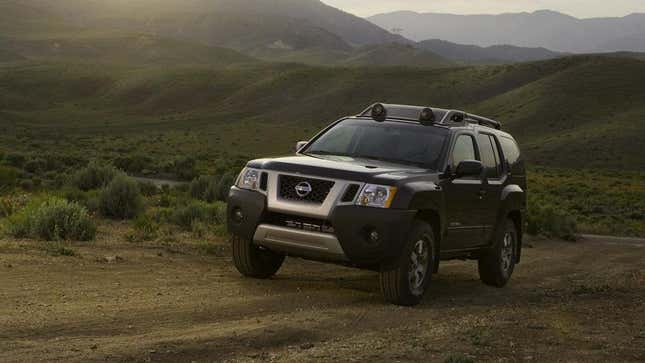 Kari and her wife spend their summers in the Colorado mountains to get away from the Texas heat. They both have European sport sedans that are fun on curvy roads, but aren't ideal for light off-roading and hauling equipment. They want something durable with four-wheel drive that they can leave at their summer home. What car should they buy?

(Welcome back to What Car Should You Buy? Where we give real people real advice about buying cars. Do you want us to help you find a car? Submit your story on our form.)
Here is the scenario:
My wife and I live in Texas, but spend a good part of the summer at our little condo in the Colorado mountains. While our cars are fun to drive up there (I have a 2019 Alfa Romeo Ti Sport and my wife has a 2021 BMW 330e), neither are particularly well-suited for hauling bikes or traversing unpaved trails. I'm trying to convince my wife that we should get a used 4x4 vehicle to potentially leave up there - either in the condo's parking lot, or stored at the airport. The parking lot option is way more affordable than airport storage, but it's unprotected and would leave the vehicle exposed to some pretty wicked elements in the winter. We don't need anything new or super fancy, just dependable and reasonably capable. The budget isn't set yet, but it won't be too extravagant. Let's say $30k-ish for now. I don't want to wince when I add my own dents and dirt, you know? (Of note: we can both drive a manual, if that opens up our options)
Quick Facts:
Budget: About $30,000
Location: Texas and Colorado
Daily Driver: Somewhat
Wants: Durable, practical, 4x4
Doesn't want: Something too expensive to maintain
Expert 1: Tom McParland - A Different Kind Of Driving Fun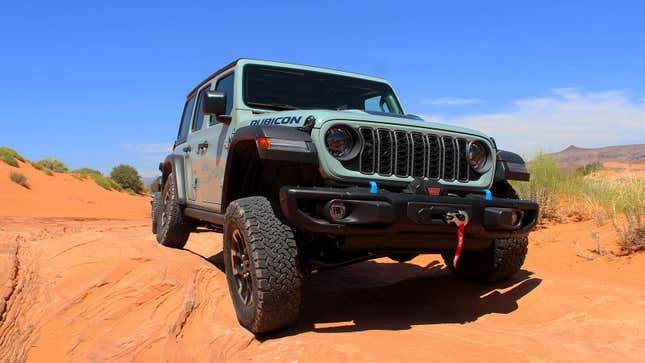 I'm sure that condo in the mountains is really coming in handy this year since the high temps in Texas are somewhere around eleventy-billion degrees. Since you already have the right cars for zipping around winding roads, it's time for another kind of driving engagement that is a little slower-paced but can be just as enjoyable. Light off-roading can be the right balance of keeping your wits about you so you are engaged in the process, especially if you have to row your own gears, but not so risky that you're going to flip your car off a giant boulder. And there is no better choice for this task than the Jeep Wrangler. It's the type of car that if it gets dinged and dirty from the trails, it adds character.

There is plenty of inventory for good Wranglers so it all comes down to what kind of configuration you want and how fancy you need it. I would suggest you keep it simple with a soft top, two doors, and three pedals. Here is a nice 2018 Sport model with less than 30,000 miles. This one is no-frills when it comes to options, but it would make for a good balance with your luxury sedans.

Expert 2: Andy Kalmowitz - It's Taco Thursday!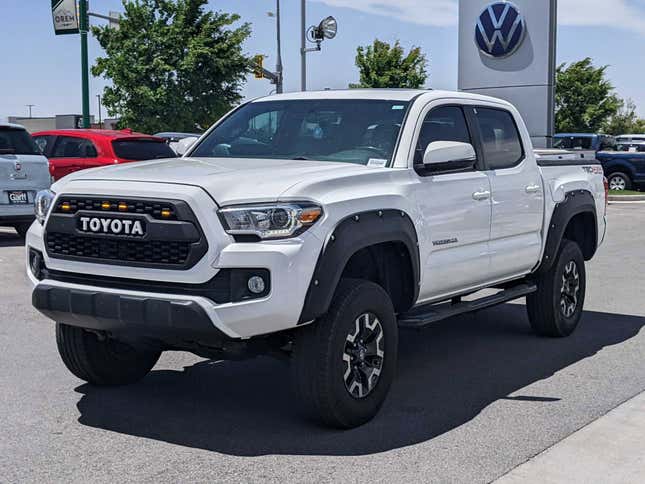 As always, Tom hit a dinger with a Wrangler recommendation. I love those little things, but since he's already suggested it, I gotta come up with something else. Don't worry Kari, I've got something great for you: the Toyota Tacoma. It's a pickup truck that'll do just about every single thing you ask of it and then some.
There are few vehicles on planet Earth that are more durable and reliable than a Taco, and it won't cost you an arm and a leg to keep up to snuff. It's a Toyota, after all. It'll be just fine for about 100-million miles. It's also going to handle just about any sort of mountainous terrain you throw at it, because it's a Tacoma. Sure, the interior won't be quite as nice or up to date as a Wrangler or another competitor, but it'll work. That's what the Tacoma does best. It just works and goes where you want it to go.
As we know, I'm a really great guy, so I took the liberty of finding the perfect Tacoma for you. Setting up a search range was a little tough since we don't have an exact location for you, but I did my best. What we've got here is a 2016 Tacoma, that comes right in at your $30,000 budget. Inside you've got all the creature comforts you could want from an off-roader and then some. By now you've probably noticed the mileage. 108,000 ticks on the clock isn't exactly a small amount... in any vehicle. However, again, this is a 'Taco we're talking about. It's barely broken in. It's Tacoma time, Kari. Embrace it.
Expert 3: José Rodríguez Jr. - The Lone Ranger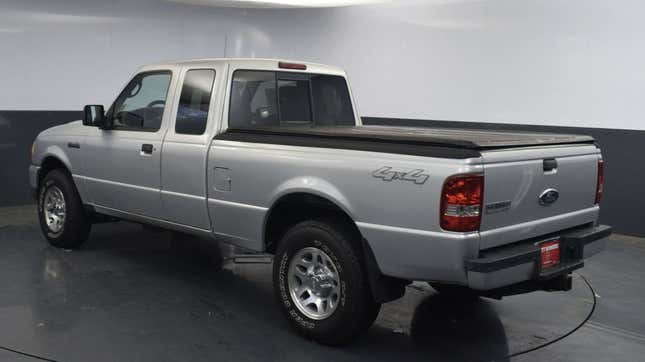 Kari, you need a pickup. No doubt about it. Something durable and practical with the right traction (4X4) describes many of the midsize truck options within your budget. Depending on your tolerance for mileage and model year, you may find what you need in the Chevy Colorado, Ford Ranger, Toyota Tacoma, Nissan Frontier or even Dodge Dakota. Hell, go with the Hummer H3T if you're feeling adventurous. You can find them with a stick shift!

I'm a sucker for domestics given their parts prevalence and relatively lower repair costs. I would recommend that you find the nicest Ford Ranger you're comfortable with and call it a day. Since you're going to park this vehicle for extended periods at a time, I would say opt for an older truck, which you won't feel guilty about leaving behind for weeks or months on end. The Ranger is a workhorse, and an added bonus when shopping for older models is that you'll have your pick of cab, as well as traction and transmission options. An older single cab, stick shift Ranger would be gnarly. And so low it's easy to load!
You could easily afford a newer Ranger, such as this 2019 Ford Ranger XLT, but a better option may be something like this 2011 Ford Ranger XLT. Don't let the price of the latter truck scare you: it's overpriced for the vehicle, but you can find a better deal by scouring your local Facebook Marketplace or Craigslist ads.
Expert 4: Lalita Chemello - The Longest Jeep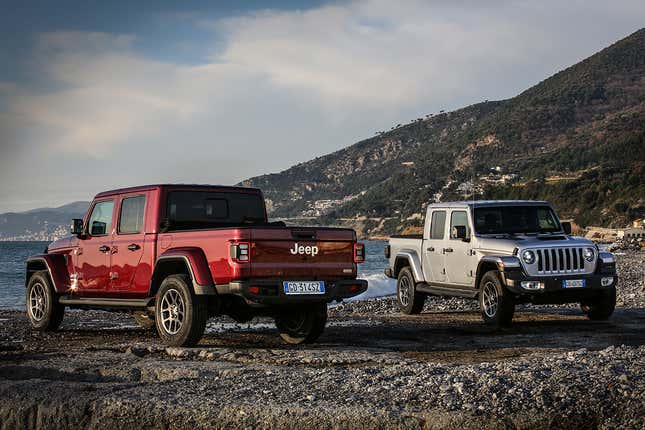 Kari, my first question to you, can I come visit and play? Your Euro sports sedan setup for fun roads — then adding in a possible off-roader to your garage is my ideal garage, and I feel like we'd get along great! I'll let you ponder that while I try to woo you with my confident suggestion for your next garage playmate. Tom has a great suggestion with the Wrangler, but I want to introduce to you something even more capable, the longest of Jeeps: The Jeep Gladiator.
Now let me explain. Following the departure of our former most Jeep stan, David Tracy, I have unknowingly grabbed that torch and filled my garage with Jeeps (and also motorcycles...). I now have my '22 Jeep Wrangler Unlimited Sahara, for my adventures (which replaced a 2013 2-Door Wrangler Rubicon, both manuals), and my husband just acquired his '20 Jeep Gladiator Sport (automatic). Sure, it took a while for me to enjoy/warm up to the aesthetics of the Gladiator, but outside of that, there's a whole lot to love here.
You get the best of all the worlds you didn't think were possible. Want a capable off-roader with four-wheeled action? Jeep Gladiator. Want the ability to have the top down and enjoy the sun? Jeep Gladiator. Want to do both, and also throw your bikes into the back so you can go further off the trail via mountain bikes? Jeep Gladiator. You name most any outdoor excursion and the Jeep Gladiator can and will help bring those desires to fruition, with little stress. It can also tow small trailers, so if you ever felt the need to say, maybe do a little getaway, or want to get a trailer to haul some dirt bikes. I might know from experience... .
Because Gladiators are still new-ish to the market, and trucks and Jeeps hold their values unlike any other vehicle out there, these are a little harder to get at the ideal $30,000 price point you set, for the time being. But, not by much. The other thing to keep in mind is you need this for your getaway home, so you don't need this to be a fancy Jeep. A Gladiator Sport gives you basically everything you need, and enough that if you ding it, as Tom mentioned, it really just adds character. It looks like overall, it might be harder to find Gladiators in Colorado, compared to Texas. I did find this one, with a set of miles (90k) on it, for around your $30k mark. But you and your wife sound like you're always up for adventures, so I think if you can shop around in each state and every state in-between, you might be able to find the perfect match, easily within the $30-35,000 range.