NASCAR has a lot of rules these days, from races broken into segments to the severity of penalties categorized by "levels." But even NASCAR gets those rules wrong sometimes, which led to seven-time Monster Energy NASCAR Cup Series champ Jimmie Johnson getting mistakenly shoved to the back of the field on Sunday.

Johnson qualified 23rd in the 40-car field and managed to finish the race 15th at Texas Motor Speedway on Sunday, but not without some drama. It all started with NASCAR officials wrongly sending him to the back at the start of the race—basically, Johnson's car failed pre-race inspection twice and someone forgot how to count, handing Johnson the penalty cars get for failing three times.
Since there has to be some order to all of the failures, two pre-race failures like Johnson had means a loss of practice time, and three means going to the back of the field. (Yes, there are penalties for failing inspection different amounts of times, because NASCAR teams fail inspection that much. Anyway.)
Johnson and his No. 48 team went along with the ushering to the back, but the mistake didn't fall to the bottom of the pile like Johnson had to. People noticed, and Steve O'Donnell, NASCAR's executive vice president and chief racing development officer, called the mistake "unacceptable" and said Monday that NASCAR would add some new procedures before the next race to make sure it didn't happen again.
Here's what he said, via NBC Sports:
"We'll certainly put procedures in place prior to Phoenix to ensure that just can't happen going forward," O'Donnell said on SiriusXM NASCAR Radio. "It was one of those things, again, a human error that we've really got to look at and look at some additional procedures we can have in place prior to Phoenix. We'll have those done today, and we'll be communicating those first and foremast to the team that was affected and then to the industry as well."


Among the changes O'Donnell said would be in "the number of people that confirm a call prior to the race. Once the race started, we're in trouble. It's plain and simple."
G/O Media may get a commission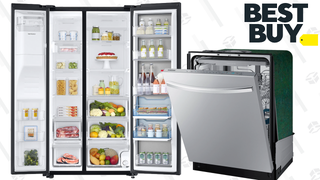 Up to 50% off
Best Buy - Samsung Major Appliance Sale
As for Johnson, he and his team got an apology and a "We really screwed that one up!" from NASCAR, because fixing mistakes isn't exactly easy in the middle of a competition. Johnson, who knocked himself out of NASCAR's playoffs for the championship in the first round by wrecking for the win, accepted it.
Johnson's crew chief Chad Knaus knew there was a problem before the car even dropped to the back, but wasn't able to keep his team's starting position during the few pace laps NASCAR runs before starting the race. From NASCAR.com:
"It's very difficult," said Knaus, who was atop the pit box calling the race for Johnson for the 600th time Sunday. "We had some communication with one of our officials. He didn't think that was the case, so that's why I kept Jimmie in his position with one lap to go before we took the green flag. At that point, NASCAR was very adamant that we needed to go to the rear. Which, with the information the race director had at that point, we needed to go to the rear.

"So, it was just a miscommunication."
Other than adding more checks and reminding people how to count with their fingers, there aren't many simple solutions with this kind of thing in modern NASCAR. Teams fail inspection a lot, since the rules around car measurements are strict to microscopic measurements and teams want every microscopic advantage they can get. They also cheat more openly sometimes.
That turns the NASCAR garage into somewhat of a carnival, with cars looping back around the inspection area like an involuntary carousel ride with penalties for each trip around. One of the few ways to curb the problem would be to stop that ride before it takes multiple trips, by handing out more dire competition penalties for any failures at all.
But for now, NASCAR will stick to putting more "procedures in place" to keep from making the wrong calls on inspection failures in the future. It doesn't give Johnson his attempt at a better race at Texas Motor Speedway back, but it sure does make for a nice, tidy bandaid over that ugly spot.