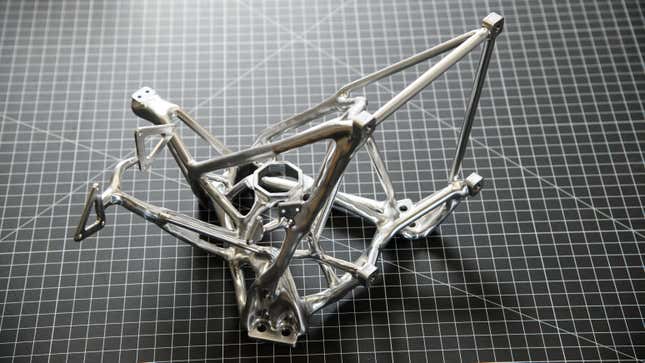 Right now, the Hot New Thing in tech is artificial intelligence. It's showing up in art, writing, and even helping car designers invent worse versions of extant wheels. But now, artificial intelligence is making its way toward a new frontier: Space.
NASA, our nation's favorite Aeronautics and Space Administration, has recently begun using AI to help humans design and manufacture spacefaring bracketry. Real people lay out design constraints, and hold the AI's hand as it sketches designs, but the resulting structures look unlike anything built by human hands — and they're better for it.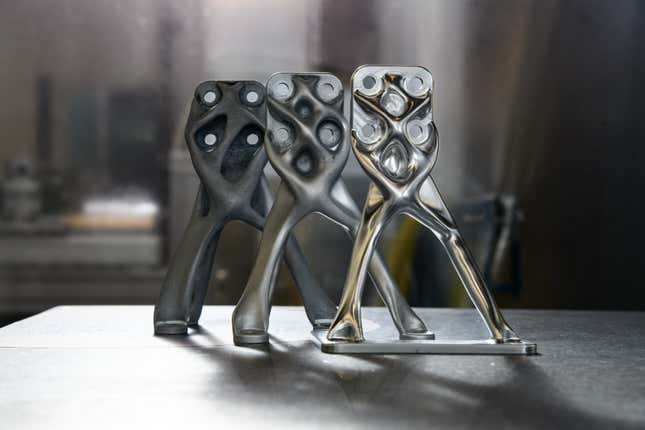 To begin, a human uses computer-aided design software to lay out a part's constraints: Bolt holes, mounting locations, anything that requires a specific shape in a specific place. That designer also specifies anywhere the final part can't be — after all, mounting a camera doesn't do much good if the bracket blocks the lens.
Once those initial constraints are laid out, the AI gets to work stringing them together. According to Ryan McClelland, who pioneered the process, the AI design section only takes a matter of hours. From there, of course, a human has to verify the final design — McClellan claimed the AI often designed pieces too thin.
The resulting structures have an almost organic shape to them, which helps shed weight and spread load. McClellan claimed that even expert designers can't come close to the load dispersion that AI generation can achieve, and that human designs bear weight less evenly. Of course, the idea of AI developing organic structures brings no concerning thoughts to mind. Not one.
AI-assisted designs have already begun showing up in NASA projects, from scanners within Earth's atmosphere to balloon-borne telescopes meant to observe the climates of distant planets. With any luck, they'll hold up better than our own attempts at AI design.