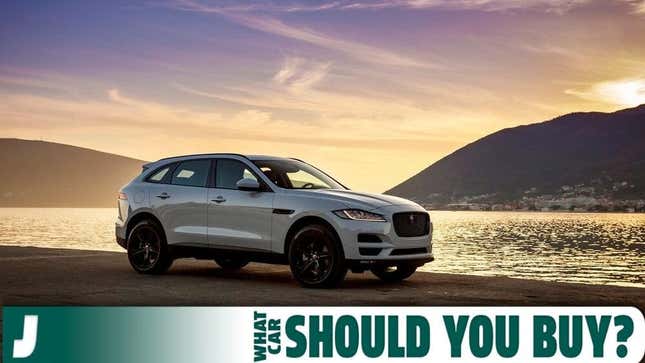 John has a Jaguar F-pace that he uses to haul his kayaks, but lifting those boats on top of that crossover has become a chore so he is looking for something a bit easier. He also wants something reasonably enjoyable to drive with respectable fuel economy. What car should he buy?
(Welcome back to What Car Should You Buy? Where we give real people real advice about buying cars. Do you want us to help you find a car? Submit your story on our form.)
Here is the scenario.
I have a 2020 fpace as my utility vehicle cause I tend to value handling over all else. I carry 2 kayaks on the roof and bikes on trailer hitch. I'm 42 and lifting the kayaks over my head is going to be the death of me. The height plus roof rack plus the jhook is rough. I am looking to replace it with something that is still fun to drive, get's decent MPG but is easier to load the kayaks on. My budget is up to $40,000
Quick Facts:
Budget: $40,000
Location: Kissimmee, FL
Daily Driver: Yes
Wants: Good handling, easy loading for kayaks, decent MPG
Doesn't want: Something too tall or too thirsty
Expert 1: Tom McParland - Something Low With A Long Roof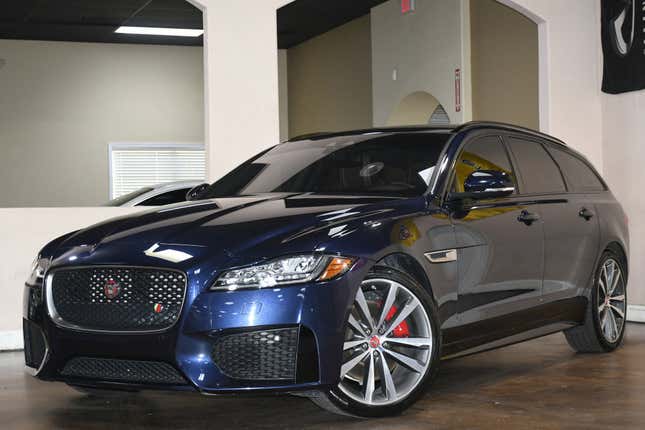 You mentioned that you chose the F-Pace because you prioritize good handling, I'm going to make the argument that you bought the wrong Jag. The ride height on the crossover is the likely cause of your frustration when you're lugging those kayaks onto the roof, and it's not great for handling, either. Therefore it would make sense to aim for a vehicle a bit lower to the ground, but that offers a similar level of practicality. What you need is an XF Sportbrake (Sportbrake is Jaguar's fancy word for wagon).
Under the hood of the XF is a supercharged V6 with about 380 hp (later model years also had a 4cyl option), and the handling should be just as good if not better than your F-Pace. Hook up your rack system and this long roof should make for a much easier time moving your gear. Also, wagons look cooler than crossovers with roof racks…that is a fact. The only real hiccup is that at under $40,000, you have about a handful of Jag wagons to choose from in the entire country. However, there seems to be a nice one in Florida with only 40,000 miles in an excellent navy blue over brown color combo.

Expert 2: Collin Woodard - A Different Longroof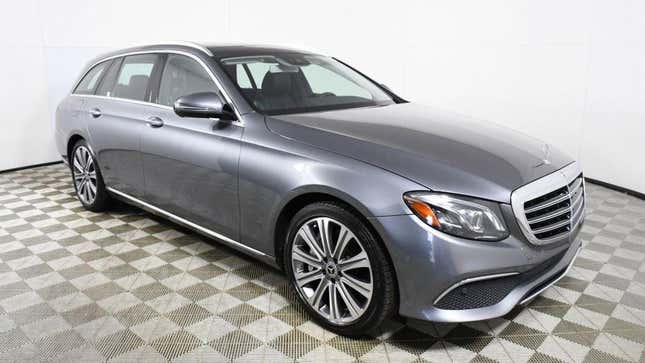 I want to recommend a Miata here. I really do. But two kayaks are probably too much for even the most creative member of the Miata Logistics subreddit. Although, I guess you could always get a trailer for your kayaks and tow them behind the Miata. But you asked about a car, so I'll recommend a car. Or, more specifically, a wagon. Because Tom is right. If you want a lower roofline, a wagon is the best way to go.
But since Tom already recommended the Jaguar wagon, I have to find a different option. Sadly, I couldn't find any E63 AMGs in your price range that were close enough to Kissimmee to consider, but I did find a 2018 Mercedes-Benz E 400 wagon for just under $34,000. It isn't going to be as sporty as the XF Sportbrake, but it's still got plenty of power. And what it lacks in handling, it makes up for in luxury. Well, that, and an infotainment system that won't freeze and crash on you all the time. Become a Mercedes man, John. You know you want to.
Expert 3: Owen Bellwood — Small Is Beautiful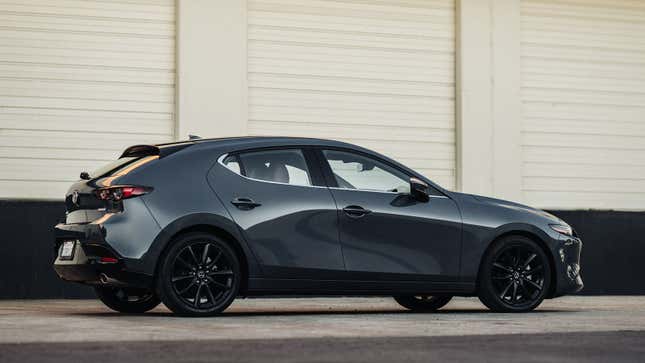 John, space for bikes on the back and kayaks on the roof? You're speaking my language here! I'll agree that the wagon is the sensible option, but it isn't the only one. I really wanted to suggest the Mini Clubman, as it's a fun little car and will let you stick to your clear interest in British brands. But that car is a little long in the tooth, and the John Cooper Works model that you'd want in order to keep the driving as fun as possible is a bit over budget.
Instead, I'm here to say that if you already have roof bars for your kayaks and a rack at the rear for your bikes, you really only need a hatchback. Specifically, you need a Mazda3 hatchback.
Let's start with the obvious, the Mazda3 hatch looks great. That long nose and squat rear end are classy, and because it's a proper hatch there's actually room at the rear for all your kayaking gear. On top of that, $40K gets you an awful lot of brand new Mazda – so you can expect all-wheel-drive, a decent interior filled with features and a 2.5 liter turbo engine that gets 30 mpg combined. Heck, you can even order your Mazda3 today with a kayak carrier, and the car can be fitted with a trailer hitch for your bikes. John, say no to oversized automobiles and say yes to the pocket rocket that is the Mazda3. You know you want to.