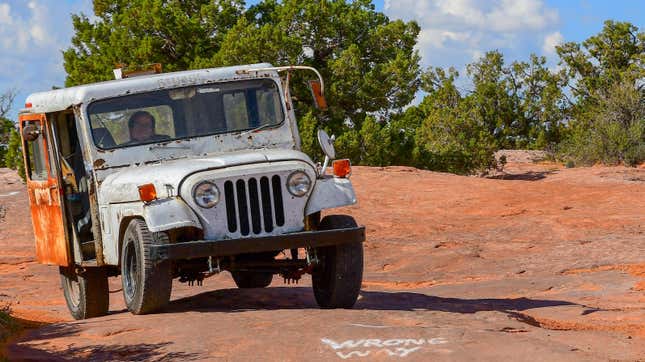 "It's too far gone," the unbelievers said. "It cannot be saved."Project Postal—the $500 postal Jeep that at the time had a two-foot rust hole in its frame and a cracked engine—was met with plenty of doubt from the beginning. And people were right to be skeptical, but after intense wrenching that consumed my life for the last month, the little mail carrier proved its mettle, driving 1,800 miles and arriving in Moab on Sunday night—on the last day of the Easter Jeep Safari.
It only took 14 quarts of oil, roughly 100 gallons of fuel, and some new brake parts, but the little white and brown cube did it, with the only significant failure throughout the entire trip caused by a faulty component from AutoZone.
I'll get into more detail soon on how my brothers and I solved that issue that left us stuck in a Days Inn parking lot in Alamosa, Colorado for two days. But right now, I'm in a new friend named Bill's driveway in Moab, catching some rest in his camper.

Yesterday, I did some off-roading and I may or may not have broken my Jeep, so I wrenched into the night. Bill saw me out front of his home, covered in transmission fluid, and offered me dinner, some lights, and his camper for the night. Bill is a hero.
I'll do a full write-up on all of this, and also on how the Jeep does on the return journey home (this time, I won't have a support car, since my brothers had to return to their respective abodes). But for now, I'm going to finish off some much-needed rest, and then hit the glorious trails of Moab in a machine that never ceases to amaze me with just how poorly it was previously maintained, but also with how badly it wants to continue living on.