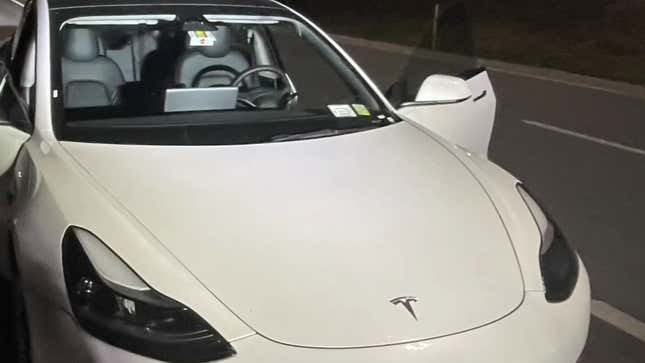 Now that EVs are filling out rental fleets around the U.S., drivers are going through an adjustment period full of hazards and inconveniences. A mother and daughter from Gurnee, Illinois, became trapped inside of a Tesla from Hertz, which the company rented out to them in lieu of an ICE-equipped sedan the woman had reserved in advance. After the dead Tesla stranded them, Hertz tried to put the woman on a do-not-rent list, despite being responsible for much of the trouble, as the woman tells CBS News.

When Becky Liebau and her daughter arrived to the Hertz counter, they were told the only car left on the rental lot was a Tesla. Liebau had never driven an EV; she had booked a reservation for a gas-powered car, but rental companies are notorious for taking reservations though not holding onto them. According to Liebau, this was around closing time and she had no other choice but to take the Tesla, which appears to have been a Model 3 based on the CBS report:
Disaster ensued for the mother and daughter, who had booked the trip to scope out prospective colleges for the 16-year old scholar. We could easily say this was due to driver error, but it's not that simple. User error figures into the problems that left the woman and teenager stranded, but the onus rests on Hertz now that it's bolstered its rental fleet with over 50,000 EVs. Especially when dealing with first-time EV drivers like Liebau.
And it's not like it was for lack of trying on the part of the mother and daughter. Liebau says her daughter tried getting up to speed on the Tesla EV, going on the internet to learn how to to operate the fully-electric car.
Hertz had given the pair an EV that was reportedly under 50 percent state of charge. The Tesla showed approximately 90 miles of range left, which may have been enough to get Liebau and her daughter to a charger. Hertz, however, did not provide them with an adapter to use charging stations that don't conform to Tesla's charging standard. Hertz later suggested these adapters are often targeted by thieves. It's hard to see why that matters, or why Hertz would mention this — other than to suggest it was acting in its own best interest.
The Tesla's tires were also low on air and would have benefitted from a top up. What Hertz basically did was hand Liebau the keys to a less than half-charged EV with low tire pressure and a missing adapter for use at nearby chargers. The Tesla went dead as Liebau searched for a charging station, trapping the two inside the cabin. Liebau and her daughter had no idea how to get out of the dead EV, and their phones were running out of battery, too. Again, that's user error, but no one at Hertz explained the proper procedures to Liebau.
No roadside assistance came from Hertz. The two were eventually towed by a driver they had tracked down on their own, who taught them to override the electric door locks. They were taken to a hotel nearby, and had to pay one of the maintenance workers there for a ride across the state.
Presumably, back to their home. A hefty bill was waiting for them, as Hertz tried to pin the blame on Liebau. She refused to pay the invoices, and the company put her on a do-not-rent list. Hertz only happened to reverse course after CBS investigators reached out to the company. CBS says that Hertz has now refunded all charges and has reimbursed Liebau for the expenses she incurred.