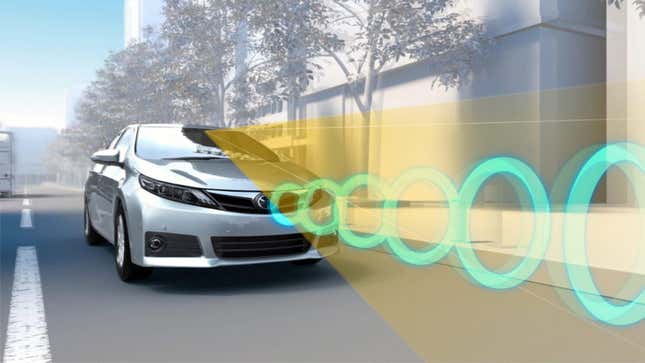 It wasn't too long ago that anti-lock brakes were the hot safety feature to have on a new vehicle. But these days, things have gotten significantly more advanced, with a lot of models coming with automatic emergency braking, blind spot detection, lane keep assist, and other features designed to prevent crashes. But as the Insurance Institute for Highway Safety found when it asked owners whose cars had at least one of those systems, if a wreck does happen, getting them to work properly after a repair can be a challenge.
The IIHS recently released the results of its latest survey where it found that after modern safety systems have been repaired for any reason, about half of them had problems with those systems once the repair was done. A big part of the reason why is that recalibrating cameras and sensors can be both complicated and expensive. Instead of a new windshield costing $250, for example, replacing the windshield on a car equipped with a front crash prevention system could be closer to $1,000 thanks to the time it takes for proper calibration. And yet, drivers still like having those features.
"Most of the more than 3,000 owners we contacted said they had never needed to have their crash avoidance features repaired, but for the minority of owners who did, the problems weren't always resolved easily," said IIHS Senior Research Scientist Alexandra Mueller, who designed the survey, in a statement. "Many had issues with the technology afterward, and some said they had to have the same feature repaired more than once. Still, the vast majority said they would buy a vehicle equipped with the technology again and most were satisfied with the out-of-pocket cost."
That's likely because, while repairs can be expensive and may require multiple visits to the mechanic to get the repair right, these safety features have been proven to reduce the frequency of wrecks. For example, the IIHS found in its research that forward collision warning, automatic emergency braking, blind spot detection, and rearview cameras "all substantially reduce the types of crashes they are designed to address." AEB alone reduced the number of rear-end wrecks reported by a full 50 percent.
"These technologies have been proven to reduce crashes and related injuries," said Mueller said in a statement. "Our goal is that they continue to deliver those benefits after repairs and for owners to be confident that they're working properly."