Good morning! Welcome to The Morning Shift, your roundup of the auto news you crave, all in one place every weekday morning. Here are the important stories you need to know.
1st Gear: You Guys Come On
"What's Mitsubishi up to these days?", you no doubt wonder several times a day. Reportedly screwing up again, that's what.
Japan's transport ministry is set to release findings that the deeply troubled automaker overstated fuel economy figures on eight more vehicles in that country, in addition to the four we already knew about. That comes from a yet-to-be-released report in the Nikkei. Via Reuters:
Japan's transport ministry, which had been investigating the fuel economy on Mitsubishi models including the Pajero SUV, would report its findings as early as Tuesday, the Nikkei said, citing an unnamed source.

The Nikkei said the company would likely withdraw the affected vehicles from the market to revise its catalogs, a process which could take about two to three weeks. Compensation to customers was a possibility, it added.

Both Mitsubishi and the transport ministry declined to comment on the report. Shares in the automaker slipped 0.8 percent in early trade.
G/O Media may get a commission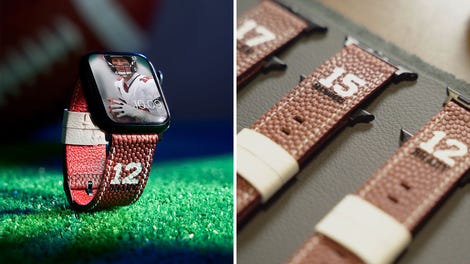 Official NFL PRODUCTS
Official NFL Apple Watch Bands
:/
2nd Gear: Be Patient
Speaking of cheating automakers, Volkswagen AG CEO Matthias Mueller is pushing forward with a massive reorganization and revamp of the automaker to cut overlapping models, revamp other ones and focus on electric vehicles. When we will start seeing the fruits of this? Two to five years, he said. Via Bloomberg:
"Some believe this will pass eventually, that Mueller will only be there for five years, then there's a new boss and when the emissions crisis is over, we'll be doing better anyway," Mueller told reporters. "That's not the case. Regardless of the emissions crisis, this company must reform itself and align for the future."

VW's management board is working on about 60 projects to overhaul the German automaker, including a cultural shift to get the company's 12 brands and numerous divisions to cooperate, as it retools for technological change and seeks to recover from the emissions-heating crisis, Mueller said at a briefing late Monday in Hamburg.
He also calls out Renault for being dicks:
"We have the whole world at our throats," Mueller said. "We hope that it will come to a good end. Well, it's not a good end anyway; it's super expensive."

Mueller said finger-pointing from other carmakers such as Renault SA during the diesel crisis made him feel angry at times.

"If they had kept their mouths shut, it would have been bearable, but to stand there and say: 'Those baddies at Volkswagen' and pretend everything is fine with them, that does hurt indeed," said Mueller. "But that's how things play out, and we'll manage to get our act together."
3rd Gear: Take The Buyback
Do you have a cheating diesel Volkswagen in America? Take the buyback and the payout, don't get it fixed. Everyone else is doing it. Via Bloomberg:
Almost half of the 475,000 affected U.S. drivers have already registered to participate in Volkswagen AG settlement program a month after the deal won preliminary court approval. VW's pact with owners and U.S. regulators offers options, including a cash buyback or $5,100 and a free fix for their vehicle.

Most of the 210,000 owners and lessees who've enrolled in the program want the buyback, lead plaintiff's attorney Elizabeth Cabraser said in an interview, without offering specific figures. While VW doesn't have a government-approved modification for any of the cars, drivers may have a change of heart if a fix becomes available, she said.

"This is a huge number in a relatively short period of time," said Deborah Hensler, a law professor at Stanford University who teaches classes on multidistrict and international class action disputes. "But on the other hand, it would be shocking if a huge fraction of class members were to opt out."
4th Gear: China's EV Clampdown

China's government exercises tremendous control over its industries and can force companies like automakers to merge or partner up. Now, sensing a surge in new EV car companies that may not be equipped to take on Tesla or the rest of the West, China considers forcefully limiting them to just 10. Via Bloomberg:
Any curbs would be aimed at weeding out the weak, said a senior executive with the state-backed auto manufacturers' association, and they may push as many as 90 percent of EV startups toward extinction, a government-linked newspaper said. So far, only two ventures have obtained approval to build cars, based on a review of National Development and Reform Commission documents. Three others say they plan to apply for permits.

Jack Ma, Terry Gou, Li Ka-shing and Jia Yueting are among the investors who've poured at least $2 billion into building alternative-energy vehicles as China tries to combat the smog choking its cities. Generous subsidies helped cultivate a gold-rush mentality, prompting concerns the industry is plagued by too many companies lacking the technical know-how to make electric or hybrid cars that measure up to those from Tesla Motors Inc. or General Motors Co.
5th Gear: The Lidar Revolution
The Detroit Free Press has a profile on supplier Velodyne, which started in high-end audio systems in the 1980s but is now "on the vanguard of the autonomous vehicle frontier" for the development and production of Lidar systems that will eventually help cars drive themselves.
Until recently, Velodyne's Lidar systems cost about $8,000 — too high to be cost effective for an automaker selling to individual customers or even for fleet sales. Later this year, Velodyne will begin producing a system that could cost as little as $500 for each unit, if a high enough volume is ordered.

Ford said it decided to invest in Velodyne after working with the company for years. Ford's investment was announced along with investments and acquisitions of three other companies earlier this month. Ford also announced its intent that same day to develop a fully autonomous vehicle by 2021.

Ford CEO Mark Fields said those companies, along with the automaker's new employees in Silicon Valley, have an opportunity to work on technology that has the potential of "changing the world."

"This is a transformational moment in our industry and it is a transformational moment in our company," he said.
Reverse: California
Neutral: Should China Limit Its EV Companies?
Or let the market sort things out, so to speak?