If, like us, you were bored by the gullwing-door Mercedes SLS AMG "spy photos," here's something actually cool — the upcoming SLS AMG's 6.3-liter V8 exploded, allowing us to see every gorgeous bit.
Not 100% ready for its curtain call, Mercedes released images of its upcoming SLS AMG in a canvas bra and aluminum panties for the world to see most of the Bruce. Consider it a $0.25 gullwinged German peep show. It seems what was once considered to be the most Mad Max-looking prototype ever has transformed into a delicate little beat-your-ass flower as evidenced by the above photos.
Smaller in every dimension than the Mercedes McLaren SLR that it replaces, the SLS AMG features an all-new aluminum space frame that weighs in a full 300 lbs less than the SLR. The 3,571 lb SLS rides on a lengthy 105.5-inch wheelbase and has a front track that's is 1.2 inches wider than its rear.
G/O Media may get a commission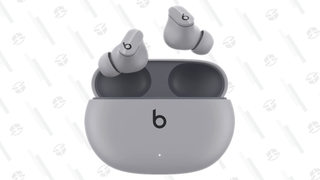 The SLS' sexiness gets transferred to the street with a powerfully tuned version of AMG's 6.2-liter V8 pumping 563 HP through its veins at 6,800 rpm. Helping to make its carbon footprint seen is a healthy dose of 479 lb-ft of torque at 4,750 rpm with which it'll leave rubber bread crumbs all the way to grandmother's house. Sitting low in a mid-front engine configuration, the engine will spin all that power through a carbon fiber driveshaft back to the rear-mounted seven-speed dual-clutch gearbox. No proper manual tranny will be offered.
Included in the package is a non-warranty voiding 'Race Start' launch control feature that will help propel the SLS AMG demon beast to a guaranteed 3.8-second 0-60 mph trap every time your whisper its name. Once your tray tables are away and seat backs are locked firmly in their upright position, the SLS AMG will be able to propel you to a terminal velocity of 196 mph and safely back to not, thanks in part to its six-piston caliper squeezed 15.4-inch discs out front and 14.2-inch four-piston grabbers out rear. That stopping power will turn into a guaranteed nose bleed when equipped with the optional carbon ceramic units.
Our curiosity is getting the best of us, although we'll never really be able to afford one on this highly lucrative sustainable blogging salary, so we asked Mercedes how much this gullwinged 300SL throwback would run us, you know, theoretically. They wouldn't stand firm on a price, but said that you should expect to pay at least €156,752. For those unencumbered by a desire for currency trading, that's $200,000 USD. Guess we'll only be able to afford one big-boy toy this year.