In 1979, the first Gelandewagen, debuted. Built to take over small countries, the über-cool G-wagen is testosterone incarnate. Below we look at the 11 best special versions ever built of this brutishly beautiful Benz.
In the 30 years of production the G-Wagen has only gone through two generations. In 1990, the second Gelandewagen appeared with a slightly freshened look, new safety features, a revised full-time four-wheel drive system and a more luxurious interior.
Despite only being officially on sale in the US since 2002 as the G-Class or G-Series, folks've been importing and selling this vehicle in the US on the grey market for more than two decades.
Because the macho Mercedes is such a capable vehicle, there have been numerous special versions for everyone from the Shah to the Pope. Here are 11 of our favorites.
G/O Media may get a commission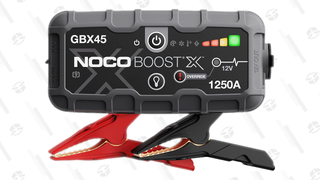 13% Off
Noco Boost X GBX75 Jump Starter
11.) EDITION30 G.PUR
Designed to commemorate three decades of luxurious off-roading, this special edition combines the design and style of the original with the performance and capability of the current G-wagen.
10.) First Generation Box Van
Whether for moving your stuff or moving across town or for moving a team of NATO Allied Rapid Reaction Corps troops into place against a target, these vans have seen duty all over the world.
9.) G55 AMG (W463)
The basic G500 already brings overwhelming power to the G with a 5.0-liter V8. The 2001 G55 AMG maintains a fairly subtle look but upgrades to a 5.5-liter V8 good for 476 HP. This propels the heavy truck to 60 MPH in less than five seconds. Wheeeeee!
8.) The New Popemobile
Mercedes has a long history with the Pope (check out our history of the Popemobile) and one of the most recent additions is this stylish and bullet-proof, open-air Mercedes G500.
The Germans have always been on the forefront of emergency response practices with their "notarzt" system, which puts doctors in rapid-response vehicles to provide a higher-level of emergency car on-scene. If we were to flip out on the autobahn we'd feel comforted by the site of this.
6.) Stretch G-Wagen Limousine
When you think "Rapper's Delight" you may think Sugarhill Gang but, in reality, it's the G-wagen. A delight of hip hop stars everywhere, the stretched G-Wagen limo is the way to really make a scene in a rap video.
5.) Paris To Beijing Globecrawler
The Paris-to-Beijing marathon is the new hip cross-continent trip and there are few vehicles we'd feel safer making the trip in than this beastly Benz.
4.) The Papa-G Popemobile
His Holiness, Pope John Paul II, actually received three Benzes from Mercedes in 1980, but the 230G with its Plexiglas dome is forever pictured as the "Popemobile" for most of the world.
3.) 1983 Paris To Dakar Rally Winner
Driven by Jacky Ickx and Claude Brassuer, this 280 G won the Paris to Dakar rally in 1983, making speed from Alger to Chifra to Korhogo and on to Dakar.
2.) G-Truck
A G-Wagen Camino? A Galendamino? Whatever you call it, this is one tough way to move... flowers. If we had one of these we'd find something better to carry than posies, but it speaks to the dual nature of the vehicle.
1.) Polizei G-Wagen
When someone mentions a G-wagen we immediately picture a German police green with a big blue cherry on top and the words POLIZEI painted in white on the side. You can keep your Dodge Intrepid, we'd take this in a chase across the woods, the 'Bahn, a river or a border any day.

The longest-serving series-production car celebrates an anniversary - 30 years young: the G-Class
Stuttgart – It is now 30 years since production of the Mercedes-Benz G-Class began. The Stuttgart-based car maker first unveiled this robust off-roader to the public in 1979, since when it has delivered a total of some 200,000 units of the G-Class to customers around the world. Its still striking appearance, which has remained substantially unchanged throughout its 30-year career, plus outstanding engineering, has secured this Mercedes-Benz off-roader cult status in the automotive world, and made it one of the most coveted vehicles of its type on the market.
This model family, which is acknowledged to be the best in the off-road sector, bears the succinct "G" prefix in addition to the Mercedes star, has won the Paris-Dakar Rally, is a means of transport considered fitting for the Holy Father, has become an automotive styling icon, continues to emerge victorious in reader votes and represents the gene pool for the Mercedes-Benz SUV family, which has meanwhile grown to five model series. And that is not all: with a production life of 30 years, the "G" is easily the longest-serving passenger car series in the more than 120-year history of Mercedes-Benz. Continuous model updates keep the G-Class up to the latest technological development status and guarantee a superior drive system, but without diluting its essential character. Thanks to a combination of permanent all-wheel drive, the electronically controlled traction system 4ETS, ESP®, a "low-range" gearbox and three selectable differential locks, the G-Class is equal to any off-road challenge while ensuring the handling safety expected of a Mercedes on the road.
Last year too, both the comfort-oriented 463 series and the utility-oriented 461 series of the G-Class held their own outstandingly throughout the world. There are currently no plans to bring this success story spanning three decades to an end.
Dr. Dieter Zetsche, Chairman of Daimler AG: "We have sold 200,000 examples of the "G" to date. The vehicle is now more successful than ever, and the customers are more enthusiastic than ever. Perhaps we will be celebrating yet another major anniversary in ten years time."
The unending story begins in 1972
The development of an off-road vehicle began in 1972, with a cooperation agreement between Daimler-Benz and Steyr-Daimler-Puch in Graz, Austria. In 1975 the decision was taken to commence series production and construct new production facilities in Graz, where the G-Class is still mainly hand-assembled to this day. When the series was premiered in spring 1979, four engine variants were available with outputs from 53 kW/72 hp to 110 kW/150 hp, either as a Convertible with a short wheelbase or a Station Wagon with a short or long wheelbase. After continuous model facelifts and further development during the first ten years, a major development step was taken in 1989, when the G-family had offspring. As an addition to the revised original model with the in-house series designation 460, which was in future to be destined mainly for utility-oriented users, the range was extended with the 463-series models. With new, permanent all-wheel drive, differential locks at the front and rear axles, which now became standard equipment, and a fully lockable inter-axle differential, these marked a new technical departure. ABS also became available as an optional extra. The completely redesigned interior impressed with new comfort features such as new seats, interior body panels, a centre console, a new dashboard and exotic wood trim.
Since September 2001 the G-Class has also featured the trailblazing handling stability, traction and braking control systems ESP®, 4ETS and Brake Assist.
A full range: the current G-Class
The current model family is available in three body variants (short-wheelbase Station Wagon, long-wheelbase Station Wagon, Convertible), which can be combined with either the economical V6 CDI engine developing 165 kW/224 hp and 540 newton metres, or a powerful 5.5-litre V8 petrol engine with 285 kW/ 388 hp and 530 newton metres. The top-of-the-range G 55 AMG, which is available only as a four-door, long-wheelbase Station Wagon, has a supercharged V8-engine generating an output of 373 kW/507 hp and an impressive maximum torque of 700 newton metres. The result is shattering performance that goes together with an incomparable sound to characterise this particularly sporty version.
Another important model in the range is the G-Guard, which is based on the long-wheelbase G 500 Station Wagon. This fully-armoured special protection G-Class is certificated to protection class B6 or B7 against attacks with handguns, longarms and explosive charges of defined size.