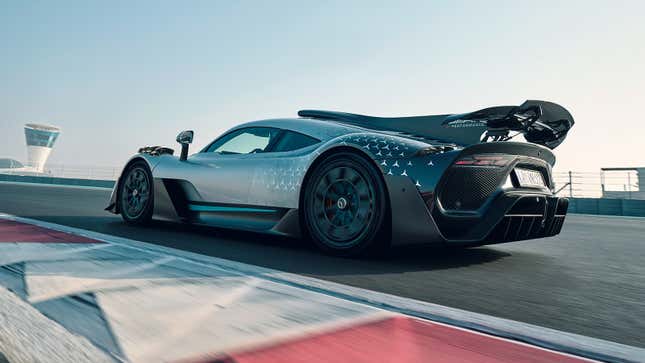 Many hypercars over history have been billed as "Formula 1 cars for the road," but the Mercedes-AMG One is the only one to ever properly deliver modern F1 technology in a street-legal product. It combines a 1.6-liter V6 with not one, not two, but four electric motors — a pair of them dedicated to recapturing kinetic and heat energy, just like in a real F1 car.

Chase Elliott Explains the Challenge of Adapting to NASCAR's Next Gen Car
Also like a real F1 car, harnessing all of this power from various sources requires a complex web of hardware and software that can sometimes go wrong. Like it did recently on an AMG One in transit, on the M6 motorway in England just north of Birmingham.
The news was reported by The Sun, which published its story with a depressingly predictable image of the charred remains of the car in question adorned with a headshot of Lewis Hamilton. You see, because the One uses tech similar to that inside the car Hamilton drives. If by some chance you were briefly horrified to believe the seven-time champ might've perished in some sort of thermal runaway incident, that's on you, and The Sun is not responsible for your impulsive and frankly deranged assumptions. What's wrong with you?
Anyway, this particular AMG One was being transported in a truck for continued assembly when the fire happened. Mercedes has confirmed the remnants are indeed theirs, although the still-visible inboard dampers would've left little doubt. The automaker's statement, via the paper:
A Mercedes spokesperson said: "We are aware of this incident involving a car that was being transported in a closed trailer as part of its assembly process.

"Fortunately, as far as we are aware, nobody was injured.

"At this point in time, we do not know what caused the fire and, if needed, we will support the investigation of the insurance company."
What happened? Mercedes isn't saying at the moment and may never, so your best guess is ours. With batteries comprising such a critical part of the $2.7-million marvel's powertrain, it's not outlandish to suspect they played a role in the blaze. Congratulations, AMG One; you're not a real hypercar until you meet a fiery fate, like so many of your forebears. It's just that usually this sort of thing happens after you're in the customer's hands.