The '97 McLaren F1 XP GT is the original Long Tail built for homologation. It's one of only three road-going Long Tail F1s, and this Deep Bottle Green version, owned by McLaren and protected in the confines of its Technology Centre in Woking doesn't get out much. Until now.
Chassis number 56XPGT made a brief appearance at the Brussels International Motorshow in 2013, but if you missed it there, you pretty much have to get an invitation from Ron Dennis for a rendezvous.
After winning Le Mans in 1995 with little more than stripped out road cars, McLaren got to the point when serious upgrades were in order to keep the F1s competitive for the '97 season.
So came the Longtails, with an extended rear, nose and bigger spoilers for more downforce, forcing the wheel arches to be flared to house the larger 18-inch alloys and remote-reservoir dampers which could deal with the extra pressure. The racing GTRs had air restrictors, but the GT road car came with an enlarged roof snorkel and all of BMW's 627 horses.
G/O Media may get a commission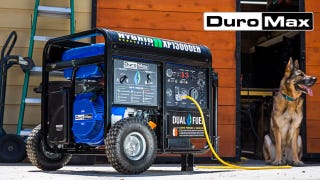 Black Friday Sale
DuroMax Generator Sale
The Longtail racers won five of the 11 FIA GT rounds that year, and finished second and third at the 24 Hours of Le Mans in 1997 despite having a disadvantage:
With only three months to complete the project, McLaren pulled out all the stops to produce the required road car in time for the deadline, which was set for the season's first race, even going so far as to produce a customer brochure. But as the new season loomed, it became clear that other manufacturers had failed to manage the same feat. The homologation deadline was extended to the final race of the season, effectively allowing McLaren's competitors to field bespoke racing machines for the 1997 FIA GT championship.
I'm not entirely sure why McLaren is so keen to show us the difference between a real Longtail and their new wannabe, but that's what's going to happen. They also ensured us that they will have coffee at the show "from the best Swiss supplier". Which apparently is Nespresso. I let them know about Volvo's, maybe they can sneak out for a sip at some point.
After this homologation special, two more Longtail GT road cars have been commissioned by existing F1 customers which remain with private collectors, which should make this green car the most valuable F1 road car of them all.
Photo credit: McLaren