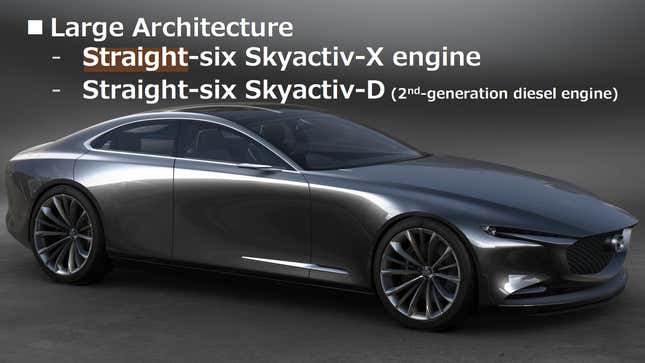 According to the March 2019 fiscal year results report, Mazda is apparently developing an all-new straight-six engine with Skyactiv-X technology, joining BMW, Mercedes, and Jaguar with renewed commitment to the best engine you can put in a car, and making Toyota look a little silly.

2024 Nissan Z NISMO | Jalopnik Reviews
In this presentation titled Fiscal Year 2019 March Results on Mazda's investor website, page 25 details some future product plans for the company going forward, including expanding on its fantastic Kodo design language, developing a mild-hybrid system and its own electric vehicle technology, and then seemingly out of nowhere casually lists a Skyactiv-X straight-six, as well as a Skyactiv-D straight-six diesel.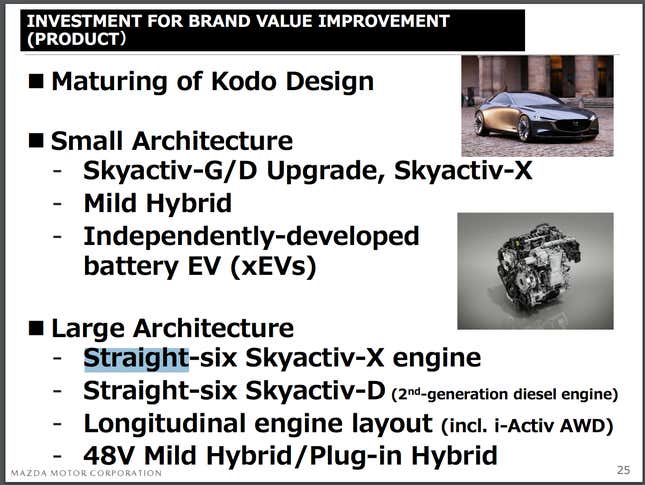 As far as I can tell, Mazda hasn't mentioned this in last year's fiscal year report, nor when we drove the 2.0-liter Skyactiv-X prototype, nor at either of the two US Mazda 3 launch events, so it's news to us.
The straight-six engine is on a bit of a comeback, with Mercedes developing a new modular engine which can be paired with a mile hybrid setup, Jaguar developing its own similar straight-six mild hybrid setup, BMW sticking to its straight-six roots, and then Toyota borrowing BMW's engine (and a lot more) for the new Supra.
Just this week, Tetsuya Tada, chief engineer of the new Supra, told Jalopnik it would have been a logistical nightmare for Toyota to develop its own new straight-six for the Supra, involving years of development, a new factory, and would have driven up the cost of the car.
That's why it's so surprising, and kind of entertaining, for Mazda to come along and quietly announce its developing a straight-six, as it's a much smaller car company than Toyota.
Mazda made a bunch of news last year with its 2.0-liter four-cylinder Skyactiv-X engine, and I'll let our own David Tracy explain how that works:
The Skyactiv-X engine works by using a process that Mazda calls Spark Controlled Compression Ignition—essentially a spark plug lighting off a localized rich mixture of fuel and air to create a fireball that compresses the lean mixture throughout the rest of the cylinder, yielding spontaneous ignition. It's a fascinating concept that promises the efficiency of a diesel engine.

In Europe, where the Skactiv-X is due to go on sale next month, the four-cylinder version of the engine makes about 178 horsepower and 163 lb-ft of torque, and it's paired with the GT and GT Plus trims of the new Mazda 3.
A Skyactiv-X straight-six would likely be packaged with Mazda's large-architecture cars, including a next-generation Mazda 6 and its lineup of larger crossovers, though that's purely speculation.
Jalopnik reached out to Mazda just to make sure we weren't seeing things and a spokesperson confirmed the development of both straight-sixes. The statement reads, "We're excited to bring these powertrains to our future vehicles as we continue on our path to premium. We know our fans will be yearning for additional details, however specific models, performance figures and market rollout will be disclosed at an appropriate time."