It's not enough that the back seats of the Mercedes-Maybach S-Class have their own tweeters. It's that those tweeters extend out towards the chauffeur-driven passengers "in a spiral motion."
Mercedes just debuted their revamped Maybach simultaneously in the LA Auto Show and China's Guangzhou. Mercedes killed the standalone brand a few years back and are returning it as an upper-upper-upper trim level of the S-Class.
What AMG is for performance, Maybach is for luxury.
G/O Media may get a commission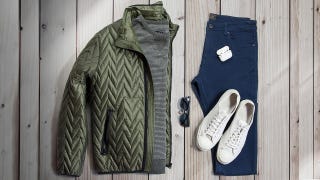 60% off
Jachs NY Fall Sale 60% Off
Given that the S-Class is already extremely luxurious, with suede-lined inflated headrest pillows, soft leather seats, acres of legroom, as well as beautiful wood and metal trim, what does the Maybach get? Well, uh, more.
Take the doors on the Mercedes-Maybach, for instance. While the plebeian S600 gets wood and leather presumably just smacked and spit-glued into place, the Mercedes-Maybach gets its leather hand-stitched. It rises all the way up to your shoulder line, met with wood and chrome-plated tweeters.
The Maybach also gets its wheelbase stretched by over half a foot. Coupled this with a kind of extending 'heel support' footrest included in the 'Chauffeur package,' means that Mercedes can brag this is an easier car to sleep in than ever before. Yep, the back of the Mercedes-Maybach was designed with passing out in mind.
You only get two seats in the back, for extra adjustability. If you want tables in the back of there, you can order two of them. Drinks holders can be warmed and cooled using Peltier technology.
Maybe my favorite part of the whole car is that they wind-tunnel tested the thing, not for tuning high speed stability (the car can come with Mercedes' twin-turbo V8 for 455hp or its twin-turbo V12 for 530). Nor did Mercedes wind-tunnel test the car for fuel efficiency.
They stuck it in a wind-tunnel to test its quietude.
Apparently this is the quietest production car in the world right now, thanks to optimized door design, and by measuring sound levels even when the seats are reclined.
Mercedes hasn't given an exact price, but it appears to be five figures' worth of your favorite currency more than an equivalent S-Class. USA Today puts the figure at over $200,000 while CAR Magazine puts it at circa £160,000 (that's over $250,000).
It looks like it just might be worth it.