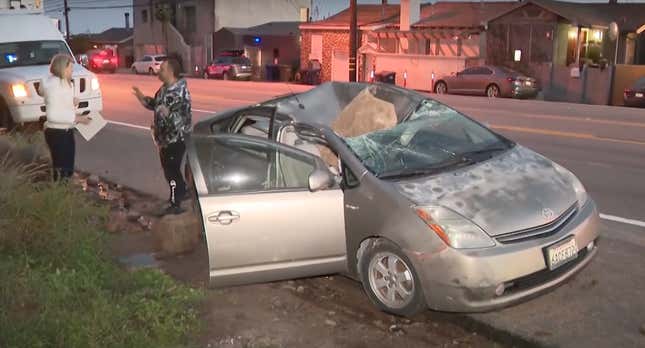 A man driving his Toyota Prius down the Pacific Coast Highway in Malibu on Tuesday narrowly avoided death or serious injury after a boulder crushed his car moments after he exited the vehicle.
Driver Mauricio Henao is understandably shaken by the ordeal. He was parked on the side of the PCH and was about to drive away when rocks began raining down on his vehicle. He told KTLA he feels lucky to be alive:

Henao was sitting in his driver's seat just moments before the giant boulders came tumbling off a Malibu hillside, landing right on top of his car.

"I just heard loud crashes," recalled Henao. "And I ran out and saw my car just crushed."

A four-foot boulder had tumbled down the hillside and onto Henao's sedan, completely smashing the roof inward.

"The rock is the size of the whole hood,"' said Henao. "The windshields are all broken and the frame of the car is just all twisted."

Rocks scattered across four lanes of traffic and even threatened nearby homes. Intense rain storms that have pummeled the west coast for the last week caused the rockslide by washing away soil and smaller rocks underneath the boulders. More than a dozen have died in the intense storms, according to CNN. As the rain continues, the death tolls will likely continue to mount.
Rockfall on freeways is a huge irrational fear of mine. Irrational, because I live in a very flat state. If you live anywhere with any sort of elevation the fear of being crushed by falling debris is definitely reasonable. California is no stranger to having the picturesque Pacific Coast Highway pummeled by rocks and landslides. In 2017, a major landslide closed down a huge portion of the freeway. It took the state 15 months and $54 million to rebuild the highway.
Unlike so many road risks caused by natural circumstances, like snow or heavy rain, there's really nothing you can do about rockslides except avoid driving next to rocky hills when it's been raining. Easier said than done, of course. Just last month, a couple was killed by a rockslide in Yosemite National Park that pushed their rented Dodge Ram into a river, according to Yahoo News.
You can keep all the space blankets and kitty litter in your car you want in case of snow, there's nothing to protect you from a rock just wiping you off the map from on high. Just go forth, and keep an eye on those hills.