Lotus has produced some fine convertibles in the past — the original Seven, both front-and rear-drive Elans, the Elise — so you'd think a quirky announcement alluding to a new open-top model would be welcome. It might have been if it wasn't from Dany Bahar's Lotus.
In a cryptic too-hip press release that raises more concerns than curiosity, Lotus has sent out an invitation for the unveiling of an unspecified but probably open-topped product at the upcoming Geneva show:
MAXIMUM EXPOSURE....

...Lotus' philosophy has always been 'less is more'. Now, with a display of true fighting spirit, we'll take this one step further in Geneva.

Who: Group Lotus
What: Something breezy, something loud, something ice-cold, and some other interesting elements

Where: Hall 2, Stand 2230

When: 6th March, 11.15am (CET)

Why: Because we'll blow the roof off...
The invitation features the three frames shown at top: the unlucky strap-cap wearer, the unworn bikini top, and the unapplied lotion, which is presumably sunscreen.
The upshot of all of this is probably a pop-top version of the Evora; a photo of the current hardtop version headlines the press release at the Lotus media website. Then again, it could be a great new beach-ready stereo-system partnership. Or a monster fashion show to display the latest in Lotus lifestyle accessories, including swimwear and headgear.
G/O Media may get a commission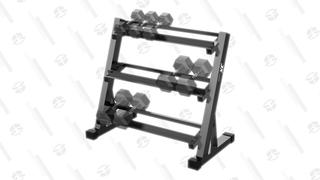 20% Off
JX Fitness Dumbbell Rack
Gains but tidy
Has a three-tier design to help store more weights more conveniently, can safely support up to 1000lbs of weight, which should be enough for most people, has a triangle base for stability, and also features anti-scratch feet which is great if you've built your own studio or workout in your garage.
We don't know right now. And given Bahar's stated intentions and the current state of Lotus (see "3rd Gear"), that's enough to cause us to worry.