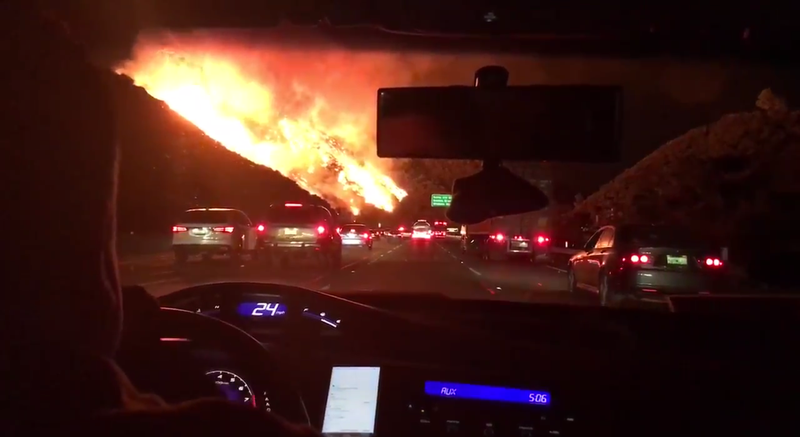 Los Angeles' morning commute is a nightmare on most days, but today, it looked like drivers were heading straight into the fires of Hell. Interstate 405 in the Bel Air area of Los Angeles ultimately had to be shut down this morning when a wildfire came way too close to the freeway as well as many homes in the area, KTLA reports.

A wall of fiery destruction from the wind-whipped brush fire came perilously close to the 405, prompting the evacuation and shutdown of a large section of the freeway from Interstate 10 to Highway 101.

The fire started near the freeway by Mulholland Drive just before 5 a.m. local time, and burnt 50 acres by 5:30 a.m. due to the gusty winds in the area, Los Angeles Fire Department spokeswoman Margaret Stewart told KTLA.

Stewart also gave KTLA perhaps the understatement of the millenium: "It is going to be a significant commute issue."
This is the fifth wildfire to break out in less than two days in the area, according to CBS LA reporter Jasmine Viel.

A Mitsubishi Galant VR4 that came to last weekend's Radwood car show was consumed by another fire in the area, but thankfully, the owners of that car were able to evacuate safely.

[H/T Mara!]