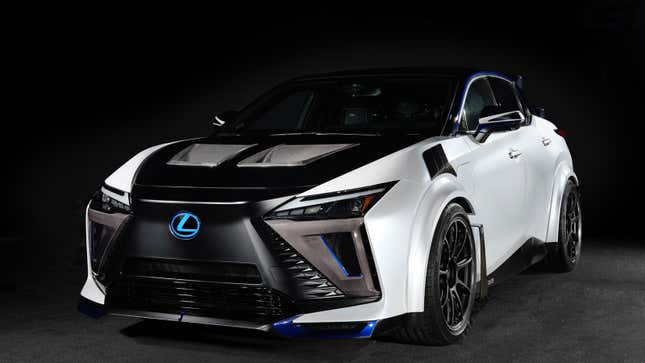 If there's one thing hotter than electric pickups right now, it's electric SUVs. Every automaker out there is clamoring to come up with one that you actually want to buy so they can start edging towards their eco-minded targets. But how do you make your electric blob stand out from all the other electric blobs? Well, if you're Lexus, you make it ready for the one place everyone takes their SUVs: the race track.

2024 Nissan Z NISMO | Jalopnik Reviews
That's right, sensible automaker Lexus has decided that what the world really needs right now is an outlandish electric SUV that packs a lower ride, custom aero upgrades and full bucket seats. Very practical.
Called the RZ Sport Concept, it premiered at the Tokyo Auto Salon this week, which happened to also give us a glimpse at the 2024 Nissan GT-R.
Back to the RZ Sport though. The concept was developed by Lexus and racing driver Masahiro Sasaki. Based on the standard Lexus RZ 450, the car takes the electric SUV and preps it for a racing series that nobody was asking for. Or maybe they were, we had a field full of Jaguar I-Paces one time. remember?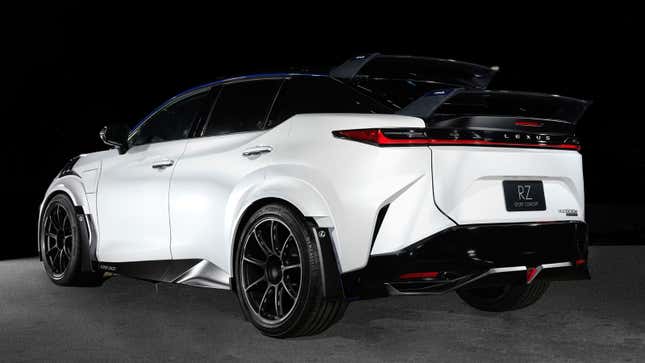 As such, it's equipped with high output 150 kW motors in the front and rear. This power is up on the standard car, which has just an 80 kW motor at the rear and 150 kw at the front. The concept does, however, come with the same Direct 4 all-wheel-drive system you find in the standard RZ.
The car has also been lowered by 35mm (about one inch) and features custom aero add ons, including not one, but two, rear spoilers. There's also a pair of massive hood scoops to keep the frunk nice and cool.
On top of that, the concept also comes with larger tires, and flared wheel arches to accommodate the expanded rubber. For those times when you need to take the whole family racing, Lexus also fitted race-ready bucket seats to the front and rear of the car. Handy.
To finish the whole race car vibe in style, Lexus finished the concept off in a white color it calls Hakugin. There are also blue accents to showcase the "dynamic performance" of EVs, apparently.
So, what do you think of it? Is the hot SUV the hot hatch for this decade? And, if it is, does this concept do enough to tempt you over to the electric side of driving?