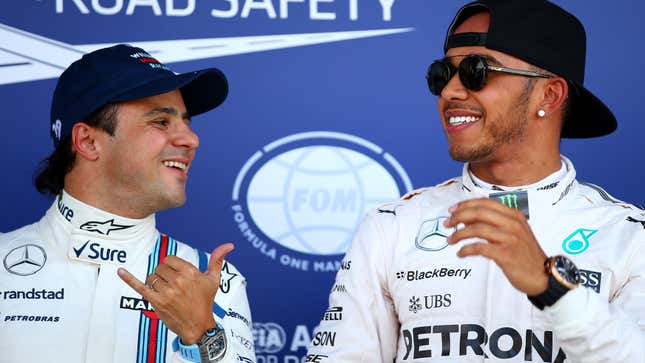 There's never a shortage of drama in the Formula 1 world, and recently, former racer Felipe Massa has decided to make headlines by contesting the results of the 2008 World Championship. See, Massa lost that title to Lewis Hamilton by just one point — but Massa is ready to prove in court that was screwed out of a title. And since Hamilton has so many other titles, why not just give this one to Massa? As a little treat?
Let's set up some context. See, Massa has claimed that he was "the victim of a conspiracy committed by individuals at the highest level of F1 together with the FIA and Formula One Management," Reuters reports. Why? Because of the Crashgate scandal.
At the 2008 Singapore Grand Prix, Nelson Piquet Jr. intentionally crashed to give his teammate Fernando Alonso a much needed advantage in both the race and the championship. While it was suspicious at the time, it wasn't until 2009 that allegations of conspiracy became widespread and the truth came out that the Renault team had manipulated the championship. By that time, the 2008 title had been awarded to Hamilton.
Now, Massa's argument hinges on the fact that he believes there's enough evidence to prove F1 was more than aware that the Singapore Grand Prix crash was intentional before the completion of the 2008 season. Basically, that would mean that F1 chose not to take action to right this wrong until it was too late to alter the outcome of the 2008 title fight.
And it was a very significant fight: Massa lost out on that title by just one point. Now, he's arguing that, had F1 addressed Crashgate immediately, he'd have scored enough points to win, easily. Massa was, after all, leading the race when Piquet Jr. crashed. Because rules at the time forbid pit stops until all the cars in the race had bunched up behind the safety car, Massa's post-crash stop dropped him down several positions, and he ultimately finished the race in 13th place — well outside of a points-paying finish.
In mid-August, Massa and his lawyers sent a formal letter to F1 and the FIA to announce the beginning of legal proceedings. Massa is claiming that losing the title caused him to lose out on millions of dollars in earnings and likely had a negative reverberation throughout his entire career.
"Simply put, Mr. Massa is the rightful 2008 Driver's Champion, and F1 and FIA deliberately ignored the misconduct that cheated him out of that title," the letter said, as reported by Reuters. "Mr. Massa is unable to fully quantify his losses at this stage but estimates that they are likely to exceed tens of millions of Euros. This amount does not cover the serious moral and reputational losses suffered by Mr. Massa."
It may not come as a surprise that Massa's legal challenge was inspired by former F1 boss Bernie Ecclestone, who claimed in a March interview that he knew Piquet Jr.'s crash was deliberate when it happened but that he and FIA head Max Mosley chose not to take action until they were forced to do so in 2009. (For his own part, Ecclestone also told Reuters that he doesn't even remember making those statements to the media, and that Ecclestone hadn't even been approached by Massa or his legal team.)
In the letter submitted by Massa, F1 and the FIA were required to respond by September 8. That date has now been pushed back to mid-October, Autosport reports.
Ferrari — the team that Massa raced for in 2008 — has refused to become involved in the lawsuit. Massa's lawyers are now hoping that Lewis Hamilton himself will side with Massa because Hamilton " an important ambassador for the sport and has always defended sporting integrity. He is an honorary Brazilian citizen and very well liked by Brazilians, so I hope he will support us. We have absolutely nothing against Hamilton."
It will be fascinating to see just how this legal battle plays out. It could be easy for F1 to argue that motorsport is a fickle mistress, and that even if Massa had won the 2008 Singapore GP, there would be no guarantee that the rest of his season would have played out exactly as it had; he may very well have not gotten close to the Championship. Massa could also argue that the race win could have given him more momentum throughout the rest of the season. The final result will likely set a significant precedent for other highly controversial F1 seasons.