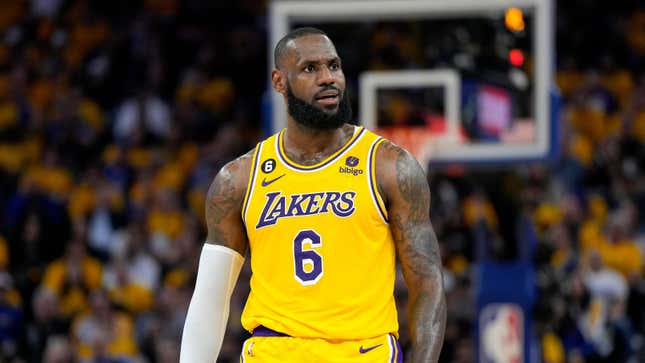 Traditionally, international races are started by waving the host country's flag instead of a green flag. The 24 Hours of Le Mans is the last major event to do this, with a significant figure given the honor of waving the French tricolor to send their field of over 60 cars hurtling into the first corner. For the centennial anniversary edition of Le Mans this weekend, an equally monumental individual was selected: LeBron James.
This NYC Garage Takes Vanlife To The Next Level | Jalopnik Visits
The Automobile Club de l'Ouest (ACO) has announced that LeBron James, the NBA's all-time leading scorer, will be the official starter of the 2023 24 Hours of Le Mans. The race organizers in recent years have selected official starters intending to solidify corporate partnerships within the sport rather than appeal to the masses. Last year, the CEO of French oil giant TotalEnergies was chosen as the starter to highlight the entire field running on 100 percent renewable fuel produced by the company. In 2021, Ferrari chairman John Elkann was selected to coincide with the announcement of Ferrari's return to endurance racing's top class.
In a statement, James said:
"There's nothing like seeing and experiencing sports at their highest level. It's an honor for me to be part of this historic moment in motorsport and help celebrate the Centenary of one of the biggest sporting events in the world. I look forward to kicking off this iconic race and watching its world-class drivers compete on Le Mans' global stage."
The four-time NBA champion was reportedly the backup option after French President Emmanuel Macron. French radio broadcaster RTL reported that Macron turned down the opportunity to start the landmark event because of the security challenges of appearing at such a large event. There have been widespread protests in France over Macron's controversial pension reform. Besides the threat of bodily harm, Macron would have faced non-stop booing like when French President François Hollande served as the starter in 2015.

James, a long-time racing fan, was available to appear at Le Mans because his team, the Los Angeles Lakers, was swept out of the NBA Playoffs by the Denver Nuggets. The 24 Hours of Le Mans is scheduled to start on Saturday, roughly 12 hours after Game 4 of the NBA Finals between the Nuggets and the Miami Heat.