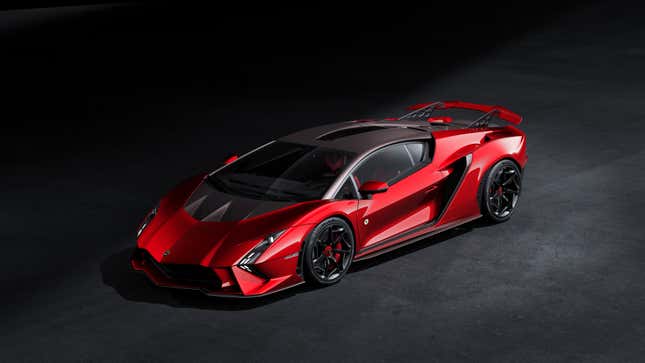 Lamborghini's naturally aspirated V12 engine is a pretty special thing. It makes the Aventador sound like nothing else, and the amount of power that the folks in Sant'Agata have been able to squeeze out of it without turbos or other trickery is super impressive. It's also, unfortunately, going the way of the thylacine, and to celebrate the end of the V12 era, Lamborghini is releasing two special one-off vehicles.
The 2023 Ford F-150 Raptor R Is Here
"The V12 engine is one of the pillars of our history and our marque's success," said Stephan Winkelmann, Automobili Lamborghini chairman and CEO, in a statement. "As we head towards embracing a new era of hybridization at the heart of our Cor Tauri strategy, this is the Lamborghini way of celebrating the naturally aspirated V12 with two one-off vehicles that perfectly represent our concept of excellence in personalization."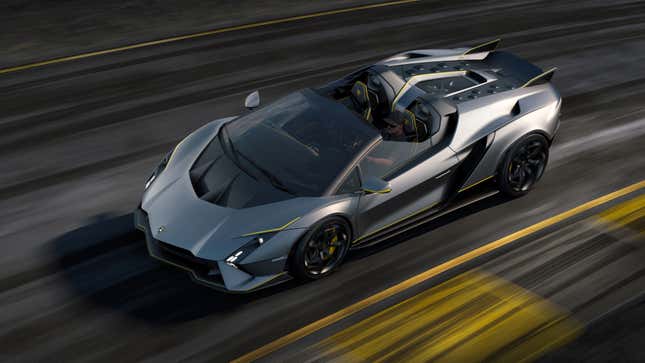 The cars — a coupe and a roadster called Invencible and Autentica, respectively — made their debut on Monday. The cars borrow styling elements from the wildest Aventador models as well as the Sesto Elemento, Reventon and Veneno. They really fit the bill as a sendoff to the wild V12-powered Lamborghinis of the past.

The cars are both mechanically identical and feature a 6.5-liter version of Lamborghini's LP V12, producing an exceedingly robust 769 hp (nice) and 531 lb-ft of torque. This monster of an engine is paired with one of the worst transmissions in the world today, the 7-speed ISR featured in the Aventador. All-wheel drive and four-wheel steering are also along for the ride. The chassis tub has been borrowed from the Aventador, which makes sense, given all the other mechanical bits.
Lamborghini hasn't said whether the cars will get out into the world for people to see or if they'll live at the factory, and of course, being one-offs, there's no price listed for them.