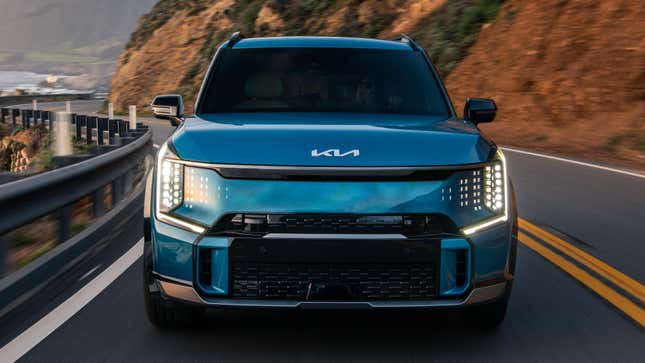 Great news! Kia has confirmed it's developing a midsize pickup truck to take on the Ford Ranger. Except it's only confirmed for Australia. Will we ever see it in the U.S.? We'd sure hope so. It would be rude of Kia to develop a pickup truck and not sell it here. In fact, we'd say it's pretty likely that we'll also get Kia's new truck.
Ram Recalls 1.4 Million Pickup Trucks for Tailgates That Can Fly Open While Driving
According to Australia's WhichCar, a highly placed source in Kia's Australian dealer network says the future truck was announced at a recent dealer conference and will go on sale in 2025. When asked for a comment, Kia Australia confirmed the fact that the truck is being developed but wouldn't comment on any other details.
"Kia is currently developing a future pickup truck model that will be highly capable and fit for purpose," a spokesperson for Kia Australia told WhichCar. "Additional details will be confirmed in due course."
Unlike the Hyundai Santa Cruz, the upcoming Kia pickup truck will reportedly be an actual body-on-frame truck and will be a true competitor against the Ford Ranger and Toyota HiLux. If you've been paying attention to Australian automotive media (which we definitely all have), this isn't exactly a surprise, though. Spy photos of a heavily camouflaged Kia pickup truck surfaced late last year.
Kia also announced last year that it was working on two pickup trucks. At the time, Kia said it planned to build both trucks in the U.S., which suggests that at least one of them will be sold here. After all, why would Kia go to the trouble of building a truck in the U.S. if it plans to export all of them to other countries? That just wouldn't make sense. Additionally, the 2025 on-sale date in Australia lines up closely enough with Kia's previous statement that it plans to start production here in 2024. So get ready, folks. In a few years, there will probably be a new midsize pickup truck to consider.