There are the "Oh, sorry, we shipped the wrong size" screwups at work. Then, there are the "Oh, lol, the rollover sensors haven't been enabled on cars we sold for the 2018 model year" screwups at work. This one happens to be the latter, and resulted in a stop-sale of the 2018 Karma Revero this month.
Karma Automotive, the company born from Fisker after it went bankrupt and sold to Chinese manufacturer Wanxiang Group in 2014, sent a recall notice for the 2018 Karma Revero to the U.S. National Highway Traffic Safety Administration recently. The recall includes 231 vehicles.
The risk is that the Revero, a continuation of the perpetually faulty Fisker Karma, might not deploy its side-curtain and head-protection airbags in the case of a rollover.
The recall also resulted in Karma issuing a stop-sale on the 2018 Revero, which it sent dealers a notification about on April 11, 2019. The notification said Karma "identified a noncompliance" with Federal Motor Vehicle Safety Standard 226 in terms of side-curtain airbag deployment in the event of a rollover, and that both sales and deliveries of the car are on hold for now.
From the dealer notification:
MY 2018 Karma Revero vehicles manufactured on or after September 1, 2017 (U.S.A.) and on or after September 1, 2018 (Canada) are affected by this recall.

Effective immediately and until further notice, these MY 2018 Revero vehicles are on mandatory stop-sale hold.

DO NOT sell, or offer for sale or lease, any vehicle included in this hold.
Why might those airbags not deploy, you ask? Because the rollover sensors in the car weren't enabled. Karma didn't realize until that was out testing the face-lifted 2020 Revero, whose rollover sensors also weren't enabled.
G/O Media may get a commission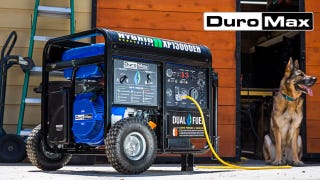 Black Friday Sale
DuroMax Generator Sale
From Karma's chronology of the problem, which would be laughably bad if it weren't such a major part of crash safety, as submitted to the NHTSA:
On April 4, 2019, in the course of compliance testing of unreleased MY 2020 Karma Revero vehicles, it was determined that the rollover sensors in these MY 2020 vehicles had not been enabled. This finding led Karma to determine that the rollover sensors in affected MY 2018 Karma Revero vehicles similarly had not been enabled, rendering those MY 2018 vehicles non-compliant with FMVSS 226. Karma also determined related non-compliances with respect to the readiness indicator and owner manual/consumer information requirements.
In addition to the lack of enabled sensors, the recall said owner manuals lack a description of the system. As of the initial recall notice from April 11, Karma said it hadn't received any warranty claims, general reports, or reports of injuries or deaths related to the problem.
To fix the issue, Karma plans to replace the current airbag-control unit with one that has enabled rollover sensors, along with an indicator to monitor readiness of the system and an update to the owner manual.
All 2018 Reveros made on or after Sept. 1, 2017 are included in the recall and will be fixed, but Karma isn't offering the same perks for ones made before that, since those cars apparently have a small-volume manufacturer federal exemption.
Karma expects to notify owners—those lucky enough to receive the grace of the federal government, that is—about a fix by July. As for the folks proudly driving their un-recalled Reveros around, well, maybe they'll at least be lucky enough to have someone remedy their next mistaken online order.
After all, screwups at work are kind of meant to be fixed—whether the federal government orders that fix or not.