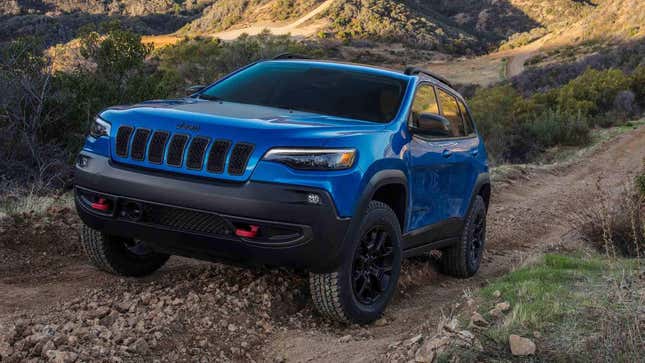 The current generation Jeep Cherokee has finally reached the end of its life. Jeep has updated the Cherokee lineup for 2023 as production of the midsize SUV winds down.
Mitchell Slaggert's Rainbow-Colored Jeep Wrangler
Last month Stellantis announced that the company would be idling its Belvidere, Illinois assembly plant "indefinitely." While that means layoffs, unfortunately, it also put into doubt the future of the Cherokee. Stellantis stayed quiet, not confirming or denying whether or not the Cherokee would be going away, saying, "We are not commenting on the future of the Cherokee nameplate. This is an important vehicle in the lineup, and we remain committed long term to this mid-size SUV segment."
A little over a month later, things have changed. Jeep confirmed to us that the current generation Cherokee will be ending production on February 28, 2023. In light of that, Jeep has slimmed down the lineup.

The Cherokee lineup now consists of just two trims. There's the base $39,290 Altitude Lux trim and the $42,890 Trailhawk. The Latitude Lux, X, and Limited trims are gone as well as the 3.6L V6. The only engine options are a base 2.4L 180 horsepower I4 or an optional 2.0L turbocharged I4 with 270 hp.

This also means an increase in prices over the previous model year's axed trims. Before, a base Cherokee Lattitude X would set you back $34,895 for a front-wheel-drive model. Now the price has gone up $4,395 with the new base model; the Trailhawk sees a slightly smaller increase of $3,750. But that might be a bigger hit to some with the loss of the more powerful V6.

While the current generation Cherokee has been around since 2014, its loss doesn't mean it's gone forever. Jeep let us know it's still committed to the midsize segment as well as EVs, reminding us two EV crossovers are coming in 2024 and to stay tuned for more information about the next-gen Cherokee.

The Jeep brand is fully committed to expanding its presence in the mid-size SUV segment, one of the largest in the world. The brand recently announced the introduction of two new fully electric, mid-size SUVs that will begin production in 2024. We will make an announcement regarding the next generation Jeep Cherokee in due course. All Jeep brand vehicles will offer an electrified variant by 2025, including four zero-emission vehicles in North America and in Europe.