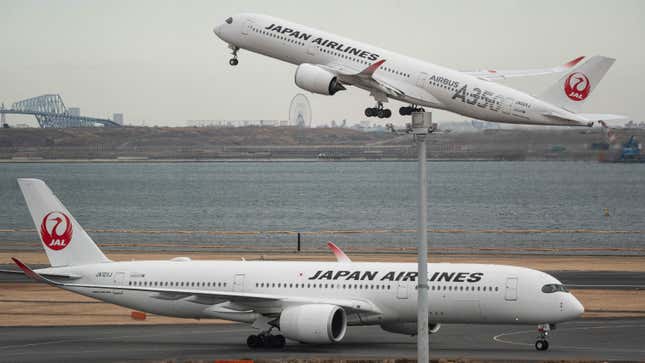 If you're a frequent flyer, you've likely had a plane rerouted in flight. Sometimes there's bad weather at your destination airport, sometimes a mechanical issue forces you to make a pit stop — it's normal enough in the world of air travel. But discovering your destination airport is closing, while you're only minutes away, is certainly rarer.
That's the fate that befell passengers of Japan Airlines flight JL331 this past weekend. A two-hour flight out of Haneda Airport in Tokyo saw 90 minutes of delays, which pushed its scheduled landing in Fukoka dangerously close to the airport's 10 p.m. curfew. As the plane neared Fukoka, the pilots discovered it would barely miss the cutoff — and were forced to turn around.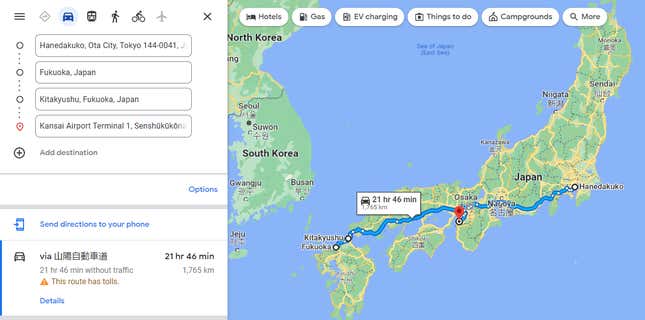 Bloomberg tells the full story of JL331's desperate attempts to just land somewhere, anywhere. It was originally supposed to be redirected from Fukoka to Kitakyushu, just an hour's drive away, but the latter airport didn't have enough buses for the plane's 335 passengers.

Instead, the plane was directed to Kansai airport, nearly halfway back to Tokyo. The plane landed just before 11 p.m., only to learn that Kansai, too, lacked the infrastructure to handle JL331's passengers. So, passengers returned to cruising altitude, bound back for Tokyo — arriving back where they started, seven hours later.
Next time your plane is delayed in Newark, or your JFK-bound flight is redirected to Philadelphia for weather, remember the passengers of JL331. Just be glad that, no matter how long your plane spends between destinations, you'll almost certainly reach your eventual arrival airport eventually. And, if you never do, remember you're not alone — it's all happened before.