The $187,500 Jaguar XE SV Project 8 feels like the vengeful offspring of a Dodge Hellcat and a Mitsubishi Lancer Evolution. Brutal acceleration, frightening exhaust note, razor-sharp around corners and it stops like it only weighs 1,000 pounds. It looks vaguely practical with four doors and a trunk, but make no mistake, this car is more weapon than transportation.

Yet the XE SV is alone in this world. It's too fierce to be a BMW M3 rival, way too elite to associate with the likes of a Subaru WRX, but, a modestly-sized sedan that's also a supercar?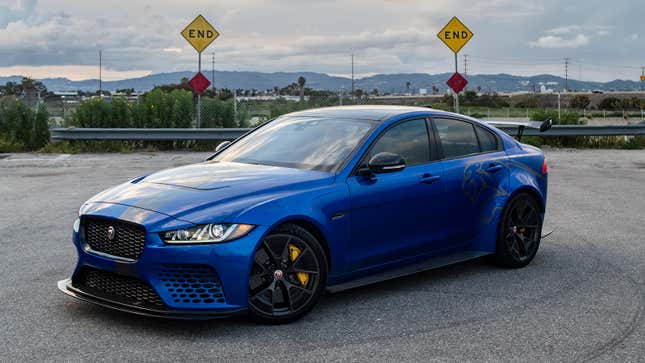 People who don't know what they're looking at will roll their eyes at the wing and angsty burble. Your passengers will probably complain about their jewelry rattling off by the stiffness of the suspension. And unless you're out on road or track driving purely for driving sake, you probably won't want to put up with this Jag's rigid ride or Earth-scraping chin, either.

But when the curtain goes up and the hammer comes down, this supercharged sedan sustains its theatrics.

(Full Disclosure: Jaguar's PR company asked if I wanted to borrow an ultra limited-production 592 horsepower car for a few days and I wasn't about to say no. This also happened to be the first earnest performance car I've tried to drive since I got hurt in a dramatic vehicle crash in August. I'm still a long way from shaking off the injury so I'll be upfront about the fact that I'm a little slower through canyons these days. ) 
Skunkworks With Style
The closer you look at the Project 8, the prettier it gets. This is a particularly triumphant accomplishment for Jaguar's designers, considering the fact that they had to work within the constraints of a modestly proportioned sedan.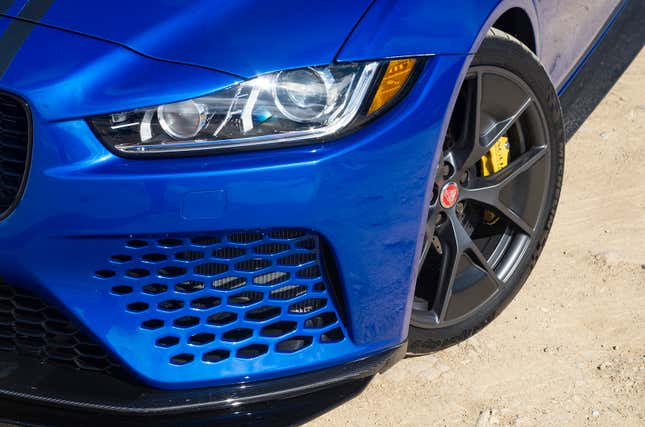 Get a load of these honeycomb grilles—I've never seen anything quite like that. Meanwhile, the rear diffuser looks right off a race car. The chin spoiler, while tragically impractical and annoying every time you need to pull off the road, completes the car's competitive aura and even the wheels are aesthetically unique.

The view under the hood is surprisingly cool looking, too. A swath of supercharger sits on top of the engine like a crown, and the underside of the hood itself is fun to study with its chaotic pattern of exposed carbon.

The car's interior isn't quite as special. It's just acres of black plastic punctuated by a few pieces of carbon fiber and one chunk of piano black above the infotainment screen that has a nasty habit of reflecting sunlight into your face at certain times of day.

But there are some good shapes going on in the cockpit. A cool carbon lip wraps around the dashboard below the windshield, and the door's armrest is artfully integrated with the dashboard as the two come together. More importantly, the Project 8 has got it where it counts: the driver's seat is incredibly comfortable in the steering wheel feels great. The wrap is Alcantara, but the fibers are extremely short so it doesn't seem to get matted no matter how hard you white-knuckle it.
When people see this car for the first time, most make the same observation: "It's a little much," generally referring to the wing or enormous leaping cat decal. I've also heard the pejorative "boy racer" quite a few times.

Well, you're not wrong. But doesn't "boy racer" pretty much describe anybody using a 5.0-liter supercharged V8 to amuse themselves on the street? A car like this doesn't evolve into a sterling symbol of maturity when you peel off a few pieces of farkle. The Project 8's posture and purposeful respiration preclude it from polite company.
That, and the fact that it goads you into leaving every stoplight in it like you just remembered you left your stove on.
Fired Up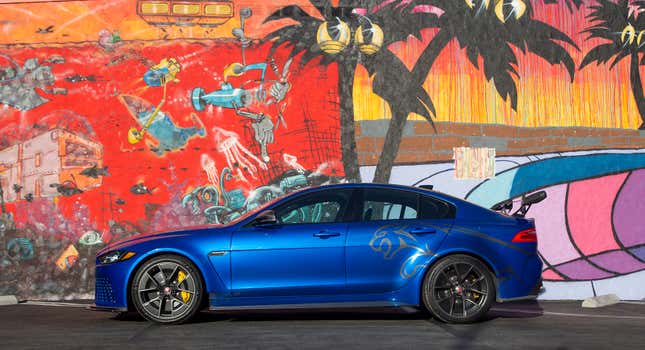 The one-of-300 XE SV sedan powers up like most modern cars–you just push a button. Once it's running it can send you to 60 mph in 3.3 seconds, and if you're brave enough to keep the tall pedal buried, snarl all the way to 200.

That noise, excitingly, is actually unique. Instead of a crescendoing whoosh like you might get in a turbo tuner car or the bellowing roar of a muscle car, the Project 8 exhales with a relentless rip-snort machine-gun sound that's as unforgettable as it is unsettling.
You can get a sample of it in this clip from the car's appearance on The Grand Tour, but to be honest, even this bombastic intro feels like an undersell:

Otherwise I pretty much agree with Jeremy Clarkson's assessment that this car delivers a remarkably impressive dose of character. And that might be the greatest praise you can heap in 2019. All this despite the fact that it's pretty much just an old engine, dialed way the hell up, paired to a stiff chassis. Well, the silicon nitride ceramic bearings, high-performance cooling system, torque vectoring and active rear differential might help, too.
The speed, speed holes in the bumpers, and hellacious exhaust note seem like the main headlines here. But from performance perspective, I think the Project 8's most heroic features are its brakes.

This Jaguar's Carbon Ceramic Brake system responds with the patience of an actual jaguar at feeding time. Behind the beautiful wheels, six-piston calipers clamp down on 15.7-inch discs like jaws and force the car to a halt with extreme prejudice. This is why you have to tolerate them squeaking and snapping your passenger's necks all day in traffic–the Project 8's brakes can rein the car in from incredible speeds, or save your ass from outpacing your talent.
As Practical As Any Other Supercar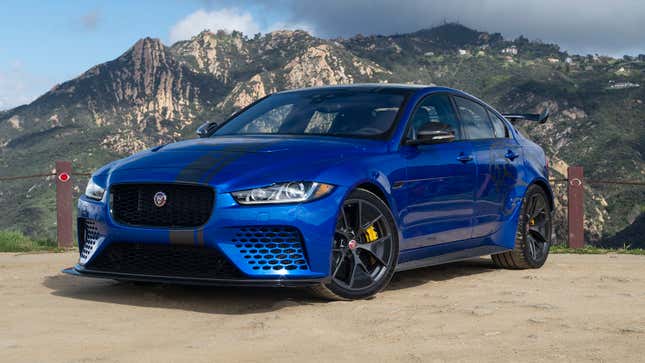 This isn't really meant as a criticism of the car, but, if you buy a Project 8 to use as a daily driver you're gonna have a bad time.

While the trunk is plenty expansive for groceries or even a casual junkyard run, and the rear seats are reasonable for adult humans, this car rides about as stiff as steel. Even in the car's comfort mode, which appreciably softens the vehicle's responsiveness, Los Angeles roads and highways pretty much make you feel like you're sitting on an old diving board.

Getting in and out of intersections and parking structures while protecting the chin spoiler from scratches is equally tedious.

But nobody buying a $200,000 toy needs to sweat details like viability for city living. The Project 8 is a car you take out to drive, and if you happen to accomplish something besides thrilling yourself, that's just a bonus.

Stripes Earned
The Jaguar XE SV Project 8 looks a little like something you'd build in a video game, just spec'ing everything to max and throwing the entire available catalog of decorative flourishes at the sheetmetal while you're at it.
It feels like such a car, too. The most dramatic characteristics of modern muscle cars and a small performance sedans have been beautifully baked into this thing and the result is a car that can pretty much do everything. As long as "everything" to you just means driving with a vengeance.