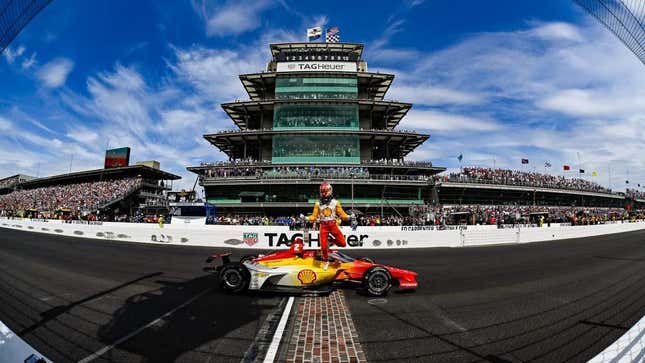 On May 28, 2023, Team Penske driver Josef Newgarden won his first Indy 500 after 12 years of trying. The American driver defected from the Formula 1 feeder system to become one of the most critical components of IndyCar's post-reunion survival, but being a Newgarden fan can be frustrating. It often seems like his longtime dedication to IndyCar has been taken as a constant, leaving the series to promote new flings with international talent or to highlight the skills of just about anyone else. Now, it's time for IndyCar to do right by Josef Newgarden.
I won't pretend that my argument here is based solely in unbiased logic. When I first started watching IndyCar back in late 2014, I gravitated toward two drivers — Newgarden and James Hinchcliffe — more thanks to their tireless push to promote the series in fun, off-kilter ways than anything else. After cutting my teeth in the Formula 1 world, it was refreshing to see drivers willing to let loose and show off who they were. It was incredible to see Newgarden's sense of humor as he went incognito in the IndyCar crowds, his willingness to do just about any promotional video the series asked of him (literally, IndyCar owes him so much for the milk gimp commercial alone), to continually go out of his way to bring fans behind the scenes.
And it's not necessarily that the sport has ignored him; rather, it's always felt a little bit like IndyCar sees Newgarden as inevitable: He's always going to be there, and he's always going to be tirelessly promoting the beauty of American open-wheel racing.
When Newgarden got his start in IndyCar back in 2012, the sport as a whole was in disarray. The differing factions of American open-wheel had reunited to save the entire concept of U.S.-based single-seater motorsport from destruction. Newgarden had defected from the European Formula 1 ladder program to win a a championship in what was then known as Indy Lights, and as a result, a lot of folks placed their hopes in him. On top of being an exceptional driver, Newgarden was funny, kind, and handsome. He wasn't afraid to get goofy in front of a camera, then get competitive on the track. At the time, Newgarden was one of the few young American racers aiming to revitalize IndyCar's image, and he took that responsibility upon himself with pride.
So it's always been a little frustrating to see that IndyCar never really took full advantage of Newgarden. When he won his first championship in 2017, I remember hopping on a video call with my race car friends to gush about how exciting it was that we'd finally see Newgarden become the integral part of IndyCar's formal marketing push. We were ready for reams of off-season content and inspirational storytelling about Newgarden's place in the revitalization of the sport. And it just never quite happened — but I don't think it's any secret that the IndyCar championship doesn't quite come with the same prestige as a 500 win.
Now, in his 12th Indy 500, Newgarden has taken victory, and I can only hope the series responds in kind. A win at this race comes with a crush of media responsibilities and countless opportunities for IndyCar to celebrate one of its most dedicated drivers. It's time IndyCar tells the Josef Newgarden story.