A Jalopnik tipster sent us a photo of this New Jersey genius, who appears to be texting whilst riding his motorcycle. Smart move.
We don't have to point out what will happen to his shorts, T-shirt and sandal clad body if he makes a mistake. Skin doesn't hold up well against pavement.
It kind of looks like whoever took the picture might have been driving, too — one of those picture within a picture things, depicting boneheadedness. But we've been assured that the photographer was sitting shotgun while someone else drove.
G/O Media may get a commission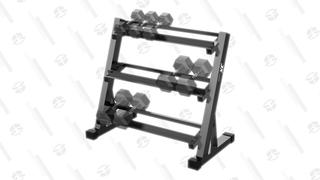 20% Off
JX Fitness Dumbbell Rack
Gains but tidy
Has a three-tier design to help store more weights more conveniently, can safely support up to 1000lbs of weight, which should be enough for most people, has a triangle base for stability, and also features anti-scratch feet which is great if you've built your own studio or workout in your garage.
Good, we didn't want to hear another one of those "Hold my beer and watch this!" stories! (Hat tip to Ian!)
Photo credit: Ian Oliver