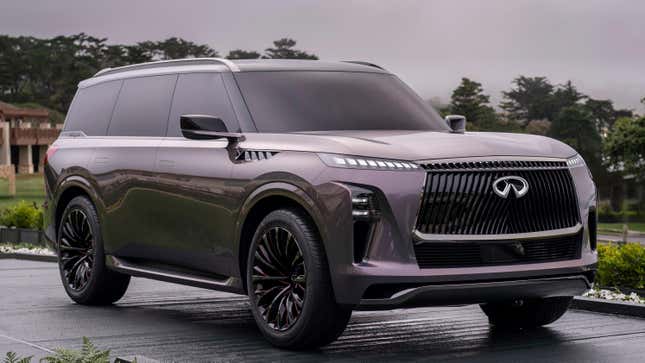 Infiniti could use some help. The brand's sales could be better; just 32,286 have been sold so far in 2023. That's total sales for a brand with six models. Just two of the brand's models are new. The QX60 entered its second generation in 2021; the QX55 debuted for the 2022 model year, but it's a coupe version of the QX50 crossover that debuted for 2017. Now, at Pebble Beach, Infiniti showed a preview of what could be to come: a concept that looks like it could be a next-generation QX80.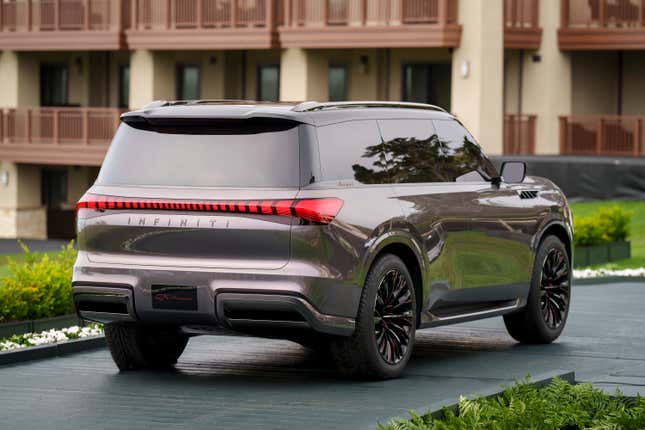 The concept is called the QX Monograph. While Infiniti didn't outright say that it's a preview of a new QX80, it sure seems it. The concept previews a new design direction, according to Infiniti's senior vice president for global design Alfonso Albaisa.

We approach each INFINITI design from the perspective of an artwork, with the aim of evoking emotion and intrigue. The QX Monograph presented a sizable canvas for us to explore INFINITI's artistry at maximum scale and create something bold.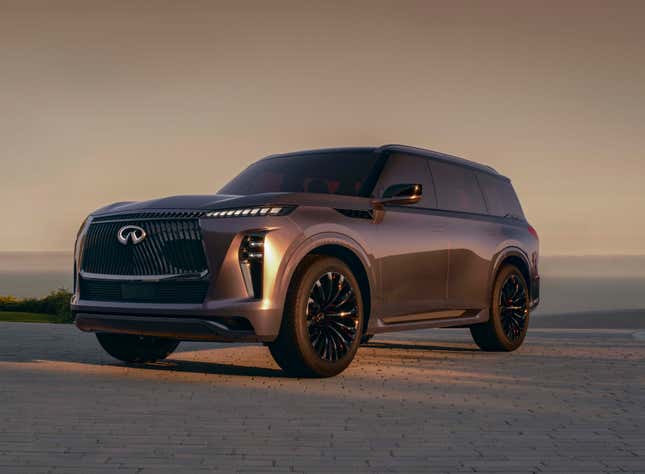 The first thing you notice about the QX Monograph is the paint. Infiniti designers created the hue and dubbed it Akane. While it comes off as a deep bronze, Infiniti describes it as being inspired by "the powerful yet serene moment of sunset, the paint features a complex, six-layer structure to channel the appearance of a warm glowing red sunset as it transitions into a dark night sky." Cool.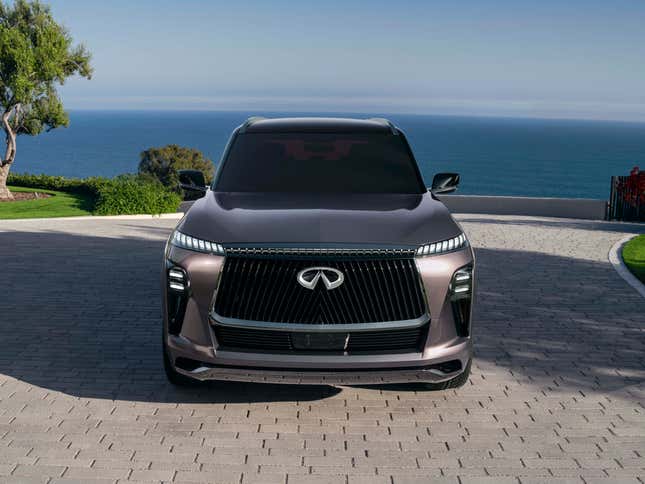 Another part that might catch your eye is the grille. Maybe Infiniti designers have been getting drinks with their Lexus counterparts. Infiniti says in designing the grille, designers were inspired by a bamboo forest. In the center is a 3D illuminated Infiniti badge.
More impressive are the lighting sequences. Infiniti has gone with separate lighting units like other automakers have done, where the daytime running lights sit above the actual headlights. On the front, the DRLs are connected in a single lighting line that runs into the grille and is the width of the car. The lighting sequence starts in the middle above the logo and lights outward towards the fenders.
Out back, the rear tail lamp has an equally dramatic lighting sequence, starting as a single light in the middle and growing outwards, and then illuminating brighter back towards the center when fully lit. Both front and rear lights have both welcoming and farewell sequences.
While the exterior design is expressive, it's not known how the interior looks. No interior shots of the QX Monograph were shown. Infiniti is also staying tight-lipped about whether or not we'll see this thing on the street one day. Still, Infiniti needs new vehicles. Despite two facelifts, the current generation QX80 has been on sale largely unchanged since 2010.