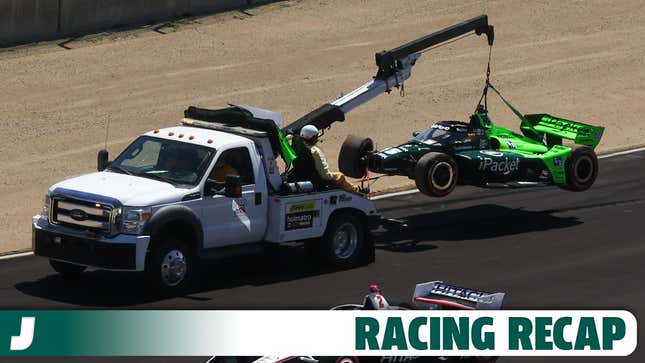 It's Monday, September 11, 2023, and this is Racing Recap, your summary of last weekend's motorsports action. IndyCar delivered its championship trophy to Alex Palou at Laguna Seca after a season finale with eight cautions. In NASCAR, it was the best of times and the worst of times for 23XI Racing at Kansas Speedway. MotoGP saw the stunning return of reigning champion Pecco Bagnaia at Misano after he was run over last week.
Ganassi Thrives In IndyCar Monterey Finale
Scott Dixon won his 56th career IndyCar race at yesterday's Firestone Grand Prix of Monterey. Dixon's teammate Alex Palou eliminated him from championship contention last week in Portland, but the six-time champion wasn't ready to pack it in for the season. Palou took the lead early and led the most laps, but Dixon took advantage of the numerous crash-caused caution to jump ahead on pit strategy. Marcus Armstrong, another Ganassi driver, was able to clinch Rookie of the Year honors with an eighth-place finish despite not contesting any of this year's oval races.
Race Result
1. Scott Dixon (Ganassi)
2. Scott McLaughlin (Penske) - +7.318 seconds
3. Alex Palou (Ganassi) - +10.611 seconds
4. Will Power (Penske) - +14.666 seconds
5. Callum Illot (Juncos) - +21.128 seconds
Reddick Snatchs Kansas Win From Team Owner
The Hollywood Casino 400 at Kansas Speedway came down to an overtime restart. Tyler Reddick was able to fly from fifth place to first over a single lap. The 23XI driver was practically unchallenged on the following final lap and punched his ticked to the next playoff round. His team owner Denny Hamlin finished second, recovering after bogging down on the restart. Before overtime, Hamlin had the strongest car on track. Hamlin's other driver, Bubba Wallace, was even worse off after he blew a tire early in Stage Two. He finished 32nd, four laps down.
Race Result
1. Tyler Reddick (23XI)
2. Denny Hamlin (Gibbs) - +0.327 seconds
3. Erik Jones (Legacy) - +0.516 seconds
4. Kyle Larson (Hendrick) - +0.642 seconds
5. Joey Logano (Penske) - +0.823 seconds
Pramac's Martin Sweep MotoGP Weekend In Misano
Last weekend's horrific pair of opening lap crashes in Barcelona were still on the minds of many in Misano. The incident was bound to impact the top of the standings. The reigning champion and points leader Francesco Bagnaia climbed back onto his factory Ducati less than a week after getting run over, but he clearly wasn't in 100 percent health. Jorge Martin, second in the standings, won both sprint and feature races while leading every lap. Bagnaia finished third in both races. The Pramac rider closed a 62-point gap from two rounds ago down to 36 points. Behind Pecco in both races was 37-year-old Dani Pedrosa in a fantastic wildcard outing with KTM.
Race Result
1. Jorge Martin (Pramac)
2. Marco Bezzecchi (VR46) - +1.350 seconds
3. Francesco Bagnaia (Ducati) - +3.812 seconds
4. Dani Pedrosa (KTM) - +4.481 seconds
5. Maverick Viñales (Aprilia) - +10.510 seconds