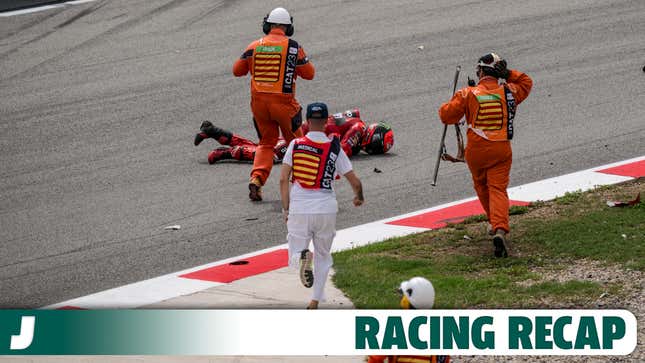 It's Tuesday, September 5, 2023 and this is Racing Recap, your summary of last weekend's motorsports action. The IndyCar Series championship was decided before the final round for the first time since unification in 2008. Ferrari couldn't prevent Max Verstappen from winning an unprecedented tenth F1 race in a row at Monza. The NASCAR Cup Series began its playoffs with the Southern 500, and MotoGP narrowed avoided tragedy in Barcelona.

Palou Clinches IndyCar Title Early In Portland
The objective was simply for Alex Palou. If the Chip Ganassi Racing driver finished on the podium, he was champion regardless of where his teammate and sole remaining title rival Scott Dixon finished. Palou was able to keep Dixon behind him as the two quickly made their way to the front. However, an opportune caution allowed McLaren's Felix Rosenqvist to make his final pitstop and re-enter the race ahead of Dixon, splitting the contenders. As Rosenqvist focused on keeping the six-time champion behind him, Palou was able to win the race and secure his second title in three years.
Race Results
1. - Alex Palou (Ganassi)
2. - Felix Rosenqvist (McLaren) - +5.435 seconds
3. - Scott Dixon (Ganassi) - +8.066 seconds
4. - Pato O'Ward (McLaren) - +19.057 seconds
5. - Josef Newgarden (Penske) - +21.083 seconds
Verstappen Breaks F1 Win Streak Record At Monza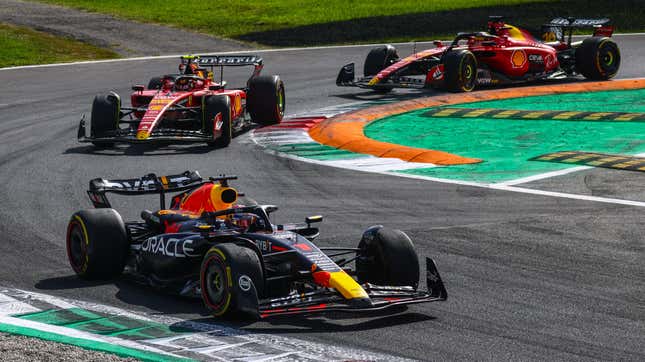 The Tifosi were sold false hope after Carlos Sainz put his Ferrari on pole at Monza ahead of Red Bull's Max Verstappen. The race itself would be a vastly different story as both Ferrari drivers fought tooth and nail to stay at the front. Sainz used aggressive defensive moves to keep the reigning world champion behind him. Verstappen would eventually get by the Spaniard on Lap 15. After Verstappen's teammate Sergio Perez passed them, Sainz and Leclerc were left to fight each other and nearly collided. Verstappen's Italian Grand Prix victory was a record-breaking tenth consecutive F1 race win.
Race Results
1. - Max Verstappen (Red Bull)
2. - Sergio Perez (Red Bull) - +6.064 seconds
3. - Carlos Sainz (Ferrari) - +11.193 seconds
4. - Charles Leclerc (Ferrari) - +11.377 seconds
5. - George Russell (Mercedes) - +23.028 seconds
Larson Wins Playoff-Opening Southern 500
Kyle Larson punches his ticket to the second round of the Cup Series playoffs with a win at the Southern 500. Denny Hamlin seemed destined to take the victory after leading 177 laps of the 367-lap classic. However, the Joe Gibbs Racing driver made an extra pit stop with just over 100 laps to go over fears of having a loose wheel. Hamlin rejoined the race a lap down. Larson's only challenge over the closing laps was from 23XI's Tyler Reddick.
Race Results
1. - Kyle Larson (Hendrick)
2. - Tyler Reddick (23XI) - +0.447 seconds
3. - Chris Buescher (RFK) - +0.898 seconds
4. - William Byron (Hendrick) - +0.930 seconds
5. - Ross Chastain (Trackhouse) +3.160 seconds
Bagnaia Escapes Tragedy In Opening Lap Crash
Aleix Espargaro led an Aprilia 1-2 at the Catalan Grand Prix in Barcelona, but the race was overshadowed by a pair of massive crashes on the opening lap. Going into the first corner, Ducati's Enea Bastianini entered too quickly and collided with Pramac's Johann Zarco. The collision sparked a pile-up that ended with five Ducati riders in the gravel.
Just further up the road, Francesco Bagnaia suffered a massive high-side and was flung by his Ducati through the air. The reigning world champion landed in front of the rest of the field and was run over by KTM's Brad Binder. The race was immediately red-flagged so the riders could receive medical attention. While many feared the worst for Bagnaia, he escaped the crash without any fractures and only sustained multiple contusions. With several hand and leg fractures, Bagnaia's teammate Bastianini was far worse.
Race Results
1. - Aleix Espargaro (Aprilia)
2. - Maverick Viñales (Aprilia) - +0.377 seconds
3. - Jorge Martin (Pramac) - +2.831 seconds
4. - Johann Zarco (Pramac) - +4.867 seconds
5. - Miguel Oliveira (Pramac) - +7.529 seconds