Volkswagen executives, apparently in preparation for a July 2015 meeting with regulators over the brewing emissions scandal, prepped a chart that suggested if there was no explanation for what was happening with its diesel engines, it could lead to an "indictment?" Yes, an actual question mark. How portentous.

That's according to a federal criminal complaint unsealed on Monday. Volkswagen may be rolling out a new electric bus concept to drench itself in some nice PR, but the automaker can't escape the Dieselgate scandal at the Detroit Auto Show this week: In the complaint, a VW exec is charged with conspiracy for knowingly deceiving and misleading regulators over the company's diesel emissions problem.
Oliver Schmidt, a VW general manager based in Auburn Hills from 2012 to 2015, is set to make an initial court appearance at 2 p.m. in Miami for the criminal complaint the feds have filed against him. The 18-page document portrays Schmidt as someone who seemingly lied to regulators about what was happening, despite knowing the truth.
In March 2015, the complaint says, Schmidt was "promoted into a position as a principal deputy of a senior manager of VW," just months before U.S. regulators discovered VW diesel vehicles emit substantially higher emissions when being driven on the road than when undergoing emissions tests.
G/O Media may get a commission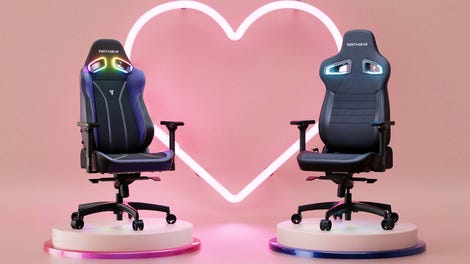 Up to $150 off
Vertagear Gaming Chairs
Regulators asked VW for an explanation, and, as everyone now knows, Schmidt knew at the time what the company had done.
Schmidt knew that the reason for this discrepancy was that VW had intentionally installed software in the diesel vehicles it sold in the United States from 2009 through 2015 designed tod etech and cheat U.S. emissions tests. Nevertheless, in the summer of 2015, Schmidt agreed to travel to the United States to participate in direct conversations with U.S. regulators in which he intended to, and did, deceive and mislead U.S. regulators by offering reasons for the discrepancy other than the fact that VW was intentionally cheating on U.S. emissions test, in order to allow VW to continue to sell diesel vehicles in the United States.
It goes on:
[O]n or about July 27, 2015, Schmidt and other VW employees met in advance of the meeting with VW's executive management. During this pre-meeting, the VW employees, including Schmidt, prepared a chart showing possible consequences of a meeting Schmidt was scheduled to have with CARB the following week.

The slide showed that if the outcome was "positive for VW," VW would obtain approval for model year 2016 vehicles, but that if "negative for VW" and there was "no explanation for GEN1 and GEN2," there could be an "Indictment?"
The feds arrested Schmidt in Florida over the weekend, but the case was filed in U.S. District Court in Detroit, just down the street from the ongoing North American International Auto Show.
According to the complaint (which you can read in its entirety below), the feds have two cooperating witnesses who work in VW's engine development department. Both have agreed to cooperate in the government's investigation in return for not being prosecuted in the U.S.
As we reported earlier, Schmidt is the second employee to be criminally charged as part of the Dieselgate fiasco. James Robert Liang, a German national also worked in the engine development department, pled guilty in September to conspiring with VW employees from 2006 to September 2015 to create the emissions cheat, in violation of the Clean Air Act. As a result of his cooperation, Liang could receive a reduced sentence.
The one-count complaint against Schmidt carries a maximum sentence of five years in prison.