One of the great losses to the racing world was that Audi's last Le Mans car never raced. Here's an idea: Turn it into an electric car and put it into production.
The Ford Taurus Is Reborn — But Only For the Middle East
The above car is called the Audi PB 18 e-tron. It's an electric car, and though its name implies lead (Pb) acid batteries, the PB stands for Pebble Beach, where the car will make its debut in late August.
Audi does not have a ton of details for us on the vehicle, other than that it "recalls" the R18 LMP1 car that ruled Le Mans before Dieselgate killed it.
G/O Media may get a commission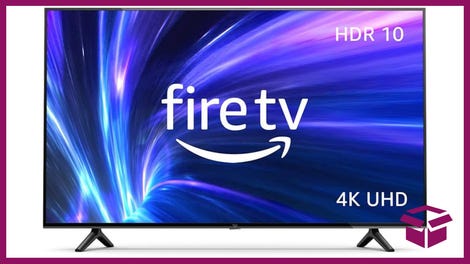 42% Off
Amazon Fire TV 50" 4K Smart TV
Audi will unveil an electric-drive supercar concept during the 2018 Pebble Beach Concourse d'Elegance Week.

[...]

The abbreviated name for the Audi concept car – Audi PB 18 e-tron – refers to the Pebble Beach venue and the year of the debut. It also recalls the LeMans-series winner Audi R18 e-tron, whose technology inspired the solutions for various details. The Audi PB 18 e-tron was conceived and designed by the new Audi Design Loft in Malibu, California.
I'll tell you why my plan is a good one.
Porsche already took its old LMP1 car and turned it into a de-restricted headline-grabber, taking lap records at the Nürburgring and beyond. Good use of a car, I would say. Audi, presumably, shouldn't let all of its R18 development sit around going obsolete.
Super-expensive electric supercars are on the market already. Porsche is again taking headlines with its production Taycan electric luxury car and partnering with boutique EV supercar builder Rimac. Audi could get in on this, if it wanted to or if it felt bitter and jealous of what its neighbors in Stuttgart are up to.
I there is one motivating force in the German auto industry, it's jealousy. I hope that gets this Audi e-thing into someone's hands. That or it will just be a styling study. It'll probably just be a styling study. Oh well.