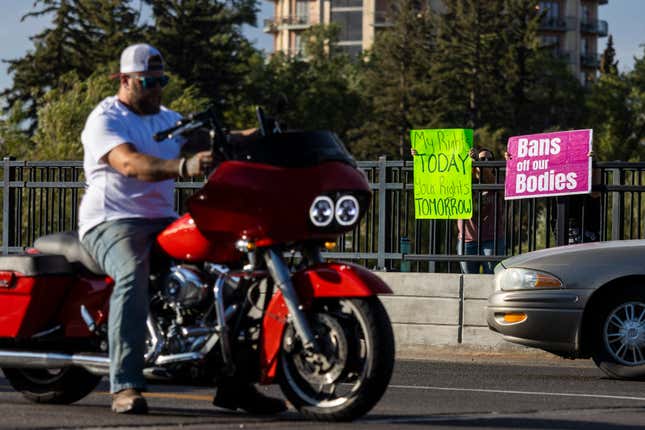 This week, Idaho Gov. Brad Little signed the first law in the nation to charge adults with a crime for helping a minor obtain an abortion, either via medicine or crossing state lines, without the parent's consent.
Opponents have pointed out that the Idaho law could run afoul of rights guaranteed under the 14th Amendment to the U.S. Constitution, which broadly allows citizens to travel (and transport property) freely between U.S. states. The state legislature avoided issues with its "abortion trafficking" law under the 14th Amendment by applying the law to transportation only within its own state borders. The law also applies to adults who obtain abortion medication and give it to minors without parental knowledge or consent. The law comes with a two-to-five-year jail term, along with the possibility for a civil suit to be brought by the parents, and that's not all. From the Associated Press:
Parents who raped their child will not be able to sue, though the criminal penalties for anyone who helped the minor obtain an abortion will remain in effect.

The law also gives the attorney general the ability to prosecute someone for alleged violations of the law, even if the county prosecutor — who would normally be responsible for filing a criminal case — declines to prosecute.

While minors do have constitutionally protected rights, the courts have also recognized limits to these rights in cases of minors, such as setting an age limit for driving a car or buying alcohol. We asked Jalopnik contributor, Michigan lawyer and explainer of legal cases on YouTube, Steve Lehto about how the 14th Amendment might affect future rulings on this law.
"The issue here is of 'transporting the minor,'" Lehto said. "While this might seem to invoke a prohibition against travel, I suspect the courts would not strike it down on that ground."
Lehto pointed to similar federal laws which restrict certain kinds of travel that were upheld by the Supreme Court, such as Mann Act, an anti-human trafficking law which forbids the transportation of women or girls for immoral purposes. The Idaho abortion trafficking law is less about restricting travel and more about the intentions behind that traveling and transporting.
"I am not saying the statutes serve the same purpose," Lehto told Jalopnik. "I am merely pointing out that the Supreme Court did not seem bothered by the restriction on travel when it addressed the legality of the statute. And the Mann Act has been invoked quite recently: Ghislaine Maxwell and R. Kelly could both speak to this."
The law says nothing about charging a minor with a crime should the pregnant person ask another minor to transport them to a state that allows abortion care. Several abortion rights groups have already promised to challenge the Idaho law along with several other abortion laws recently put on the books.