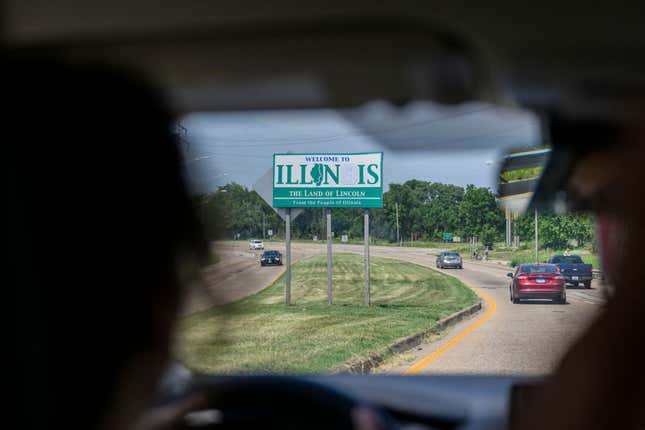 The Supreme Court's decision to reverse the nearly 50-year-old Roe V. Wade ruling this month may soon throw states into a constitutional crisis as they seek to punish pregnant people seeking healthcare.
2024 Nissan Z NISMO | Jalopnik Reviews
Wired has done a great job of staying on top of this aspect of the shifting legal landscape in the U.S. The publication was one of the first to identify license plate readers as a technology that could be utilized by law enforcement and private entities against pregnant people. Wired is now asking a question I've been wondering for a while: at what point are states in violation of the 14th Amendment?
The right of Americans to travel between states is protected by section one of the 14th Amendment in the U.S. Constitution, which states:
All persons born or naturalized in the United States, and subject to the jurisdiction thereof, are citizens of the United States and of the state wherein they reside. No state shall make or enforce any law which shall abridge the privileges or immunities of citizens of the United States; nor shall any state deprive any person of life, liberty, or property, without due process of law; nor deny to any person within its jurisdiction the equal protection of the laws.

This patchwork of abortion laws generates all sorts of uncomfortable questions: What would a travel ban even look like? Would states force anyone with a uterus to take a pregnancy test at their borders? What would happen if say, a state resident suffered a miscarriage while abroad? Would they be jailed pending investigation? What if the other state (or country, millions of Americans can simply drive to Canada or Mexico) didn't want to participate in such a ghoulish endeavor?
I don't have answers to those questions, and neither does Wired, which is why it spoke to a few constitutional law professors:
In terms of what the Justice Department can do if a state were to ban traveling to obtain an abortion, the most likely response would be a lawsuit against that state. Mary Ziegler, a law professor at UC Davis, says the agency would argue that such a ban is unconstitutional. (The DOJ itself did not respond to a request for comment.)

Justice Brett Kavanaugh wrote in his concurring opinion in Dobbs v. Jackson Women's Health Organization, which overturned Roe v. Wade, that states may not ban people from traveling across state lines to get an abortion. That being said, Ziegler isn't exactly confident the right to travel will remain protected.

"What Kavanaugh said was really vague. It's true there's a right to travel, but I don't know how much that gets you," says Ziegler. "There used to be a right to abortion, and now there is not. When the court is talking about unenumerated rights, that can change. Even if you take Kavanaugh at his word about this, that doesn't answer all of the questions."

What is really scary is that in Texas, the onus is on private individuals to bring a lawsuit against people who may of had an out-of-state procedure. The state doesn't bring charges, leading to a bounty hunter-style enforcement that can escape judicial oversight.
Kind of surprised we haven't heard from the sovereign citizen set yet, who claim that freedom of movement in the U.S. is so sacred you don't even need a driver's license or license plate to do so. If you aren't too disgusted by the wholesale destruction of yet another constitutionally protected right, you can read more over on Wired.