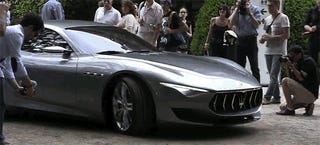 The Maserati Guyfieri Alfieri went to Lake Como to make some noise with its 4.7-liter V8. For lunch, they had pasta.
While the Maserati Alfieri will enter production in 2015/16 with a V6 producing up to 520 horsepower and optional all-wheel drive, the concept version rolled to the Geneva Motor Show in March with the familiar Ferrari/Maserati V8 under the hood.
The concept also made its way to this year's Concorso d'Eleganza Villa d'Este at Lake Como in Italy to preview the V8 soundtrack we can expect from its bigger brother, the next GranTurismo, which will have more than 560 horsepower to play with.
Maserati is back. Now, let's turn things around at Lancia! With a V8.