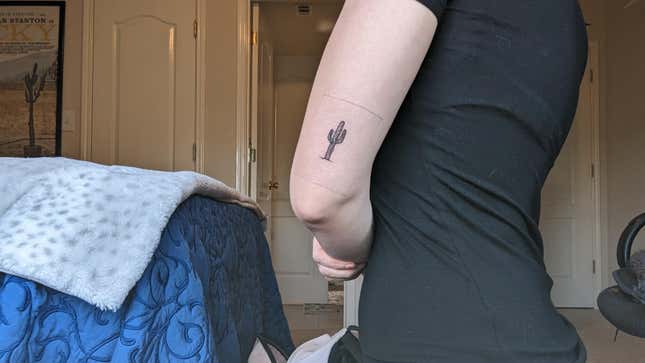 Imagine this: you're at the race track, and one on-track session just ended. You've got about an hour to kill before the next one. What are you going to do to kill time? At plenty of circuits, your options are fairly limited: you're out here deciding whether you should buy food or if you want to buy some merch. But when I headed to Circuit of the Americas for this past weekend's MotoGP Grand Prix of the Americas, I had one entirely novel activity that I could try: I could get a tattoo.
This NYC Garage Takes Vanlife To The Next Level | Jalopnik Visits
Starting with the 2022 Formula 1 United States Grand Prix, COTA has brought in local tattoo artist Bree Hagler of My Bad Tattoo to offer a set of small, simple tattoos. You'll be able to reserve a time slot after you get to the track, where you'll be able to select one of several pre-set options. A track layout — albeit with a cheeky snake head and tongue comprising the back straight — is an obvious choice for race fans aiming to commemorate their love of motorsport, but there are some adorable Texas-themed designs for those who are more interested in having a tattoo of a cowboy boot, a skull, or a bluebonnet for the reasonable price of $120.
I had been thinking about what design I wanted for approximately 24 straight hours and ultimately decided that I wanted a little cactus on the back of my left arm.
I know, I know; I should get a COTA track layout tattoo, but here's the thing: The other designs were so dang cute that it felt criminal to go for the obvious option. If I was honest with myself, there were about five different designs that I would have preferred over the layout tattoo — and that largely came down to placement.
With these kinds of quickie flash tattoo sessions, you're generally limited to getting the tattoo on one of two obvious, easily accessible places: your arms or your legs. No torso. No shoulder. No back. The goal is to keep it speedy, which means not taking off your shirt, your pants, or any other nonsense. I don't want a COTA outline on my arms or legs. Therefore, I opted for the cactus with the intention of getting another tattoo on the opposite arm at a later date to keep things symmetrical.
I have a handful of tattoos already, so I knew what to expect with the delicate line-art style Hagler provides in terms of preparation, pain, time required, and aftercare, so I felt pretty confident that I'd be able to handle everything. I've also shown up to the race track a few times with fresh tattoos, so I already have a process for protecting fresh ink in the heat and sun. I ate a snack just before I headed to the tattoo booth, popped an anti-inflammatory to deal with any swelling since I do have sensitive skin, and that was that.
When I made it to the tattoo studio, I was able to secure the very next time slot — but that definitely wasn't the case during Formula 1's U.S. Grand Prix this past October. F1 drew a huge crowd all three days of the weekend while MotoGP was a little more subdued, and during F1, the slots had booked up quickly. With the slightly more subdued Saturday morning crowd at MotoGP, I was able to sneak right in. If you're interested, though, I'd definitely recommend showing up to the tattoo booth as quickly as possible when you get to the track; that way, you'll guarantee yourself a tattoo slot, and you'll ideally have your pick of different time slots throughout the day to select the one that works best for you.
The tattoo station is set up inside a Flex Box container — but don't worry, because it is definitely air-conditioned, so you're not going to melt. Inside, there are a few chairs if you have some guests, plus the tattoo table and another table laid out with potential tattoos and payment information. You'll be able to check out your tattoo placement in a mirror as well.
As far as the actual process of the tattoo went, it was incredibly simple. The delicate linework meant that the application of the tattoo was super simple, and from the time I walked in the station to the time I stood up from the table, a little under 40 minutes had passed. As I laid on the tattoo table, I chatted about animals, and the time pretty much flew by. Before I knew it, I was paying (which you can do via Venmo, CashApp, or PayPal; you literally do not need to bring a physical card in with you), and that was that. I was all done.
Just before I hit the track, I chatted with new F1 fan Alexandra Kueller about her first-ever race experience at the 2022 Miami Grand Prix. Having spent a lifetime attending non-racing sporting events, Kueller raised a really fascinating point about the trackside experience: There's a lot of downtime.
"You were either walking around in the sun trying to kill time between sessions, or you were spending a lot of money," Kueller said. "Most other sporting events, you're only there for two or three hours. You're in, and you're out. At racing, once you're in [the track], you're in for the day. You're beholden to what's presented to you. You don't have a lot of freedom of choice."
I hadn't thought about things that way before, but as I thought back to many of my trackside experiences, they've included a lot of waiting around. Sometimes, there have been autograph sessions or sponsor promotions that can help pass the time, but the events I'd had the most fun at as a fan are the ones where I was able to camp within or next to the track, which meant I'd be able to go relax at my campsite with friends when there wasn't anything happening on the track. Otherwise, I'd just be hanging out in a grandstand or in a grassy area of my choosing, or spending money on merch I'd talked myself into buying.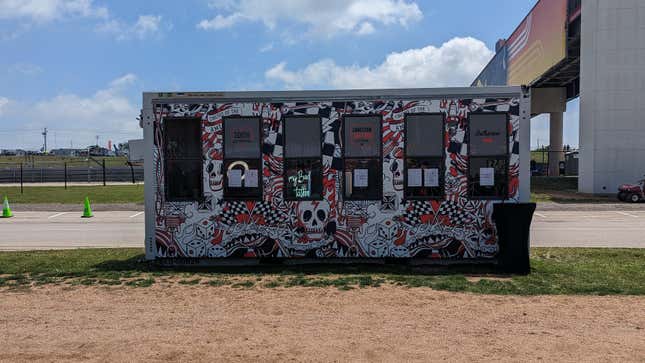 Some tracks still suffer from the "downtime" problem, but in the years I've been coming to COTA for various events, this circuit has evolved with the fan experience in mind. Between on-track sessions, you can check out live music happening all around the track. You can hop on some carnival rides and have fun. You can check out COTA's karting track — and now, yes, you can even get a tattoo. Your options aren't necessarily unlimited, but they're pretty on par with the kinds of things you'd expect from, say, an all-day festival.
Since I was media for the Grand Prix of the Americas, I did have the luxury of heading back to the shade and air-conditioned beauty of the media center, but most folks are likely going to be spending the rest of their weekend in the heat and sun, getting a little sweaty and grimy as they watch the cars. In that case, leave your aftercare bandage on for as long as you can (they're designed to help heal your skin now, so it's great for that reason, too) and try to keep your tattoo out of direct sunlight, and don't apply any sunscreen directly to the healing skin. That means wearing breathable sleeves or long pants, or covering your tattoo in another way that feels comfortable; if you do that, you should be golden, with nothing to worry about as you go about your day. If the protective bandage comes off, keep the tattoo out of the sun, and try to keep it moisturized with an unscented lotion.
I totally understand that tattoos aren't everyone's bag, but for those of us who love having a little something permanent to commemorate a race — even if that commemoration comes in the form of a cactus, not a track outline — it's such an incredible opportunity to have at the track. For $120, I was able to come home from the Grand Prix of the Americas with something that will stick with me for the rest of my life, which is way more than I can say for any t-shirt, sticker, or hat. I hope we'll start seeing more race tracks follow suit.