Memorial Day weekend brings out some of America's finest traditions, like grilling, lounging poolside, and making Facebook posts about "the troops." But for hundreds of old-school BMW owners, it's a chance to gather and bond over classic metal. It was a party I had to crash, and I did it in a new BMW M235i coupe.
Well, by "crashed" I mean "politely asked the organizers if I could come, and they were extremely enthusiastic about it and even gave me a choice parking spot." That's just too long to fit in the headline.
(Full disclosure: I asked BMW if I could borrow a car to take down to this event, and they were like "Oh, hell yes" and gave me an M235i with a full tank of gas for a week.)
G/O Media may get a commission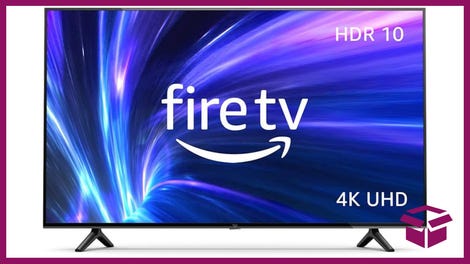 42% Off
Amazon Fire TV 50" 4K Smart TV
The event in question is The Vintage in Winston-Salem, North Carolina and it's the biggest vintage BMW rally on the East Coast. It's been going on for the past dozen years or so, and it's open to 2002s and other "New Class" sedans and coupes, Isettas, the E21 and E30 3-Series, the first three generations of 5-Series, the 8-Series, older motorcycles, and a whole lot more.
I first heard about this through my buddy Clay Weiland, the Jalopnik reader who was kind enough to let us drive and review his E30-powered 1967 BMW 1602 last year. Clay convinced me that The Vintage was the event to go to if you dig older BMWs, and so this Memorial Day I decided not to pass it up. (My wife, who loves vintage European cars, also demanded that we go, and I'm not gonna say no to that.)
To make the trip from Washington D.C. to North Carolina, I needed the right car. I could have done it in my Mini Cooper S, since that's technically a BMW, but where's the fun in that? Fortunately, BMW hooked me up with the M235i, the hottest version of their new 2-Series coupe. Until the BMW M2 comes out, anyway.
The car was exactly what I wanted, and not just because it's a small, rear-wheel drive coupe with 320 horsepower from its turbocharged inline six engine, and that sounded like a hell of a lot of fun.
It was also because BMW has made a big deal about how the 2-Series is the modern-day successor to the old 2002, and I wanted to see how it fit in with actual 2002s and what their owners thought of the new car.
The M235i turned out to be a hit, both with the old-school Bimmer fans and with myself. I haven't driven the new M3 and M4 yet, but at the moment, I'm convinced it's the new BMW you'll want to have right now.
The Drive
Depending on the route you take, it's more than five hours and 300 miles from D.C. to Winston-Salem. That's a reasonably long trip, and driving on the Friday before Memorial Day is often fraught with perils like too much traffic, tons of cops out looking to score some speeding ticket revenue, and weekend warrior Harley guys with extremely questionable riding skills. (You people know who you are!)
Fortunately, the M235i is a pretty great road trip car, despite being a small-ish coupe with sporting pretensions. The trunk is surprisingly decent, fitting my overnight bag, my wife's suitcase from a work trip and all our dog's junk with room to spare.
The front seats are generously bolstered without being too uncomfortable, and the ride, while erring on the side of firm, is pretty smooth and never beat us up. The back seats are small, sure, but the people I had back there didn't complain too much. They're roomy enough in a pinch.
But those cops I mentioned earlier? You've gotta watch out for 'em in the M235i, because the car is damned quick. Much quicker than I imagined it would be. The turbocharged 3.0-liter inline six packs a powerful midrange punch and charges hard all the way up to its 7,000 RPM redline. Zero to 60 mph comes in the mid-4 second range.
Its power delivery isn't as manic as the Mercedes CLA45 AMG it will inevitably be compared to, but it feels more abundant. Having driven both I have total confidence in saying the Bimmer is the faster car.
It's an eager, willing performer, even in the default "Comfort" setting; that's a misnomer because the car is pretty potent in that mode. Turning it up to "Sport" gives you more engine noise, a more sensitive throttle, more aggressive shifts, and a firmer ride from the Adaptive M Sport Suspension.
If that's not enough for you, "Sport Plus" turns off traction control and makes it even more edgy, but most of the time the other two settings were fine for street use. It's impressive no matter what mode you have it in, and always fun to drive in the corners as well as on long straights.
My M235i tester came with a paddle-shift automatic. A six-speed manual is a zero cost option, and that's what I would get if my dollars were on the line. The good news is the automatic is ZF's wonderful 8-speed gearbox.
It's everything you want in an auto — quick shifting paddles, responsive, and never sluggish. On most of my highway journey I kept it in manual mode and eighth gear, paddle-downshifting as necessary to pass lesser cars.
And while the M235i is a little heavier than you'd expect for its size at 3,535 pounds, it's an extremely adept handler, given to tail-happy antics whenever you want. Turn in is quick and the electric steering is surgically precise, especially at speed, even if it's not particularly full of feel.
The only real downsides to this car were the relative lack of options considering its $46,025 price tag. That's with no navigation, no Bluetooth streaming audio, no backup camera, a fairly unimpressive sound system and nothing else besides a sunroof.
There's also the matter of the artificially enhanced engine sound; knowing it wasn't entirely real kept me from enjoying an otherwise delightful inline-six baritone howl. It does have a pretty nice exhaust note, though.
Still, I came away thinking it's hard not to love the M235i. But would the old-school BMW guys and gals feel the same way?
The Vintage
First, let's have a chat about BMW owners. They have a pretty negative reputation most days, thanks largely to asshat parking jobs, owners who would rather be seen in the cars than blast down twisty back roads, and newer M3 and M5 drivers with more ego than skill whose antics often end in hilarious Jalopnik-worthy tragedy.
Classic BMW owners — or at least, all the ones I met at The Vintage — couldn't be further from that stereotype. They're an accepting, happy-go-lucky bunch who love the style, fun and relative ease of maintenance that comes with owning these cars. And they're totally cool if your BMW isn't Concours-perfect.
Got a 2002 with E21 seats? Join the club. Does it have Volkswagen brakes? Sure, why not! Did you swap in a different engine and transmission? Well, why the hell wouldn't you?
The "zero elitism" is what appeals to people like 2002 owner Dudley Williams. "I used to be in the Triumph scene," he told me. "Judgey motherfuckers!"
And like any good car culture, Williams told me there's a ton of camaraderie between owners. The parking lot of The Vintage is a great place to break down because everyone there will jump in and help you get your car running again.
"I'm a former soldier, and I couldn't reach out on a soldier website and say, 'I'm in California, let's hang out, and can I sleep in your house?'" he said. But he can with fellow vintage BMW owners.
At The Vintage, you won't find many owners with big placards boasting how perfect their cars are, but you do see plenty of personal tales of how they came to be displayed in the dashboards. And you'll see some truly rare and fantastic machines.
Here's a 1600 GT, originally produced by a company called Glas that was absorbed by BMW in the 1960s. When was the last time you saw one of those anywhere?
That lovely orange hatchback is a 2002 Touring, which was never officially imported to the U.S. Its owner, Randy Anderson, brought it here a few years ago. He told me the story of how he fell in love with the 2002s in college and after seeing a bunch parked in a restaurant in 2006, he had to have one. The Touring is his second and he had it rebuilt recently.
"I like the fact that you can still work on them," Anderson told me. "And BMW supports the hobby."
Lots of E9s, too. I loved this black one. Very classy and kind of sinister at the same time.
And yes, plenty of appearances by The Internet's Favorite Car, the E30 M3. There were quite a few E28 M5s and E24 M6s on hand as well.
I was a huge fan of this race-prepped white E21 323i as well. The six-cylinder 323i was never sold in the U.S., and the E21 is generally unloved compared to the cars that came before and after it, the 2002 and E30. It was great to see someone rocking such a kickass example.
Oh, you know, that's no big deal, just an E30 project car with the V10 from the last generation of M5. They're not the first to try it, but that doesn't make it any less wonderfully insane.
Clearly, there's a ton of great stuff on tap at The Vintage for any BMW enthusiast, fan of older cars, Europhile, or just someone who wants to see a car show that's a little different. But how did my M235i fare?
Thanks to organizer Scott Sturdy, I parked the car right up front next to a bright red, race-prepped 2002 — powered by an E30 M3 motor — owned by my new friend Marshall Lytle.
He calls his car the "M2002," and with the race exhaust on it, you need earplugs to be in it. "It's a lot faster (than an E30 M3), but much more primitive," he said, which I found to be slightly terrifying.
My loaner may have more power, but I sure as hell wouldn't want to pit it against his car, especially since he's a track instructor at Summit Point and I'm, well... not.
It turns out the M235i was a pretty big hit among the vintage faithful, and managed to get quite a bit of attention over the weekend. All day long, crowds came around to look it over, chat about its specs, talk about how it's the successor to the 1-Series coupe, poke around under its raised hood, and in one strange fellow's case, randomly jump inside without asking first. (Who even does that at a car show?)
I think it makes sense that people would get a kick out of the 2-Series. Does it drive like a 2002 or an E30? Hell no, but no modern car drives the same as its predecessor did decades ago.
But it is a thoroughly modern execution of the formula that got people caring aboute BMWs in the first place: the small sports coupe, the two-door car that lets you have driving fun and some practicality at the same time. In my book, the 2-Series is a win for BMW. For all the crap we give them for their Gran Coupes and sloping-roof SUVs, when they want to get it right they really get it right.
The only real problem, if you want to call it that, is that this event drove home how badly I need a 2002. If anyone needs me, I'll be on Craigslist.