If you ever come across the opportunity to drive one of BMW's Neue Klasse (New Class) cars, you need to seize it. Even 50 years after they first debuted they're just as good as you've heard, if not better.
I've always had a love for these cars. I love their timeless good looks, I love their glorious motorsports history, I love the way they effectively put BMW on the map, and I love how they inspired a slew of imitators and entire genre of cars that continues to this day. But my love has always been merely from afar, as I've never had the chance to drive one.
Until now. Jalopnik reader and Maryland resident Clay Weiland (aka CleverUsername) emailed me to ask that his 1967 BMW 1602* get featured on Found Around The District. Unfortunately for him, I no longer troll the streets looking for interesting old cars, as I have ceded that responsibility to Mike "Battlevan" Ballaban.
G/O Media may get a commission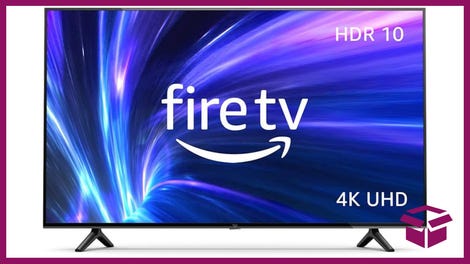 42% Off
Amazon Fire TV 50" 4K Smart TV
But Clay seemed like a cool guy in his email, and I figured that a BMW 1602 was too great to pass up, so I managed to convince him to let me drive it and review it and tell you people all about it.
There was just one catch, Clay told me: the car isn't stock. Far from it, in fact.
Full disclosure: I spent the afternoon with Clay and his 1602, and I bought him a tank of gas for his trouble. I then proceeded to dazzle him with my incredible driving skills and deep knowledge of Washington, D.C. geography. Everything but that last sentence is true.
If you're somehow unfamiliar with the New Class, let me fill you in. The line began in the early 1960s with the 1.5-liter 1500. Various versions of the car were made until the late 70s, most famously the more powerful two-door 2002. The New Class cars are essentially what took BMW from being a small regional manufacturer in Germany to the luxury and sporting powerhouse that they are today.
Their engines were small in size, but they put out respectable power for their day and the cars that had them were quite compact. They were stylish, practical, extremely fun to drive, immensely popular among car buyers and awarded rave reviews by the automotive press. They're the forerunner to the 3- and 5-Series BMWs, and arguably the progenitor of the modern small sport sedan as we understand it today.
New Class cars have many loyal and dedicated followers even today, and Clay is among them. He's a native Texan like I am, and this 1602 is his fourth one. He obtained it in 2009 after his third one was done in by some D.C. potholes. While his daily driver is an E30, he does take this car to work in the city from time to time.
Clay's 1602 is in excellent shape inside and out, although by his own admission, it's kind of a hodgepodge of various different parts. Most notably — and here's why there needs to be a Barry Bonds-style asterisk next to the name — it has the 1.8-liter M42 engine and transmission from a 1991 BMW 318is. That means this classic has modern, fuel-injected power. He swapped that engine in and does most of the work himself. See more photos of the car's build here.
Many New Class owners have cars with swapped engines, so I asked him this: Why not go with an inline six? The M42 is a great engine, but it tends to be snubbed by some E30 enthusiasts.
Lots of reasons, Clay said. The six tends to make the 1602 more nose-heavy, and the smaller, more revvy M42 is more in-line with the character or the original New Class cars, which only ever had small four-bangers.
"It fit my budget and what I wanted to do with the car," he said. And he's on to something. The engine and tranny may be newer, but the car as a whole is still remarkably old school in terms of feel, character and the overall driving experience.
So while Clay's 1602 (which I guess could be considered an 1802is, or something like that) isn't an exact duplicate of what the original was like, I figured it was still awesome enough to merit a review here. I'd love to drive a completely stock one and review that too someday, but I have to say that Clay's setup will be tough to beat. It's also not something he plans on getting rid of anytime soon.
"I love this car," he said. "It's my never-ending project. I'm never going to sell this car. It's my girlfriend, my mistress."
Don't worry, his wife is cool with it. She drives the E30, too.
Exterior: 7/10
What a fantastic-looking car. Back when the Americans were cranking out massive land yachts with tail fins, the Germans put out this classy and compact design. It's clean, understated and simple, but it's very eye-catching even today. Love the Hoffmeister kink in the window. And dare I say that the BMW kidney grille has never looked better than here? It's so forced on some of the current ones. I'm looking at you, Z4.
Clay said that his scarlet car has been repainted before he got it, and that it was probably originally a cream color. I like this one. It really stands out, and it suits him because he's a Texas Tech fan. Other details I'm fond of are the fog lamps up front and the roof rack up top, which Clay made out of an old futon. Looks cool, right?
Interior 7/10
Before we talk about the interior, let's talk about that wonderful Nardi steering wheel Clay put on his car. It's made of wood and metal. No buttons, no airbag, no paddles, just wood and metal. It's delightfully simple, and no, you can't adjust it.
It's a good indicator of everything else you get in a New Class cabin — everything you really need, nothing you don't. The tach, speedo and a combined temperature and gas gauge sit above the steering wheel, and most of the labels are in German. Lights are turned on by a toggle switch on the dash, and the turn signals are on a stalk on the right instead of the left, which my stupid brain just never figured out how to work right.
There's a nice shelf on the passenger's side of the dash and a tiny glove compartment. That's really all there is to it. It's definitely narrow inside, but it doesn't ever feel cramped.
Clay's car has aftermarket cloth Recaros from that era, and they're comfortable and moderately grippy, though nowhere near as aggressive as modern ones. All in all, the interior is a good place to spend time.
Acceleration 6/10
Here's where things get tricky for me as a reviewer, since I'm ranking the engine from an early 90s 318is and not the original motor. But I can tell you that it's a good fit here, and while it may be one of the newer parts on the car, it has a decidedly retro feel to it.
The car itself doesn't weigh much more than 2,000 pounds, so the 138 horsepower M42 is a more than adequate motivational tool. It doesn't have a ton of oomph from low RPMs, but keep the revs up and it's quite a willing partner. Things can get dicey when you're trying to merge onto a cramped, populated-mostly-by-crazy-people DC freeway, but it's quick enough. Like Clay said, the motor suits this car.
Braking 7/10
Okay, while we're waxing poetic about how wonderful old cars, can we at least mention how awful drum brakes were? I don't think anyone misses those. Clay recognized this, and replaced the drums with discs at all four corners. They're a hodgepodge of parts from other BMWs and Volvos, and Volkswagens, but whatever they are, they work well. The brakes have a nice, solid, confident feel and do a great job of stopping the car.
Ride 6/10
Here's where the little BMW showed the world what a sport sedan is all about. The ride is definitely firm, and while engaging in back road hoonage you feel every bump and every pothole much more deeply than you would in a modern car. Don't expect some cushy luxury car smoothness here.
However, when you're just cruising around town at moderate speeds, the ride quality becomes surprisingly comfortable. Again, you feel everything, but it's not going to shake your teeth fillings loose at all. This is one of the reasons the car was such a hit to begin with — when you want to misbehave, it feels like a true sports car, but if you want to putter around at normal speeds, things smooth out quite a bit.
Handling 8/10
While you may have to pull that big wooden wheel with some extra effort thanks to the lack of power steering, the car's cornering is remarkably intuitive otherwise. It always does exactly what you ask it to. It's not hard at all to make the rear end step out a bit, but the BMW's limits are easy to feel and recover from if you step over them.
I was extremely impressed with how it handled given its age. Got a left turn coming up and the arrow just switched to yellow? No problem, throw it into that corner. The New Class is up for it. That goes double for backroad fun as well.
Gearbox 6/10
Clutch uptake on this car felt unusually high, which took some getting used to. Once I got the hang of that I had few problems working the five-speed gearbox.
Once again this is hard to rate because Clay's car uses the 318is transmission, but again, it worked well here. He finds the throws to be a bit too long, but I didn't have the same complaint. Shifts feel solid and gears are easy to find. Besides the tricky clutch, no complaints here.
Usability 7/10
The New Class cars were small, but there's quite a bit more practicality here than you might think. The trunk is quite large, the inside has plenty of headroom, the front seats are comfortable, and the back seats really aren't too cramped either. BMW did a great job of packaging this well, and it's easy to see why it makes such a great daily driver. It's far more useful than, say, a two-seat sports car from the same era while offering similar thrills.
I'll add that the car is small, maneuverable and easy to park, which makes it well-suited to a zig-zagging through a traffic-filled city like D.C.
Character 9/10
Character? The 1602 has character out the wazoo. The car's classic looks drew stares, questions and photographs from scores of people when Clay and I were driving it around, and most of them didn't even seem like car enthusiasts. Then there's the car's fascinating place in motoring history and what it did for BMW as a whole.
But the best part of it is that driving a New Class is such an intimate experience. You're intimately acquainted with how the machine works. You hear the car. You smell the car. You feel the bumps in the road. There's no need for a computer to pipe in engine noises, either.
And with the windows down on a cool day, because there's no A/C or heat, you get to know the world around you and how the car interacts with it. It's the polar opposite of the quiet, womb-like, isolated driving experience you get in modern cars. And it's wonderful. You don't drive this thing, you pilot it.
You know how we at Jalopnik like to bitch and moan about how old cars were so much better? This is what we're talking about.
Collectibility 7/10
BMW New Class cars aren't the rarest things on four wheels, but they're not exactly super plentiful either. They vary wildly based on condition and engine. I've seen some 1602s and even 2002s listed for under $10,000, while others go for upwards of $30,000, which, as great as these cars are, seems a bit high to me. Prices for the ultra-rare 2002tii have skyrocketed in recent years. The BMW Motorsport-developed 2002 Turbo ain't cheap either; one near-perfect version recently went for about $100,000 on eBay.
Clay tells me that while there are some purists out there who insist on all these cars having their original parts and engines, the majority of people in the New Class community just seem happy that they're on the road in any way possible, even if that means they're stanced and have a Honda S2000 engine under the hood. As we've seen with this car, it's a great platform for tuning and modifications.
And it's one of those cars you need to drive at least once before you die. Twice or more, preferably, but once will do if that's all you can muster.
70/100
Engine: 1.8-liter gasoline inline-four
Power: 138 hp at 6,800 RPM

Transmission: Five speed manual
0-60 Time: 8.5 seconds (estimated)

Top Speed: 115 mph
Drivetrain: Rear wheel drive
Curb Weight: 2,107 lbs (estimated)
Seating: two up front, bench in the back
MPG: 22 MPG city, 33 MPG highway (driver estimate)

original MSRP: $2,477 in 1967 ($16,802 today)