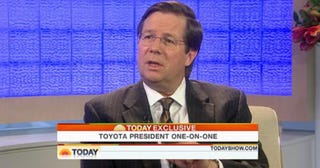 This morning on The Today Show, Toyota president Jim Lentz lied twice to Matt Lauer about Toyota's 2.3-million-vehicle accelerator pedal recall.
In the one-on-one exclusive interview with Matt Lauer, Toyota's Jim Lentz faced questions about the massive recall while simultaneously attempting to reassure customers.
But, as you can see in the video below, Lauer initially asks Lentz when the company knew about issues with "unwanted acceleration." The response? Let's charitably call it misleading:
LAUER: When did your company know, when did you personally know and other officials at your company know you had a serious problem with unwanted acceleration or slow response from acceleration?

LENTZ: In the case of the slow response, this most recent one, the first technical report that we had that we could duplicate the issue was in late October of last year.
Yeah, that's just wrong. According to the Defect Information Report filed with the National Highway Traffic Safety Administration (NHTSA) on January 21, 2010 (it can be seen in the gallery below), Toyota received complaints about this issue as far back as March 2007 and were able to duplicate a pedal "slow to return to the idle position" as far back as June 2008, which caused them to change the material they used to make the equipment. However, for some reason, Toyota didn't see this as a safety issue but just a "drivability issue."

Where the big lie occurs is in Lentz's response to Lauer about this very issue. Lauer referenced the Tundra problem above and asked whether or not the original 2007 problem was related to sticking pedals:
LAUER: So in the letter you wrote, or your company wrote, to the National Highway Traffic Safety Administration saying that they knew as of 2007 that there were some issues with Tundra trucks, was that the entrapment issue or was that unwanted acceleration because of a sticking pedal.

LENTZ: That was not sticking pedals, the initial concerns were over entrapment and we concentrated on mats and now we have reshaped the pedals on those vehicles to reduce the risk of that happening.
Uh, yeah. Then what the hell is this:
Toyota Defect Information Report; January 21, 2010
Starting in March 2007, Toyota received field technical information regarding reports of accelerator pedals demonstrating symptoms such as rough operation or being slow to return to the idle position. These reports were limited to one model (Tundra), and the accelerator pedal assemblies in those vehicles contained a friction lever made of the PA46 material. Toyota's investigation found that the PA46 material was susceptible to humidity, which could cause the friction lever to absorb moisture and swell. Environmental testing was conducted in order to understand the full impact of the swelling of the friction lever due to humidity. In February 2008, the material of the friction arm was changed to PPS while investigations continued. In June 2008, Toyota concluded that while accelerator pedal feeling could change under certain conditions, Toyota considered it to be a drivability issue unrelated to safety.
While the Tundra is also included in the floor mat recall, Toyota's own records indicate there was concern about the accelerator pedal in 2008 as well and to say otherwise is either an admission that he, too, is confused by what's really at fault here or he's attempting to mince words to make it appear this is a sudden issue for them and not something they've been investigating since 2007.