On January 21st Miami, Florida's Marlins Park will be lit up by The Race Of Champions. It's like an all-star dunk contest, but with some of the world's most talented racing drivers wielding big horsepower on a stadium-sized track. And if you vote, your favorite grassroots goofball and $500 Craigslist BMW rally hero Bill Caswell might get in the mix this year.

Regular readers will recognize Caswell's name from the many heroics we have chronicled over the years, like the time he showed up to the WRC Mexico in a $500 beater BMW, talked his way into competing, and then kept his crappy little car alive with spit and luck and zip-ties long enough to not only finish the race, but beat some professional rally teams.
His determination and driving skills have gotten him into other wild events like the One Lap of America and endurance racing on the Nürburgring, but it's his shoot-from-the-hip approach to life and sense of humor that lets him live the life you wish you lived. Quit office job, learn how to build cars, build cars, go racing... He just kind of does all the things so many of us wish we'd go for.
G/O Media may get a commission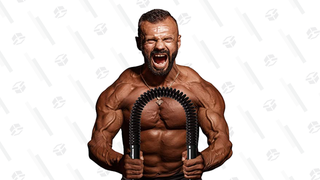 10% off
Zenooze Boa Power Twister
And he makes it look so easy! At least, on the internet. I've personally found him passed out on the cold concrete of a shop floor, tools in hand, more than once. So I can vouch that there's grit behind the glamor.

Anyway if enough of you vote for Caswell on The Race Of Champions Facebook Page, we'll get to see him partnered with IndyCar pro James Hinchcliffe in the stadium showdown with living legends like Kyle Busch, Travis Pastrana, Juan Pablo Montoya, Jensen Button and David Coulthard.
The "ROC Factor," as it's called, is the race's annual wildcard, giving one or two "unknowns" the opportunity to compete against champs.
The lineup of cars in this event is as diverse as the backgrounds of the drivers. Expect to see everything from oddities like the Polaris Slingshot and KTM X-Bow to purpose-built racers like ROC Cars, NASCAR cars. In the past the race has used track-spec modern performance cars like the Porsche 911, Toyota GT86 and Lamborghini Gallardo.

I suspect race organizers have added the idea of "voting for a non-pro competitor" to get a few more butts in the seats of the ROC stadium. They'll probably achieve that just by having this "voting" process, since presumably everybody in the running will share the heck out of "Race Of Champions" for the rest of the week. Here's the whole list of who's up for the spot alongside Hinchcliffe:
Shea Adam, USA

Bill Caswell, USA

Conor Daly, USA

Gary Grant, Canada

Christopher Hill, USA

Glenn McGee, USA

Floyd Raglin, USA

Stefan Rzadzinski, Canada

John Sabol, USA

Jeff Seehorn, USA

Besides our man Caswell that list includes a few gamers, drivers, journalists and a former NFL wide receiver. Conor Daly (IndyCar) and Sefan Rzadzinski (open-wheel, NASCAR and touring cars) are the "traditional" choices as professional drivers, but I'd actually be a little more interested to see somebody out of left field get into the action. Not that that's a defensible argument.
Voting is open on The Race Of Champions Facebook Page until January 9th. And if you're in Miami on January 21 and/or 22, you can see the madness for yourself. Tickets range from $18 to over $200 with one or two-day deals. We'll keep you posted on potential TV and streaming coverage.