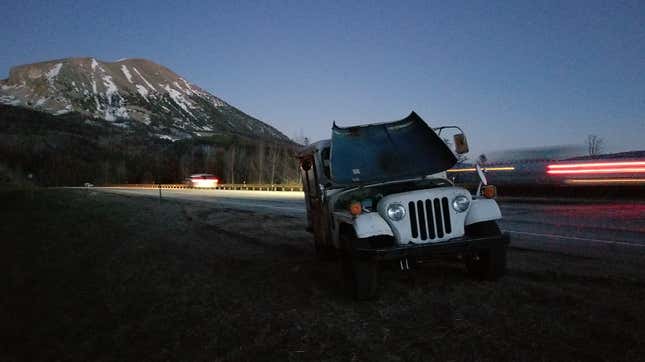 My brothers and I were at a motel at the base of a grueling Rocky Mountain pass, and I couldn't sleep. The following day, we were set to ascend a steep grade called "Wolf Creek Pass," and I wasn't sure how my $500 postal Jeep would fare. But because of a brake issue, we didn't drive up the grade the next day; here's how we fixed the Jeep, and how it ultimately conquered the Rockies.
Mitchell Slaggert's Rainbow-Colored Jeep Wrangler
Before I get into how Project POStal did off-road on the trails of Moab, Utah, I still need to describe how I got there from Michigan in the first place, since my last in-depth update took us only to Newton, Kansas.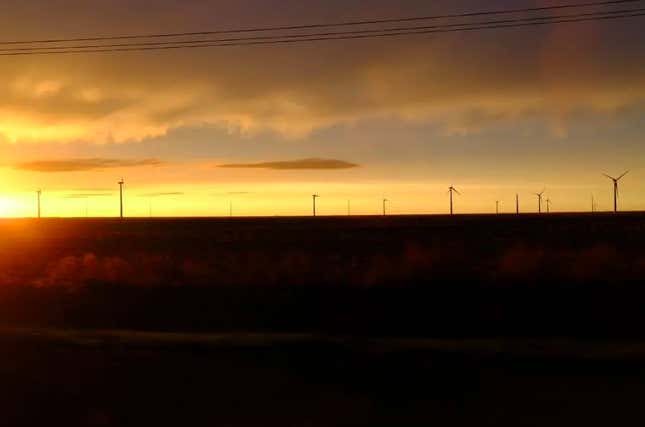 The biggest challenge was the Rocky Mountains, but to get there from our motel, I still had plains to drive through. Lots of plains.
The Wind Rolling Over the Kansas Plains Batters Project POStal
As much as I love driving through the wide open parts of this fine country, there are downsides, of course. It seems that every time I drive through Kansas, I have to crank my steering wheel into the wind a bit to keep my vehicle driving straight.
That wasn't a major issue this time, though, because I had a bigger issue: noise. As the wind tumbled unabated over those plains, they hammered on my tall, cube-shaped Barn on Wheels from seemingly all angles, making sounds similar to what I imagine I'd hear if I tried surfing an airplane's wing mid-flight. It was so bad, I had to wear hearing protection.
Project POStal Crossing into Colorado
But much worse than wind was what happened when semi trucks drove past in the opposite direction. The slug of air that impacted my Jeep's flat front windshield made a noise similar to how I'd imagine the pressure wave of a bomb to feel. The force physically slowed my Jeep down for a moment and crashed into my Jeep with a loud BANG! Still now, when I see semi trucks, I shiver a bit in fear.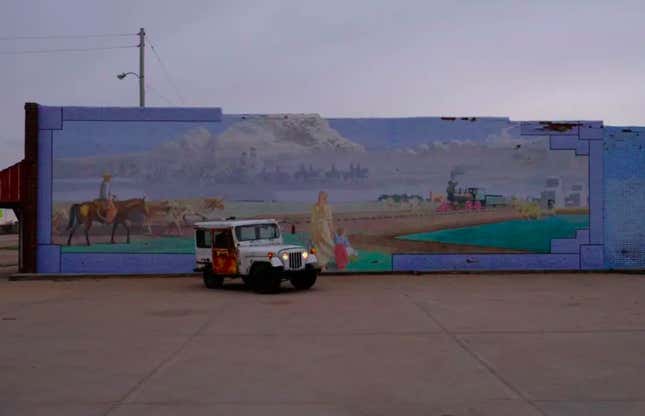 Anyway, my brothers in their Hyundai Accent rental car and I in my disturbingly loud postal Jeep trudged on through the wide open plains of western Kansas and then into eastern Colorado, where we scooped up 100 pounds of road dirt with our mouths when our jaws dropped at the sight of one of the most impressive car collections any of us have ever seen.

It's just outside the small town of Lamar, and its owner, Ed, was happy to give us a full tour. Here's a teaser of that tour, since we have a full video of the trip incoming. It was truly incredible, and Ed was awesome: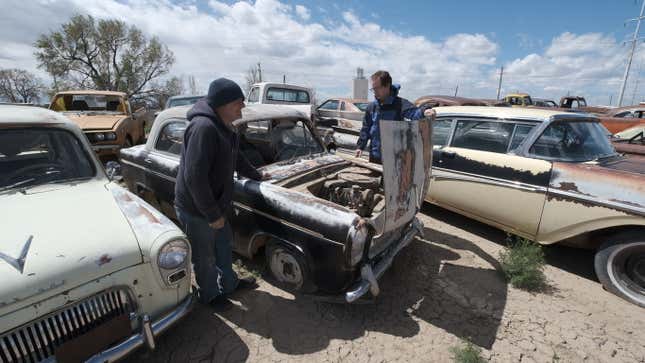 As we headed farther into Colorado, it felt as if we were experiencing a calm before a storm. I don't mean to say that the weather was serene; no, the wind nearly threw my Jeep onto its lid. But the general mood among my brothers and me was positive, as you can see in this video in which I'm screwing around demonstrating how quickly my jerry-rigged HEI ignition system fires up my 232 inline-six motor:

Watch How Quickly Project POStal Fires Up
And my brother Ben even got behind the wheel for a joy ride in the middle of nowhere:

David's Brother Ben Cruising in the Postal Jeep
This was all fun and games, but we knew that ahead of us were the Rockies, and they weren't going to show any mercy. While I was having fun on the flatlands, in my gut, there was turmoil.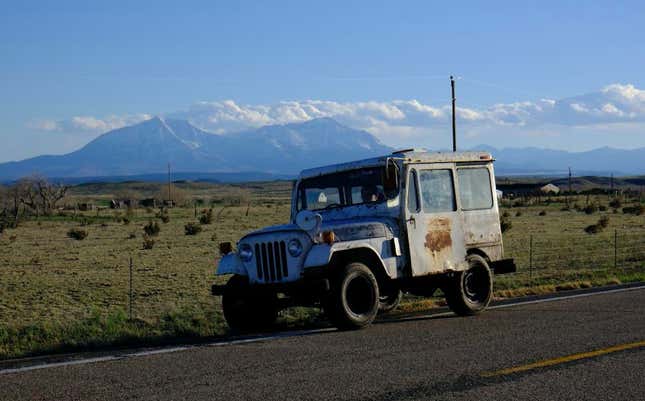 My first taste of the towering Rockies was La Veta Pass, a steep road that did everything it could to bring my Jeep to its knees. As butterflies fluttered deep inside my stomach, I stared at the intimidating mountain road ahead, gripped the steering wheel a bit tighter, and gently pressed the gas pedal harder and harder until it bottomed out on what remains of my floorboard.

Maintaining 40 mph was darn near impossible:
Eventually, holding 35 became a challenge:

Pushing my foot all the way to the floor for 15 minutes straight was tearing at my soul. Something about it felt deeply, deeply wrong, even though I knew this engine could totally handle more power than what it was making up that grade via its thoroughly limited, tiny single-barrel carburetor.
Wide Open Throttle in Project POStal Up the Rockies
Eventually, I couldn't take it anymore, and decided to pull over out of pity. Plus, I had to urinate. My brothers pulled up in the dirt lot on the side of the mountain road to tell me that their Hyundai rental car was running out of fuel, and that they were headed into town to fill up.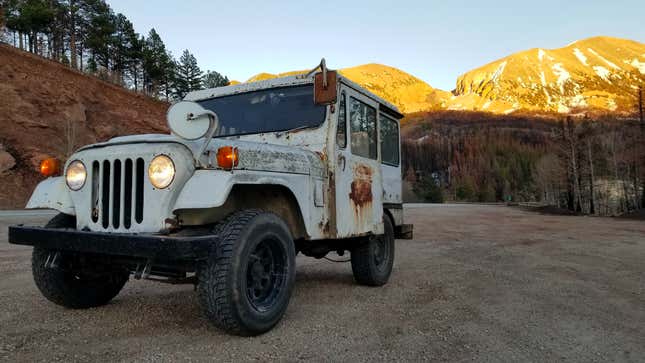 I'm not sure why they decided to ditch me, since waiting wouldn't really have changed their fuel situation, but they left, and that meant that when my Jeep cut off 100 feet before the top of the grade, I was all alone.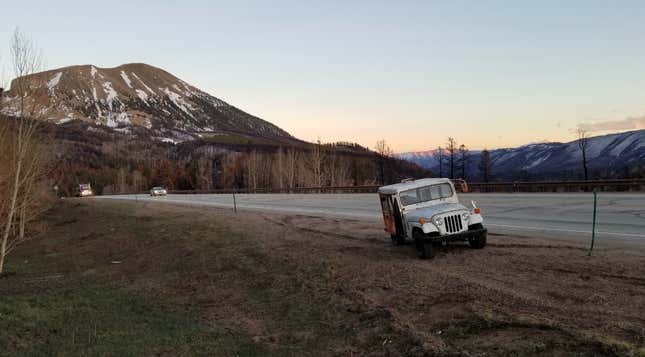 There I sat on the side of the pass, gazing at the beautiful sunset over the snow-capped peaks. Darkness fell, and the temperature plummeted as I waited for my brothers to return (I had called them to let them know what happened), hopefully with a full jerry can.
Wide Open Throttle in Project POStal Up the Rockies
After about an hour, the sun had dropped to light up other parts of the earth, and my brothers finally showed up with two gallons of fuel, which I poured into my tank.
I still wasn't sure exactly what had caused my Jeep to cut out, but perhaps I hadn't filled up all the way during the last fuel stop (since my tank can sometimes cut off the pump for no reason), or maybe my fuel economy up the grade was just so poor that the remaining five-ish gallons of gas that I figured were in there weren't enough.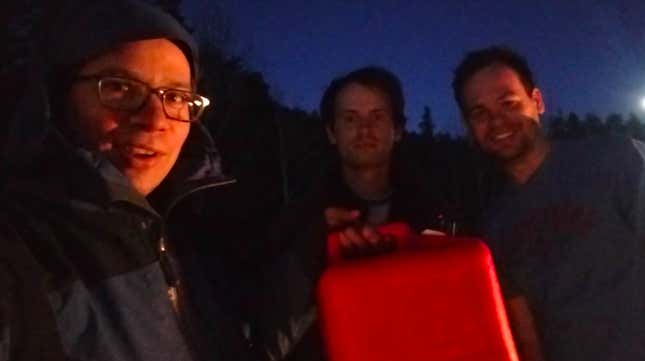 Anyway, with the two gallons of fuel, I managed to reach the summit, at which point I coasted for a few miles downhill. Well, I should put "coasted" in quotes, because even though everyone—including I—was worried that the downhill sections of the grades would be more challenging on my Postal Jeep due to its weak non-power drum brakes, I actually had to apply throttle to maintain 45 mph.
It became clear that my big box on wheels, with its three-speed slushbox numerous other sources of drag had no desire to do anything but remain stationary. That's not good, generally speaking, but for this downhill section it was actually a godsend. Driving downhill was easy.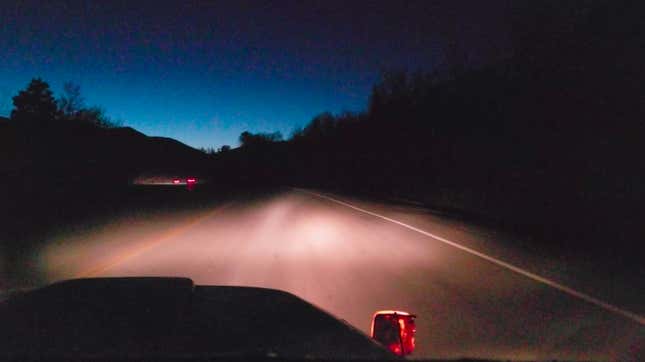 But then came Wolf Creek Pass. My brothers and I settled into a motel in South Fork, Colorado, the town at the base of the pass, and after we cut out all the lights and brushed our teeth, I just couldn't kill the butterflies fluttering around in my stomach.
To reassure myself that everything was going to be fine the next day, I decided to break out the ol' Google. Surely I would find that this pass really was no big deal, and that my Jeep could handle it without issue. This was a major error.
The very first web page I clicked was the official Colorado Department of Transportation page, and it read in all caps: "BEWARE THE WOLF," with photos of crashed trucks and an intimidating sign showing the outline of a wolf as part of the mountain. Seriously, look at this—it's terrifying: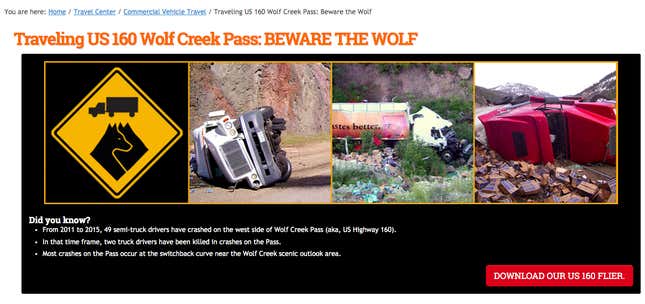 I read the crash statistics mentioned on the page: 49 truck drivers crashed on the west side between 2011 and 2015! Scrolling further down, the Colorado DOT has an embedded video of a runaway truck:
After watching that, my eyes grew large in fear, and I quickly shut my computer, but I didn't get a wink of sleep. I tossed and turned into the night as the scary wolf, now the embodiment of the following day's challenge (the wolf, in my head, looked like one from that movie The Grey—in other words, it was pants-shittingly scary), chased me in a terrifying fight for my life.
The next morning, my brothers and I ate breakfast at a hipster food truck, whose attendant could tell I was worried, as I kept asking questions about the pass. While waiting for my food, I began taking the front wheels off my Jeep, as I wanted to carefully inspect the brakes. So long as they were in tip-top shape, I knew I had nothing to worry about.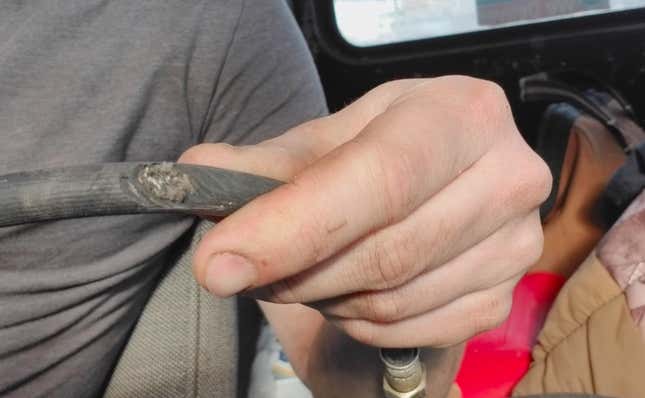 But the brakes weren't in tip-top shape. Both of my brand new brake hoses had been rubbing against my wheels, and given enough time, they would have sprung a leak, rendering my front brakes useless. Given the shape of the hoses, I don't think they would have leaked for probably another 1,000 miles, but I wasn't going to risk it.

So we turned back east, drove half an hour to a Napa Auto Parts in Monte Vista to pick up some new hoses, and then drove back west to Del Norte to snag some new copper crush washers. It was there in Del Norte that my brothers and I wrenched for hours trying to get the brakes ready for the pass.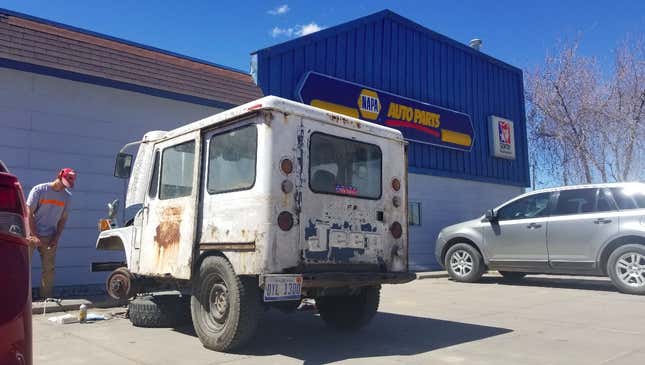 Installing the hoses wasn't difficult. All it required was unscrewing each hose from its wheel cylinder on one end, and from its brake line on the other. Plus we had to pull out a clip holding each hose to a bracket on the frame. This job took a maximum of ten minutes per side—not a big deal.
The problem was that, no matter how hard we tried, we could never get the brakes to bleed properly. We attempted to use a one-person bleeder kit, and we tried bleeding the old-school way, but either method yielded air bubbles in the clear plastic hose pushed over the bleeder screw. And brakes with compressible air instead of liquid in them simply aren't effective, as was obvious when I did a little drive around the block. The car's pedal felt mushier than ever; the brakes were somehow worse than they had been prior to the brake hose replacement.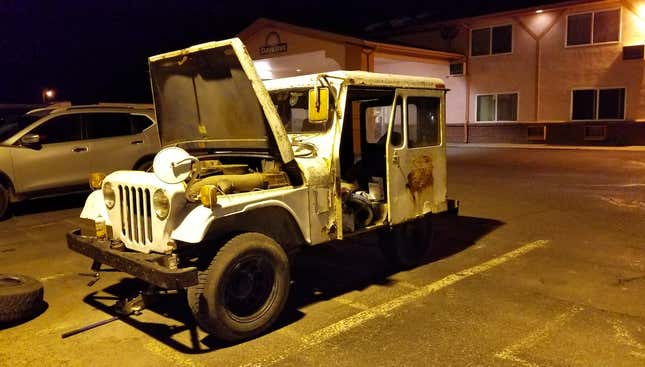 I did eventually get the front brakes to the point where I felt they were safe enough to allow me to limp the car to Alamosa, Colorado, where my brothers and I would have better access to car parts stores and motels. We found a Days Inn, parked the postal Jeep, and began wrenching into the night:
I had a plan. Basically, I wanted to determine the source of the air, and my initial thought was that a brake switch valve might have been the culprit, so I bought some steel brake line and a tubing cutter, and rented bending and flaring tools so that I could just create a new line that bypassed the valve.
I made a super simple system that took fluid from the master cylinder directly into the front right brake hose:
The result? Still air bubbles from the bleeder, indicating either a bad master cylinder or wheel cylinder (both of these parts were brand new, I should mention).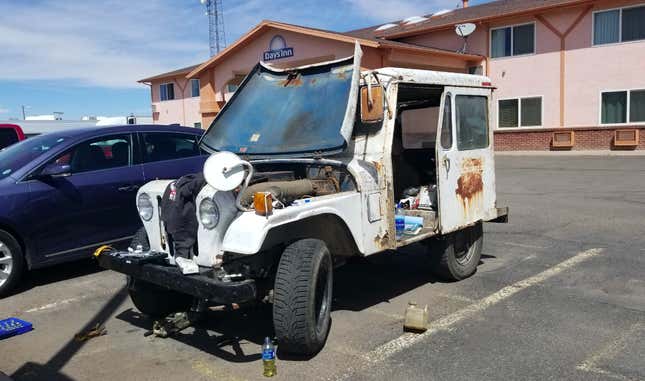 To further narrow down which part failed, I bought a bleeder kit from the store, and bled my master cylinder for the fourth time on my Jeep's front bumper, and while looking very closely, we saw a difference between the front and rear reservoirs. There were tiny bubbles coming out of the rear, whereas the front was perfectly devoid of any air.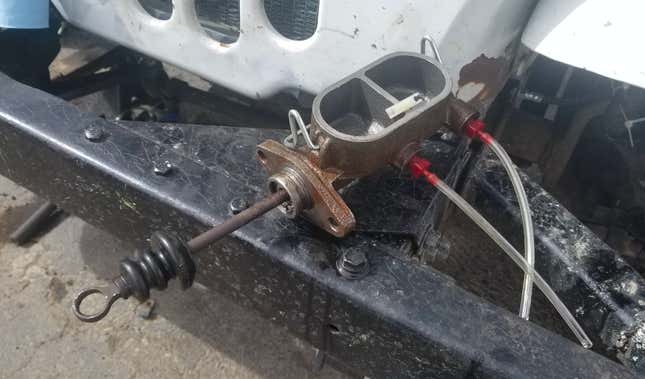 My brother Ben picked up the master cylinder. "Yo guys, look at this," he said, pointing at the outlet port for the front brakes. There appeared to be a crack: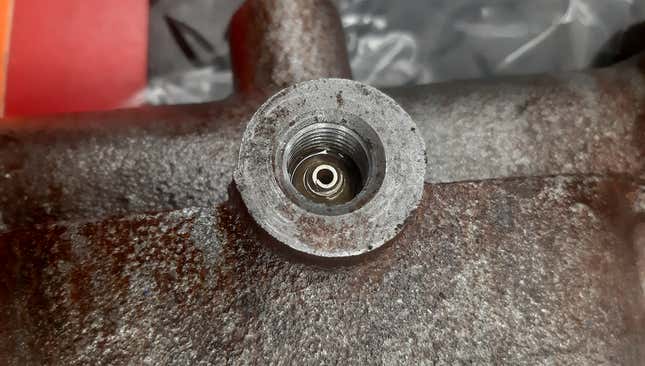 This looks to be a faulty new part, and since there was no parts store in Alamosa with a new master cylinder, my brothers and I had no choice but to drive their Hyundai Accent roughly 90 miles to Taos, New Mexico. On our way, we crossed over one of America's tallest bridges:
The Autozone in Taos replaced my master cylinder free of charge, and Mike, Ben, and I rushed back to the Days Inn parking lot in Alamosa, where the Jeep sat.
Mike and I bled the new master cylinder, installed it in the Jeep, and then bent and flared two new brake lines in our hotel room, since it was cold outside. We figured it made sense to replace the short lines between the master cylinder and valve since the old ones didn't look great, and we had the tools ready to go. After installing those new lines, we bled the system. The result? Eureka!:
Fixing Project POStal's Brakes
The next morning, the three of us reinstalled the easily-removable fenders that made repairing this Jeep so simple, and it was game time. We'd contemplated taking a flatter route than Wolf Creek, but after testing the brakes in town, I was 100 percent confident in our work.
The Jeep would do great.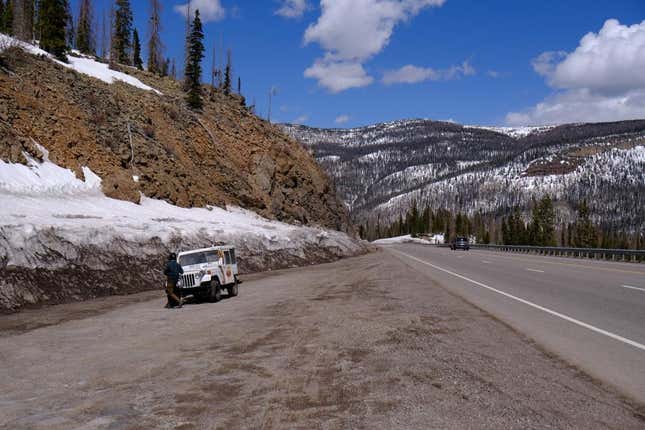 Driving up the pass, unsurprisingly, required my gas pedal to become intimate with my rusty floorboard in order to maintain even 30 mph, and at one point, I did pull over to let everything cool down—just in case. But eventually, we reached the summit, and then it was time to drive down the steep part of the grade—the one that apparently eats semi trucks for lunch.
$500 Postal Jeep on Wolf Creek Pass
Everything was fine! Again, the Jeep didn't want to move thanks to its various sources of drag, so I popped the thing into second gear, and only occasionally tapped my brakes.
All of my worrying was for nothing, but I think key to why descending that grade was such a low-stress experience was just the knowledge that my brake system was in tip-top shape; that gave me confidence. And it would do the same once I got to the off-road trails of Moab.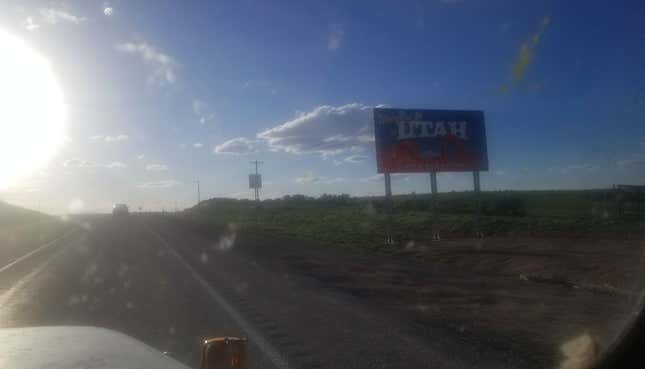 Once through the pass, things were a breeze. We drove west through Durango, then northwest to Moab.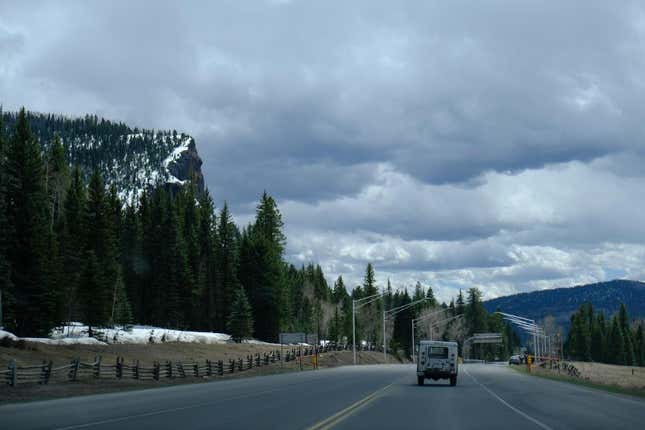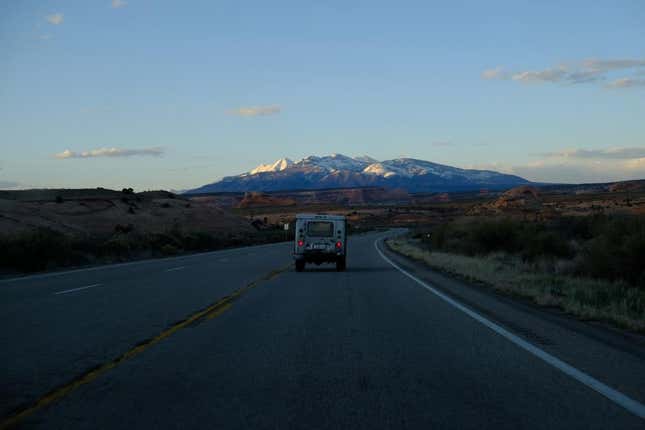 By the time we arrived, ate food, and found a place to crash for the night, darkness had fallen. And since my two brothers were scheduled to fly back home (one to Kansas City, and the other to Hong Kong) the following morning, they weren't going to get to enjoy the trails.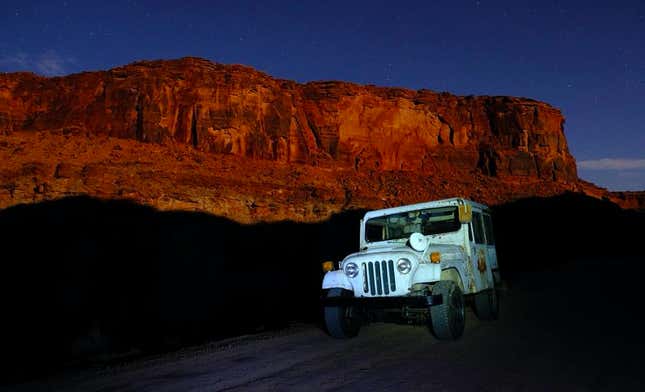 So we did what any young idiots would do, and we hit a trail in the middle of the night by ourselves.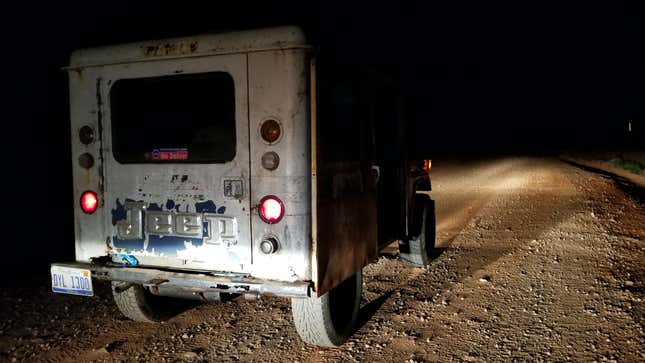 It was a simple trail, to be clear, but it was still a lot of fun:
Project POStal Arrives in Moab
And we eventually got to a large puddle that, after some contemplating, I drove through, flooding what was left of the Jeep's floorboards. The next morning, Mike and Ben left, and I hit the trails.
So that's the full story of how I got this postal Jeep 1,800 miles from Michigan to Utah.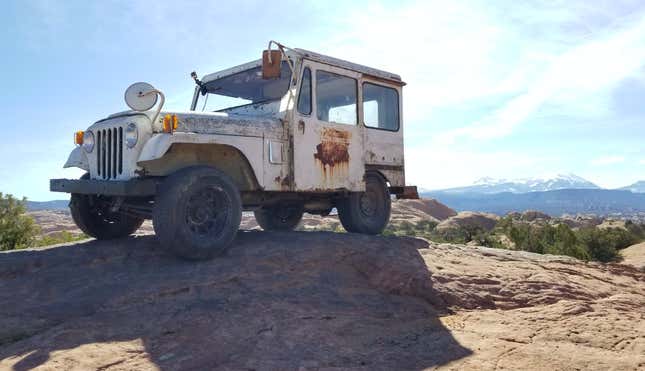 As for how the vehicle did off-road and how it did on the 1,800 mile journey back to Michigan, those are the subjects of my next article.
Images (from Michael Tracy):