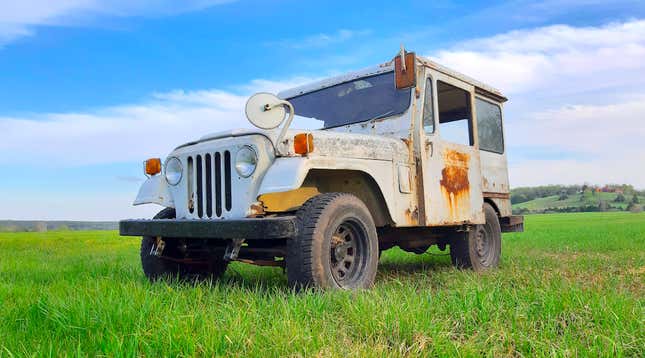 The Rockies are coming, and I'm worried.
Driving my $500 Postal Jeep—a vehicle that I found with a weak pulse and then nursed back to life—on flat roads is one thing, but trying to ascend and descend steep, long grades will challenge this 1976 postal Jeep in ways it's likely never been challenged, on roads for which it was not designed. But before I get to that topic, here's how the little cubic box-hauler made it 1,000 miles from Michigan to Kansas.

This NYC Garage Takes Vanlife To The Next Level | Jalopnik Visits
At the end of my last update, I was in Illinois thawing my frozen butt after snow, rain, and ice-cold air found their ways through the rust holes in my Jeep DJ-5D Dispatcher, yielding one of the more miserable driving experiences of my life.
The following morning, the heavens opened up and shone bright light upon my brother and I, likely out of pity. We headed to a gas station to do a morning inspection.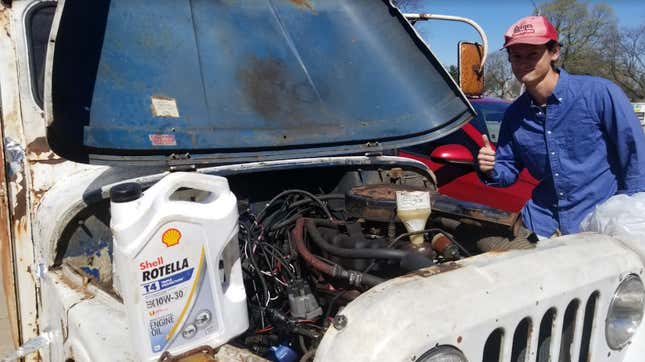 If I've learned anything driving old junkers over the years, it's that it's generally a good idea to check the oil at every fuel stop, and that's an especially good idea when your vehicle leaks and burns a quart every 100 miles. That's a ridiculous rate of oil consumption, even in the eyes of Saturn SL and early Jeep Wrangler JK owners.
In my previous story, I complained about how my fuel tank only takes roughly eight gallons of gas, and how that basically limits my range to 100 miles. But now, considering my oil loss issue, I'm okay with that small tank, because were it not for it, I'd literally have to stop for oil more frequently than I do for fuel, and that's just ridiculous.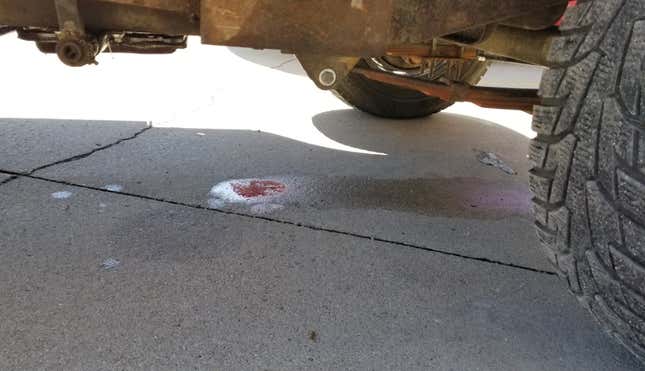 The sources of the oil disappearance are many. As with any old Jeep that hasn't been re-sealed in a while, the rear main seal is shot, and if I had to guess, the oil pan gasket is too. I did swap out the valve cover gasket when I swapped my cylinder head, but I still noticed oil dripping from the top of my engine. It appeared to be coming from my oil filler cap, which is odd, since there's not a whole lot of oil that gets splashed up there.
I swapped the cap, but it didn't make much of a difference, since the rear main seal is clearly the main oil geyser. That, and all the oil that the engine burns thanks in part to valve guides—which I'm certain are worn out since, when I lapped by head, the valves slid right out with no resistance—means I'm basically driving the Exxon Valdez of Jeeps.
I'm not proud of this, but it's a burden I have to live with, and I think it may be keeping Tractor Supply Co. in business (since that's where I go for dirt-cheap oil).
Anyway, things were great on Monday—a welcome change from the frigid conditions the day prior—and I had the pleasure of using my favorite quirky feature on my Postal Jeep: the sliding doors that latch in the open position:
Driving Over the Illinois River in Project Postal
The drive through Illinois was lovely. The sun was out, the temperature was basically perfect, and the countryside was just gorgeous.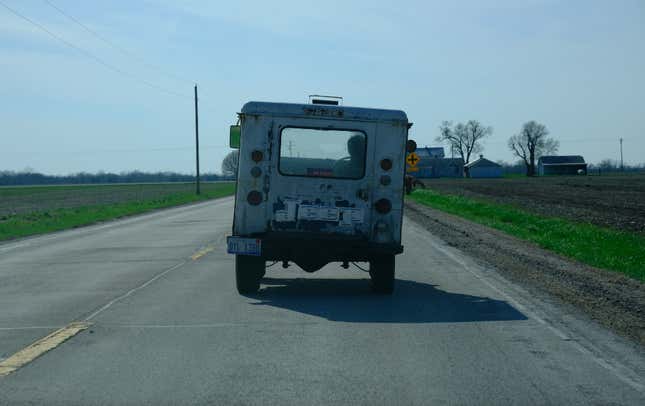 My brother Michael even spotted some Bald Eagles: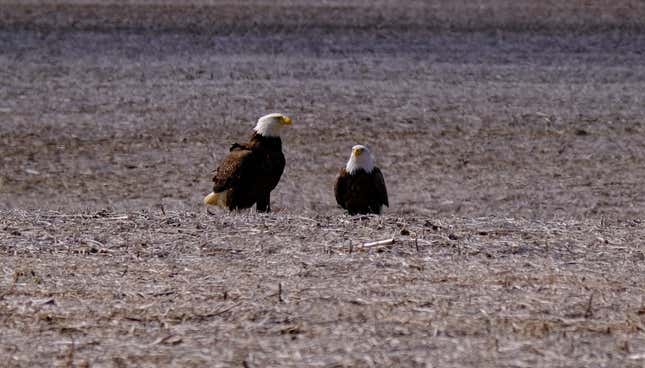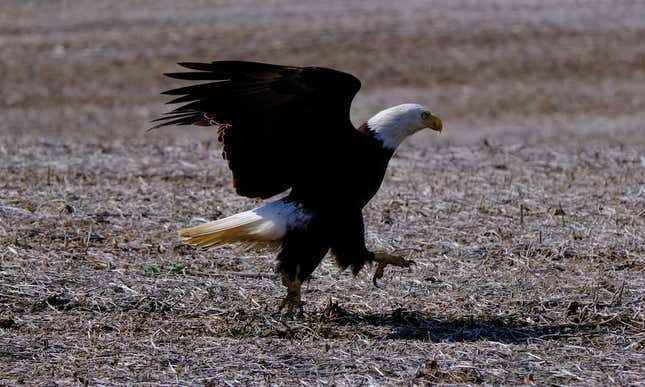 The second shot above is, I'm convinced, a sign from the great mail box in the sky: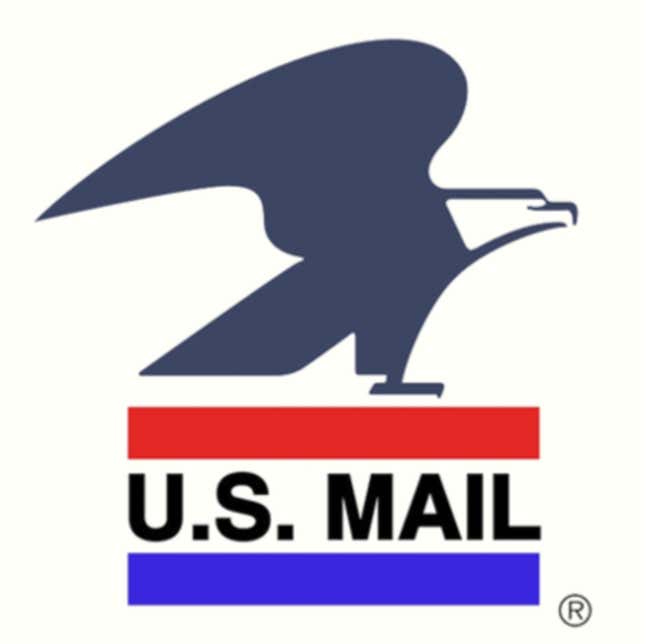 "What does this sign mean?" I wonder. Is it a bad omen, or a sign of good fortune to come? Who knows.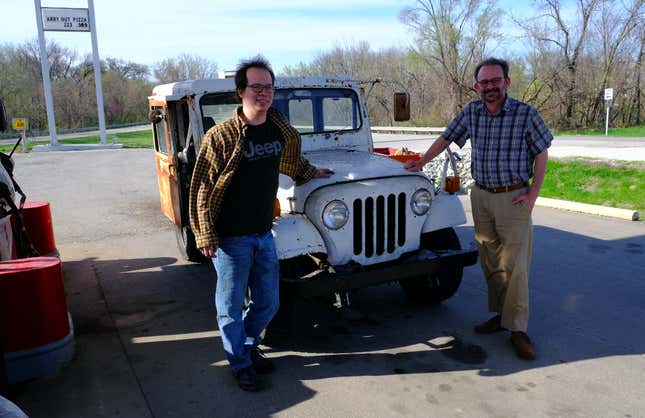 Also while traveling through Honest Abe's home state, I met Gene, a Jalopnik reader who recognized Project POStal. We also met Leo, who rolled up to the gas station in his riding lawnmower to fill up some jerry cans. He was thrilled to see an old Postal Jeep on the road: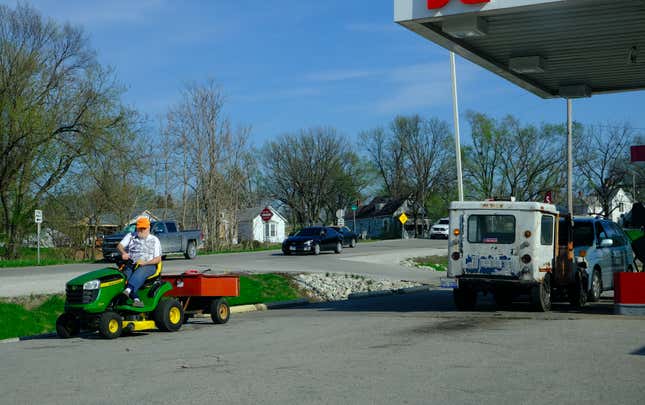 As we continued west through Illinois, we hit Quincy, and stopped for lunch near the bridge across the Mississippi river.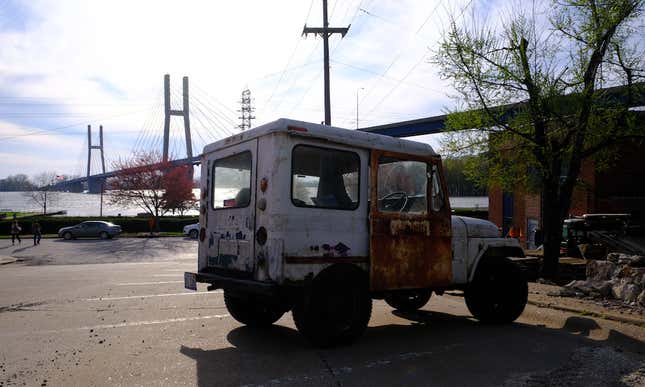 In Quincy, near the mighty river, was a little junkyard, where we parked the Postal Jeep to let it hang out with its friends for a bit. Unsurprisingly, the Jeep fit in quite well: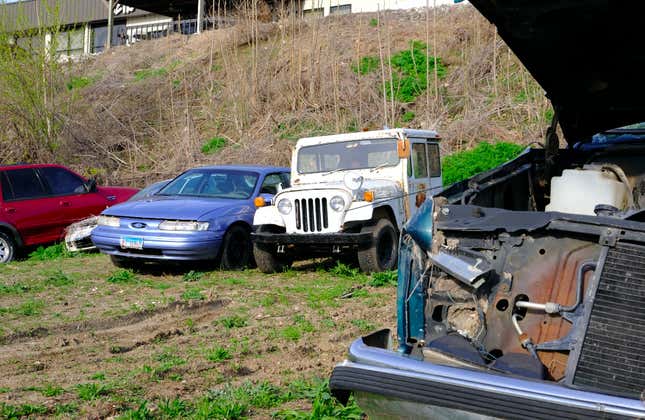 After crossing the river, night fell, and I began to succumb to my biggest road-trip ailment: fatigue.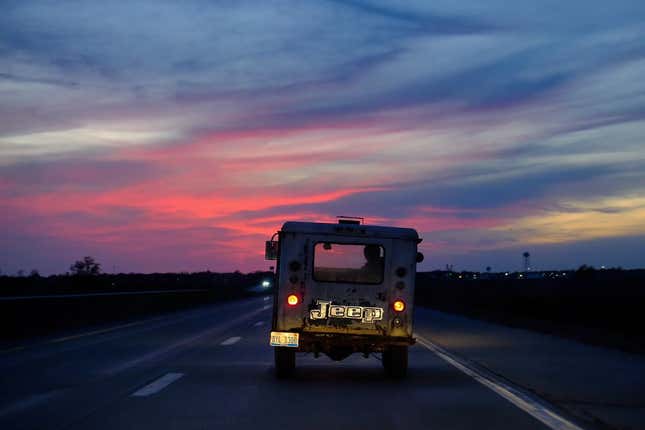 Back when I worked at Fiat Chrysler, some of my coworkers used to call me "Narcolepsy Dave" because of my tendency to fall asleep while riding in cars. Certain factors like warm temperatures exacerbate the issue, but in any case, I'm usually quite careful about pulling over at any sign of eyelid-droop.
On Monday night, it was a Methodist church in Missouri that allowed me to get a few snoozes in: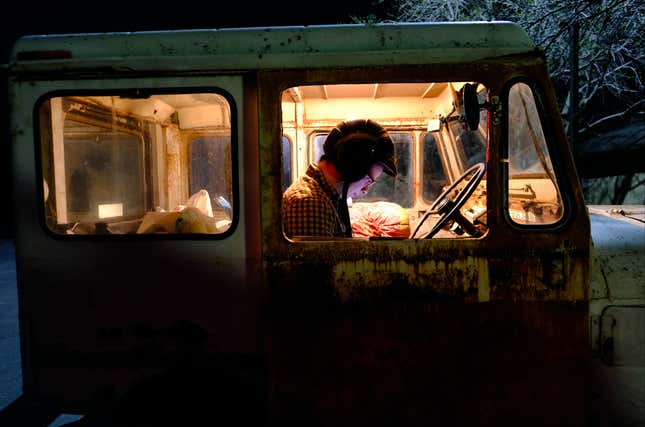 Luckily, the church wasn't far from Chillicothe, Missouri, where my brother Mike and I tied up our steeds, and flattened ourselves in a motel: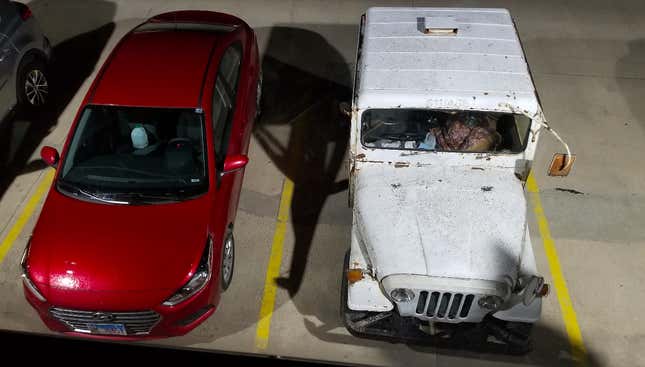 From Chillicothe, it was just a couple of hours to Kansas City, where Mike and I had planned to meet our brother Ben. The road to K.C. was lovely, surrounded by enormous fields of cattle, squiggly little creeks undoubtedly filled with crappie and crawfish, and sweet old barns with cool old pickups parked out front.
Driving Through Missouri in Project POStal
Just prior to K.C., we stopped for fuel, and an attendant in a Ford F-250 (with the 300 inline-six, in case you're curious) chatted me up about the Postal Jeep. At this point, it had become abundantly clear that folks in the midwest (and possibly anywhere) love old Jeep DJs, which was a bit surprising to me, since quite a few folks seem to think these two-wheel drive boxes are totally silly.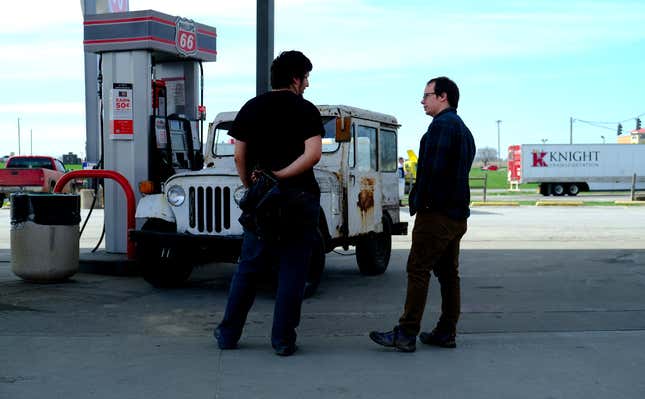 After picking up my brother from Kansas City, the three of us—me in the Postal Jeep, and them in the Hyundai Accent rental car—headed toward my former hometown of Leavenworth, Kansas, where we'd all graduated from high school a decade or more ago:
Headed to Leavenworth, KS in Project POStal
It was exactly as I remembered it:
Headed into Leavenworth Kansas with Project POStal
We stopped by one of our favorite places to eat—an old train station turned into a restaurant. The waiter there had many questions about Project POStal, and even left the restaurant to take a photo with it: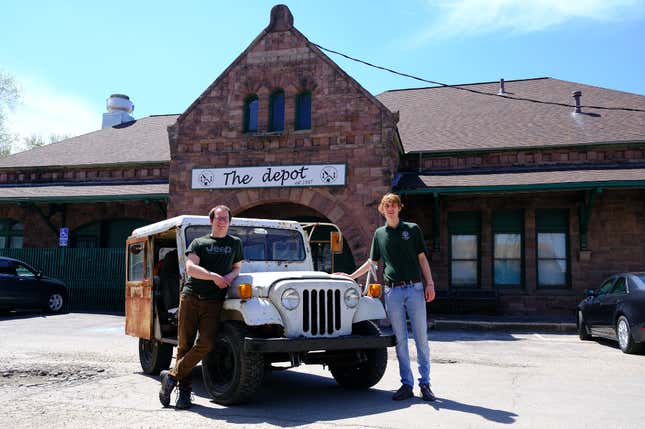 My brothers and I spent a few hours getting re-acquainted with Leavenworth, since it had been a while since we'd visited. One of us now lives in Arkansas, I live in Detroit, and the other lives in Hong Kong. Despite our far-reaching travels in the decade since we'd left, the three of us can't help but have a soft place in our hearts for Leavenworth, the closest thing we military brats have had to a hometown.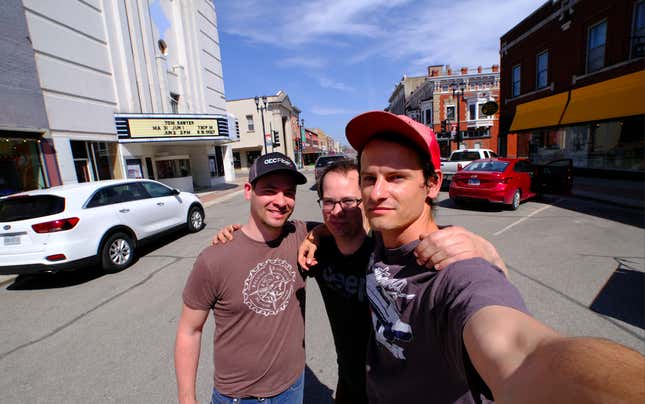 From Leavenworth, we headed southwest through rural Kansas, where among the many fields is a town called Scranton, where we met Austin, an electrician who participates in demolition derbies, and who also drives a gigantic Ford pickup on 52-inch tires. You'll hear more about Austin in an upcoming video, but suffice it to say that he and his mechanical contraptions are awesome.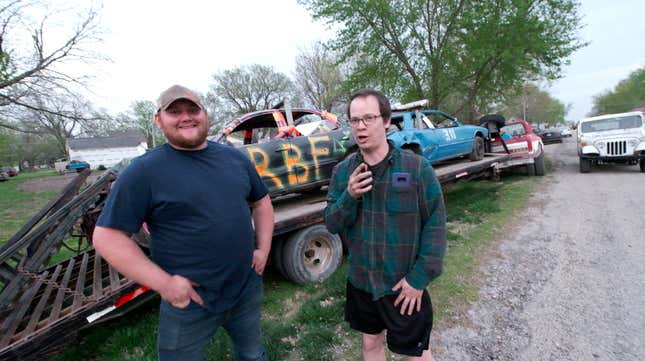 The sun dropped down below Kansas' endless plain, and I made a quick video showing my night driving setup. My headlights, I was pleasantly surprised to learn, are quite bright, especially considering my 45 MPH cruising speed. This is a godsend out in rural America, where deer, foxes, opossums, raccoons, and other critters abound.
Project POStal driving into the night in Kansas.
So there you go: I've tried my best to convey the past two days of quite painless, joyful travel in my old rusty postal Jeep, but it's pretty loud in this McDonalds in Newton, Kansas, so I'm sure I've missed a few things.
In any case, I'm off to Colorado to face my Jeep's biggest threat: the Rocky Mountains—a geographical feature that has brought many cars, and many travel parties throughout history, to their knees.
Will my Jeep even be able to make it up the steep grades in a gear other than first? How quickly will it drive? How will the lousy manual brakes handle the declines? Oh boy.