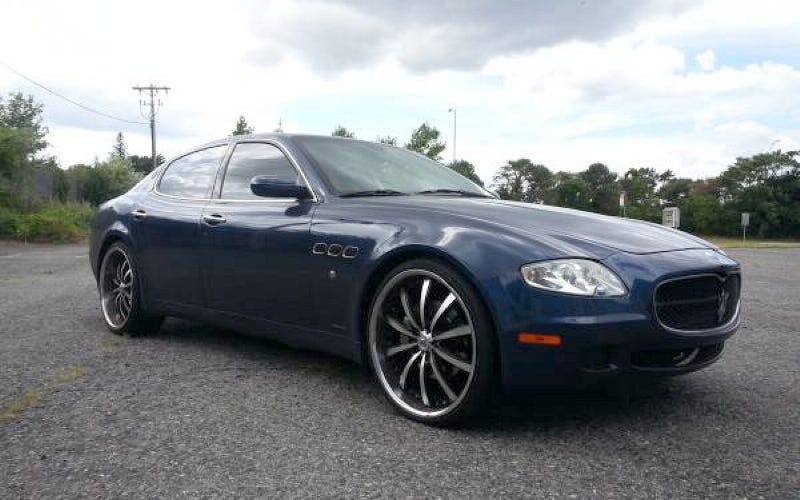 Nice Price Or Crack Pipe
Is this used car a good deal? You decide!
Quattroporte means four-door in Italian, and that's just how many ways you can get into today's Nice Price or Crack Pipe Maserati. However, will this one's price also be something you could be into?
Not too surprisingly, yesterday's turbo-diesel manual-equipped 1985 Volvo 740 walked away with a decisive 72% Nice Price win for its sub two-grand price. Yeah, it was kind of scruffy, and for that price, the seller couldn't be bothered to clean it up much, or even to hang one of those little pine trees from the rearview. Still, beggars can't be choosers, now can we?
Speaking of choices, here's a little fun fact for you; last month, Maserati sold more cars in the U.S. (1,203) than did Jaguar (1,007). That's got to make the Brits - er, Indians feel a little uncomfortable.
Maser has grown in sales and models over time, having added the budget barge, the Ghibli just last year. That is the marque's second four-door on the market, joining the already established, but recently redesigned Quattroporte. The company also sells the slinky GranTurismo coupe and convertible.
All of the current Maserati cars are pretty pricy, with the entry-level Ghibli starting at $66K and everything else above that. The larger Quattroporte is a six-figure car from the get go, as are the two-doors, but what if you could get one of these luxurious and sporting rides for the price of a Honda Civic or really memorable weekend in Vegas? Would it matter that to do so, you'd have to put up with somewhat sloppy seconds?
Well, while not exactly sloppy, this 2007 Quattroporte is used, it's a little abused - more about that in a sec - and it's priced to move. Rocking deep blue paint over a black and tan interior, the car looks to be in decent shape from ten feet back. At night.
The 5th generation QP was a total panty dropper when it first came out, and the Pininfarina design has held up pretty well over the years.
The engine here is a 4.2-litre, 395-bhp DOHC V8 that's claimed by the factory to be able to move the car's more than two tons of weight to sixty in less than 6 seconds, and onward to a top speed of over 170 mph.
That of course comes at a price, which is an abysmal 12 mpg around town, and only 17 on the open road.
This thirsty beast is said to rock 81,000 miles, and to be fully loaded from top to bottom. There have also been some additions made after the car left the factory, including subs that make the commodious 16-cubic foot boot completely useless. if I had this car, I'd drop those like the bass. There's also a set of aftermarket wheels wrapped in rubber band tires. Those rims look to have been curbed so many times its a wonder thetires still hold air.
Other problems include what looks to be a plastic putty knife stuck in the passenger side door glass (?), a tear in leather on the driver's door, and the fact that while claimed to be an '07 - which was the first year of the ZF six speed - this car appears to have the much loathed Ferrari DuoSelect® gearbox. That transaxle auto-manual proved totally out of character for a luxury boat, and hence was dropped on the Quattroporte this model year.
That, and the other obvious boogers noted in the ad, are the likeliest reason that this Maser is priced in real people dollars. The seller is asking $23,999 and says that for that you get a car that once commanded $143,000, and now only requires some minor TLC.
Okay, so depreciation is a hell of drug, and this is not the most perfect of Quattroportes, but do you think that - as presented - this one could now command that kind of scratch? What's your take on this sexy Italian and its $23,999 price, is that a deal? Or, is this a Maserati with a miserable price?
You decide!
Bean Town Craigslist, or go here if the ad disappears.
H/T to old and in the way for the hookup!
Help me out with NPOCP. Click here to send a me a fixed-price tip, and remember to include your Kinja handle.