Huey Lewis once opined via pop song that it truly was hip to be square. VW said, well duh, having offered their Squareback for years. Today's Nice Price or Crack Pipe Square is claimed to be a daily driver, but will its price prove to be a square deal?
According to the history books, when Genghis Khan got hitched to his first wife, Börte Ujin, part of her dowery was a gnarly sable coat given to his mother. Coincidentally, the Mongols also put meat under their saddles to tenderize and dry it out while they were out terrorizing and pillaging, thus inventing both jerky meat and multitasking!
If your dowery requires a sable component you could do far worse than last Friday's 1988 Mercury Sable wagon. Not only would its utility prove your work ethic and that you intended to give your in-laws tons of grandkids, but with its hefty 73% Nice Price vote, it would also prove you to be a wise manager of household finances. Win-win, right?
Well, if you instead wanted to stay single and perhaps stick to convenience store Slim Jims, maybe this 1972 Volkswagen Type 3 Squareback will help you escape the alter. It is after all offered as a daily driver which should keep you on the road and safely away from the shackles of wedlock.
G/O Media may get a commission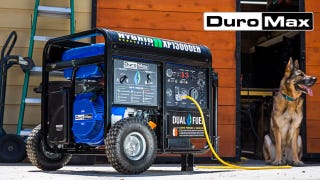 Black Friday Sale
DuroMax Generator Sale
You also shouldn't have to worry about vapor lock as the pancake 1.6 in back is endowed with fuel injection. In fact, the Type 3 was Germany's first mass-produced car with electronic fuel injection, the Bosch D-Jetronic. A lot of Type 3s have seen their FI systems tossed in favor of carbs over the years, but this one's still rocking the little squirts.
Along with that comes replaced heads, pistons and barrels, as well as a new clutch to front that all up. It also looks like the current owner has also replaced the fifth fuel injector. A whole slew of other maintenance and wear-related work has gone into the car, and in fact the seller says he finds it reliable enough to be his daily driver.
A couple of the pics here are from the seller's Samba page detailing his purchase of the car, including the engine shot and the one where it's wearing hubcaps. Apparently there are only three of the latter that come with the car.
It otherwise doesn't look to have shitified much since then, although the driver's seat is showing significantly more wear. Also, that nasty headliner is sadly its current state.
On the plus side, like the engine, the interior looks to be mostly all original. It does have a modern head unit below the dash, but it does have the cool knee-basher shelf below that. Unfortunately the door cards have been cut for speakers so they are permanently marred, but otherwise the insides look like Nixon is still in office.
On the outside, things are similarly early Seventies-esque. The paint is the original color, but has been resprayed at some point. A few dings and dents are obvious, but the seller says that the car is structurally solid with no major bugaboos to call out. One of the car's weirder features is a roof rack that looks like something from which you could potentially shoot wild game.
The gearbox is a four-speed stick, and as you might expect of a car described as a DD, it comes with a clean title and current tags.
Daily driving a car that lacks such modern conveniences as ABS, A/C, or present-day performance requires a particular bent. I see a bunch of old cars on the road with enough frequency that I know there are people for whom the experience is desired. There is definitely someone out there who would rock this Vee-Dub 24-7, the question is, could they afford it?
The asking price is $5,500 and you'll find a large number of Squarebacks in far nicer shape way above that. You'll also find a bunch of fright pigs priced well below this one. Like Goldilocks, who, like the Mongols was an invader, this one seems to prefer the middle ground.
What's your take on this Squareback and that $5,500 price, does that sound like a square deal? Or, is that price something you just couldn't come 'round to?
You decide!
Monterey Craigslist, or go here if the ad disappears.
Help me out with NPOCP. Click here to send a me a fixed-price tip, and remember to include your Kinja handle.